The Wolverine
Unleashed Extended Edition Features: The Path of a Ronin, set tear, alternate ending, and more.
Codec / Resolution: MPEG-4 AVC / 1080p
Studio: 20th Century Fox
Distributor: 20th Century Fox
Theatrical Release: July 26, 2013
This Release: December 3, 2013
Region: Region A
MPAA Rating: PG-13 / Unrated
Aspect Ratio: 2.40:1
Active Pixel Area: 1920 x 800 pixels
Inactive Pixel Area: 1920 x 280 pixels
Running Time: 126mins / 138mins
Number Of Discs: 4 (Blu-ray)
MSRP: $49.99 USD
Current Price: Check Price / Purchase


In the last X-men film, X-Men: Last Stand, we saw quite a few of the characters die, and this did not leave much for any sequel. Due to the reception of it, few people were looking for a sequel, anyway.

There was an overall disappointment with the construction of X3, as many commented it had little to do with the first two movies. I can't disagree.

There are some good arguments the failure of X3 had to do with more focus on the actors' requests (or demands) than what was based on the book itself. Not surprisingly, we did not see another X-men movie for a rather long time. Being released about 7 years later, The Wolverine appears to have a much more mature atmosphere, and with the Unleashed Extended Edition, we get an even more analytical look at The Wolverine himself.

The Plot

After having a dream about a young Japanese soldier he saved during the bombing of Nagasaki in World War II and then a nightmare about Jean Grey (Famke Janssen), Logan (Hugh Jackman) wakes up on the edge of a cliff, somewhere in the Yukon. Memories of Jean still haunt him, and he's on an endless search of finding his balance in life.

Soon after, Logan is once again involved in an altercation with those who aren't so smart, but this time, a young Japanese woman interrupts the certain the fate of the men in a small town Yukon bar. Yukio (Rila Fukushima) has been looking for Logan for over a year, and informs him she works for Yashida (Hal Yamanouchi), who is dying, and wants to meet the man who saved him many many years ago for one last time and say goodbye.

After having a conversation with Yashida, there is much more to the meeting than just a final "goodbye". Logan is told he can pass on his abilities — have an ordinary life — and die like an ordinary man. Yashida, a very wealthy man and possessing the best technological resources available, is rather honest and says he does not want to die, and wants to protect his granddaughter Mariko (Tao Okamoto). But from who?

Shingen (Hiroyuki Sanada) is Yashida's son, and while we learn he has been given more control of the Yashida corporation, we discover he is not going to be inheriting his father's position as head of the company. Someone else is in mind.

Packaging

Packaging for The Wolverine (Unleashed Extended Edition) arrived in a special Elite 4-disc black. There is also a black & white slipcover which has The Wolverine on the front, as well as red lettering for the words: The Wolverine (Unleashed Extended Edition). Very nicely done.

Just as an aside, some might wonder why I did not opt for the Best Buy exclusive version. I do like the artwork for the exclusive edition, but rarely does the price dip below $40, and I just could not justify such a purchase for packaging that was all paper.

Screencaps

Video

The Wolverine (Unleashed Extended Edition) looks great on video, and certainly gets another Reference Video designation from me. If you notice, this 4-disc set keeps the extended edition all by itself on a Blu-ray disc, which pretty much unleashes the bitrate to deliver some super-crisp images.

Additional Screencaps

Extras

A nice featurette than runs almost an hour, The Wolverine: Path Of A Ronin contains a lot of additional information about the making of the movie.

Disc 1 (Blu-ray 3D)

Disc 2 (Theatrical Cut) (Blu-ray)
The Wolverine: Path Of A Ronin (53:44) HD
Theatrical Trailer (2:28) HD
Alternate Ending (1:36) HD
X-Men: Days Of Future Past Set Tour (2:47) HD
Second Screen Mobile App
Disc 3 (Extended Cut) (Blu-ray)
Audio Commentary by Director James Mangold
Second Screen Mobile App
Disc 4 (DVD + Digital Copy)
Specifications
Audio for The Wolverine (Unleashed Extended Edition) .
Main Audio Track: DTS-HD Master 7.1 (English) @ 5337 Kbps (48kHz/16-bit)
Subtitles: English SDH, Spanish, Portuguese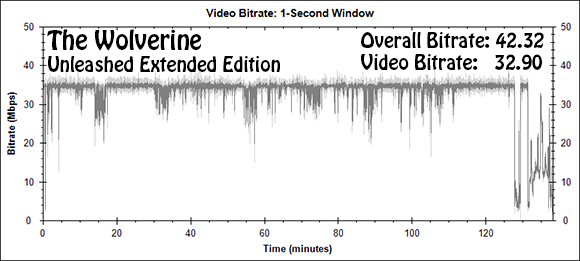 The Wolverine (Unleashed Extended Edition) Bitrate Graph
THE_WOLVERINE (Disc 3)
Codec: MPEG-4 AVC Video
Resolution: 1080p
Blu-ray BD-50
Disc Size: 45,070,361,031 bytes (41.98 GB)
Movie Size: 43,833,200,640 bytes (40.82 GB)
Overall Bitrate: 42.32 Mbps
Video Bitrate: 32.90 Mbps
Rating
| | |
| --- | --- |
| AUDIO | |
| VIDEO | |
| CONTENT | |
| EXTRAS | |
HIGHLY RECOMMENDED
Conclusion
The Wolverine (Unleashed Extended Edition) is an honorable addition to the X-Men series, and I will be honest in saying I had to watch the extended version to really appreciate it. For some reason, the theatrical cut I initially saw just did not keep me interested. I don't think I'm alone with these comments, and I wouldn't be surprised if the initial release would have had better reviews if it wasn't cut to be a streamlined theatrical presentation.
With crystal-sharp video and a soundtrack that packs a punch when needed, The Wolverine (Unleashed Extended Edition) gets a HIGHLY RECOMMENDED.
The sole reason why The Wolverine series is a success, is Hugh Jackman. I've always enjoyed his roles outside of the X-Men series, but he is truly the only actor who can make his character a success. I'm looking forward to the next installment (X-Men: Days of Future Past) which is scheduled to be released only a few weeks from this review.