Dead Snow
Features: Several featurettes, outtakes, and more.
Codec / Resolution: MPEG-4 AVC / 1080p
Studio: IFC Films
Distributor: MPI Media Group
Theatrical Release: January 9, 2009
This Release: February 23, 2010
Region: Region A
MPAA Rating: Not Rated
Aspect Ratio: 1.85:1
Active Pixel Area: 1920 x 1038 pixels
Inactive Pixel Area: 1920 x 42 pixels
Running Time: 92mins
Number Of Discs: 1 (Blu-ray)
MSRP: $29.98 USD
Current Price: Check Price / Purchase


Dead Snow became a permanent part of my Zombie Genre collection, and hopefully it will be a part of yours as well. It's rather difficult to find a truly creative film within a massively exploited genre that's been exploited within another genre (i.e., Nazis), but Dead Snow is original.

Nazis are normally an easy target when it comes to bad guys — make that really, really, bad and disgusting guys — but Norwegian director Tommy Wirkola has a way of using culture to give his films something more genuine. Dead Snow took a little while to get comfortable with, but I think this is the part of the enjoyment I had while knowing what was coming down the zombie turnpike. Wirkola certainly surprised me with his own interpretation of what a badass Nazi Zombie would be like, and I have to say — there's no way I'd wanna have them chasing me.

The Plot

Vegard (Lasse Valdal), Martin (Vegar Hoel), Erlend (Jeppe Beck Laursen), and Roy (Stig Frode Henriksen) are on their way to a remote cabin to have some much needed snow-filled fun. Of course, four men being alone in a remote cabin isn't entirely exciting, and some female friends are also going along for the trip. Hanna (Charlotte Frogner), Liv (Evy Kasseth Rψsten), and Chris (Jenny Skavlan).

Sara (Ane Dahl Torp) is Vegard's girlfriend, and would have been joining the other women for the trip, but decided to arrive at the cabin herself via cross country skiing. Going cross country in a snow-riddled desert alone, would probably be an adventurous experience (and might even be something to brag about to the guys over some awesome-tasting beer). However, there's the minor issue with Nazi Zombies getting restless in the area, and deciding to be alone this particular time might not be such a great idea.

I guess we'll find out.

At the end of WWII, the town of Ψksfjord, Norway was occupied by a ruthless group of Nazis, under the control of Colonel Oberst Herzog (Ψrjan Gamst). They did whatever they wanted, as the town was helpless to defend themselves and secluded from any allies who would have invaded the area and helped. However, the town finally had enough of the violence and secretly united. One night, the town's 3,000 or populace grabbed anything that could break bones and skulls, and marched into the Nazi camp, surprising the Nazis and killed most of them. However, Herzog ran with a number of his closest soldiers into the nearby mountains...assumed to have frozen to death.

Packaging

Packaging for Dead Snow arrived in an eco-LITE Vortex Blu-ray case.

Screencaps

Video

Dead Snow looks great on video, however, there are a few instances of blooming in a few scenes.

Extras

Unfortunately, all the extras — while having a widescreen presentation of 1.78:1 or 2.35:1 — are not in high-def. Bummer.
Disc 1 (Blu-ray)

Madness In The North! (48:57)
Behind Dead Snow (18:39)
Madness In The West! (17:51)
Special Make-Up Effects Of Dead Snow (6:30)
The Sounds Of Dead Snow (5:42)
VFX (3:19)
Burning The Cabin (1:01)
Outtakes (2:03)
Teaser Trailer (:54)
Original Theatrical Trailer (2:36)
Specifications
Audio for Dead Snow is rather deep, and I wasn't expecting much from it initially, but sounds great.
Main Audio Track: DTS-HD Master 5.1 (English) @ 4009 Kbps (48kHz/16-bit)
Subtitles: English, English SDH, Spanish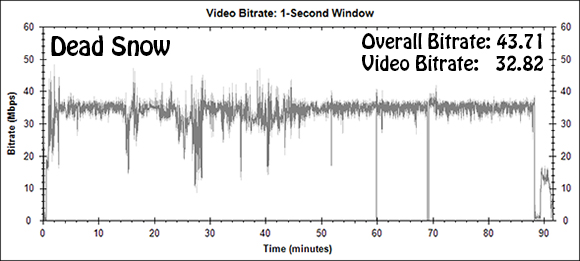 Dead Snow Bitrate Graph
DEAD SNOW
Codec: MPEG-4 AVC Video
Resolution: 1080p
Blu-ray BD-50
Disc Size: 41,662,646,552 bytes (38.80 GB)
Movie Size: 29,999,738,880 bytes (27.94 GB)
Overall Bitrate: 43.71 Mbps
Video Bitrate: 32.82 Mbps
Rating
| | |
| --- | --- |
| AUDIO | |
| VIDEO | |
| CONTENT | |
| EXTRAS | |
RECOMMENDED PLUS
Conclusion
Dead Snow is a light-hearted — but seriously graphic — Nazi Zombie film which delivers. Director Tommy Wirkola does a fine job at injecting content into what would seem a typical exploitive film, but under his supervision, it becomes a solid masterpiece of zombie fun. Starting out a little slow, Dead Snow turns into a snowball of adventure and just plain insane action that does not relent until the end.
Having a nice image quality which compliments the action and piled-on bloody moments, Dead Snow (Blu-ray) gets a RECOMMENDED PLUS.
In case you're wondering, a Dead Snow sequel is in the works: Dead Snow: Red vs. Dead, is scheduled to be theatrically released sometime this year.