Heaven
Features: A brief making-of featurette...and nothing else.
Codec / Resolution: MPEG-4 AVC / 1080p
Studio: Miramax
Distributor: Echo Bridge Home Entertainment
Theatrical Release: February 21, 2002
This Release: May 7, 2013
Region: Region A
MPAA Rating: R
Aspect Ratio: 1.78:1
Active Pixel Area: 1920 x 1080 pixels
Inactive Pixel Area: Not Applicable
Running Time: 107mins
Number Of Discs: 1 (Blu-ray)
MSRP: $14.99
Current Price: Check Price / Purchase


Heaven took a while to finally get on Blu-ray, and it's been just about a year since its initial release by Echo Bridge Entertainment. I can already envision the cringing of Blu-ray owners when I announce the distributor. In any case, Heaven is a rather peculiar film which has a collection of actors that are known nationally and internationally. I think this is what makes the film enjoyable. A variety of talent on multiple levels.

Initially, I found Heaven from looking at film biographies of other actors, and I don't think this is a widely published title. If you're fan of any of the actors in this film, this is certainly one to watch as it does not induce typical performances.

The Plot

Philippa (Cate Blanchett) is a British teacher who lives in Turin, Italy. After finding out her husband has been killed from a drug overdose and even her students dying, she finds evidence of who the drug dealer is, and presents it to the local police. The local police however, aren't so quick and receptive to getting the drug dealer off the street.

Marco Vendice (Stefano Santospago) is the local drug dealer who operates as a businessman in a high-rise building. Philippa finds out where his office is, and sets out her revenge on him. While managing to create a bomb, she tosses it in a trash can in Vendice's office, and slips away.

Soon after the bomb is placed in the trash can, a janitor comes by to empty the trash. The bomb is now on its way out of the office, and the janitor takes a ride down the elevator...with a man and his two daughters...

Philippa is tracked down and brought before police investigators. Since the investigators speak only Italian, a translator is requested. A young officer Filippo (Giovanni Ribisi) is provided, who begins to take an unusual interest in the case, and Philippa.

Packaging

Packaging for Heaven arrived in a standard Elite Blu-ray Case.

Screencaps

Video

Heaven looks pretty good in a lot of scenes, and I suppose this is one of Echo Bridge's better releases, but there are noticeable areas of light crush (where a lot of light erases detail) and this doesn't help with the typical noise filtering used. Looking at the bitrate graph below, I think this release could have looked a lot better if it was released on a BD-50 with an unrestrained video bitrate. Once again, there are several instances where detail is just gone, and noise filtering is definitely used too much.

Additional Screencaps

Extras

One of the most bare releases I've encountered, Heaven has only one short making-of featurette, and for some reason...the HD presentation has an aspect ratio of 4:3. I guess this is to be expected of an Echo Bridge release.
Disc 1 (Blu-ray)

The Story Of Heaven (6:17) 4:3 HD
Specifications
It's too bad we have an inferior soundtrack, and while I can hear people talking in this film, I would have appreciated a lot more expansion. But hey, look at it this way — we can finally use those digital surround modes on our receivers.
Main Audio Track: DTS-HD Master 2.0 (English) @ 1560 Kbps (48kHz/24-bit)
Subtitles: English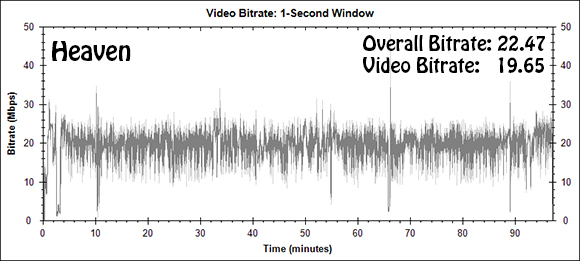 Heaven Bitrate Graph
HEAVEN
Codec: MPEG-4 AVC Video
Resolution: 1080p
Blu-ray BD-25
Disc Size: 17,599,051,414 bytes (16.39 GB)
Movie Size: 16,366,325,760 bytes (15.24 GB)
Overall Bitrate: 22.47 Mbps
Video Bitrate: 19.65 Mbps
Download: HEAVEN BD Info File
Rating
| | |
| --- | --- |
| AUDIO | |
| VIDEO | |
| CONTENT | |
| EXTRAS | |
RECOMMENDED
Conclusion
Heaven has some really beautiful geographical area images, and it's unfortunate this distribution has been handled by Echo Bridge. I looked for any foreign releases of this title, and came up with nothing so currently, this is the only version available.
Heaven has a semi-dreamy feel, which director Tom Tykwer does a really great job of blending with reality and this flows in and out throughout the movie. Cate Blanchett and Giovanni Ribisi do a superb job, and I'm somewhat surprised on why this film received such low marks (outside of the distributor specs).
A rather interesting film with some of my favorite actors, but unfortunately having the bare minimum specs for a Blu-ray release, Heaven (Blu-ray) gets a RECOMMENDED.
I will say Heaven takes a moment or two to get used to, and is slow-paced in many areas, but is still worth adding to your "eclectic" collection.