The Passion Of The Christ
Definitive Edition
Features: Original version and a special version which has been edited for graphical depiction, enhanced viewing with Biblical footnotes, and audio commentaries.
Codec / Resolution: MPEG-4 AVC / 1080p
Studio: 20th Century Fox
Distributor: Icon Film Distribution
Theatrical Release: February 25, 2004
This Release: February 17, 2009
Region: Region A
MPAA Rating: R
Aspect Ratio: 2.40:1
Active Pixel Area: 1920 x 800 pixels
Inactive Pixel Area: 1920 x 280 pixels
Running Time: 126mins / 121mins
Number Of Discs: 2 (Blu-ray + DVD)
MSRP: $29.99
Current Price: Check Price / Purchase


This Easter, I decided to watch The Passion Of The Christ. It's been several years since I've managed to get up the courage to watch it. What I find most curious, is that I can select one of the most brutal movies in my 900+ movie collection, and not think twice about the characters getting humiliated and tortured — or killed. Why is that? I don't really have an answer for you. But what I do know, is Mel Gibson has managed to direct a film which conveys a story of a man who historically suffered because he cared about those around him, and wanted to claim their eternal salvation.

Being released as a Definitive Edition, I also appreciate the option of removing several minutes of graphical footage for viewers that otherwise probably could not tolerate.

The Plot

The Passion Of The Christ begins with Jesus (Jim Caviezel) at the most pivotal point in Christian history: the Garden of Olives. The Last Supper was just finished prior, and this is the location where The Betrayal is about to happen.

We soon see Judas (Luca Lionello) giving the Pharisees the location of the one who would call himself Savior of the Jews, and tells them he will personally identify who the person is...with a kiss. Shortly thereafter, we observe the critical moment where Jesus is betrayed, quickly arrested, and taken before Pontius Pilate (Hristo Shopov), the fifth prefect of Judaea.

The accusations of a man calling himself The Messiah are of interest, but of course, Pilate doesn't want the slightest chance he would historically be known as handing over Jesus to the Pharisees — as well as finding nothing inherently wrong with Jesus in the first place — so he directs the final decision to Herod Antipater (Luca De Dominicis) (frequently referred to as Antipas), because Jesus is from the area of jurisdiction which Herod is in control of. Antipas soon realizes his own political blowback of the situation, and directs Jesus be sent back to Pilate.

At the time, it was a customary and politically satisfying gesture at the beginning of Passover to free one prisoner at the request of the crowd. Pilate brings a criminal from the jails known as Barabbas (Pietro Sarubbi) to stand with Jesus in front of the Jewish crowd, thinking they will obviously forget about their frivolous accusations towards Jesus, and will use common sense in keeping a much more known criminal behind bars.

As we know, common sense does not have anything to do with the crowd's intentions...

Packaging

Packaging for The Passion Of The Christ: Definitive Edition arrived in a 2-disc Eco-Case, which contained the Blu-ray and DVD.

Screencaps

Video

The Passion Of The Christ: Definitive Edition looks really nice, but it is colored and tinted to match the movie's feel. Even with this director's choice of presentation, the image quality is superb. Scenes with Jesus being tortured are very pronounced.

Additional Screencaps

Extras

Unfortunately, all the extras are on the DVD, and there are no high-def documentaries or interviews. However, the almost-two-hour making-of is still worth viewing.
Disc 1 (Blu-ray)

Original Theatrical Version and a not-so-graphic version
Enhanced Viewing With Biblical Footnotes
Audio Commentaries
Disc 2 (DVD)

Filmmaking
By His Wounds We Are Healed: Making The Passion Of The Christ (21 parts) (1:40)
Below The Line Panel Discussion (13:50)
Deleted Scenes
The Legacy
Through The Ages (11:58)
Paths Of A Journey (9:24)
On Language (12:46)
Crucifixion: Punishment In The Ancient World (17:28)
Anno Domini (10:04)
Galleries
Production Art
Historical Texts
Art Images
Characters And Their Actors
Unit Photography
Trailers And TV Spots
DVD Credits
Specifications
Main Audio Track: DTS-HD Master 5.1 (English) @ 3959 Kbps (48kHz/24-bit)
Subtitles: English SDH, Spanish, Portuguese, Cantonese, Korean, Mandarin Chinese, Tagalog, Thai (many additional SDH for various languages as well)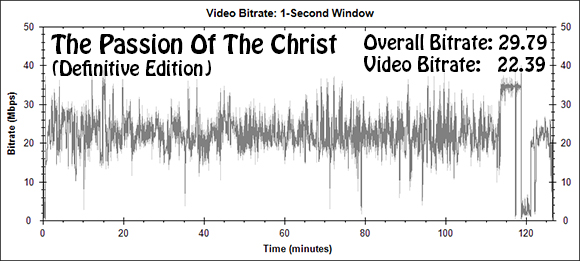 The Passion Of The Christ: Definitive Edition Bitrate Graph
PASSION_OF_CHRIST
Codec: MPEG-4 AVC Video
Resolution: 1080p
Blu-ray BD-50
Disc Size: 41,566,108,191 bytes (38.71 GB)
Movie Size: 28,268,316,672 bytes (26.33 GB)
Overall Bitrate: 29.79 Mbps
Video Bitrate: 22.39 Mbps
Download: PASSION_OF_CHRIST BD Info File (Disc 1)
Rating
| | |
| --- | --- |
| AUDIO | |
| VIDEO | |
| CONTENT | |
| EXTRAS | |
HIGHLY RECOMMENDED PLUS
Conclusion
The Passion Of The Christ: Definitive Edition is a powerful, provoking, and even controversial presentation of the final hours of Jesus. It's unfortunate we can't have more films presented by Mel Gibson, because he has a way to convey key religious elements. Mr. Gibson's personal issues aside, I believe he can be an asset to the religious film-making community with several other events and critical times found in The Bible.
Having a very nice video presentation and one of the best interpretations of Jesus Christ I've seen, The Passion Of The Christ: Definitive Edition (Blu-ray) gets a HIGHLY RECOMMENDED.
Thinking about this film being released almost 10 years ago, there has not been a truly gripping feature film since. However, I am finding we have a small handful of directors who are breaking this trend, and releasing some good content for viewers. One of the best series I've recently watched with a friend who owns the DVD, is The Bible: The Epic Miniseries (Blu-ray). I hope to be reviewing this in the near future.