Walk The Line
Extended Cut (UK)
Features: Additional 16-minutes of footage, extended musical scenes, and more.
Codec / Resolution: MPEG-4 AVC / 1080p
Studio: 20th Century Fox
Distributor: 20th Century Fox UK
Theatrical Release: November 18, 2005
This Release: November 9, 2009
Region: Region Free
BBFC Rating: 12 & 12
Aspect Ratio: 2.40:1
Active Pixel Area: 1920 x 800 pixels
Inactive Pixel Area: 1920 x 280 pixels
Running Time: 152mins
Number Of Discs: 2
MSRP: £9.99
Current Price: Check Price / Purchase


Johnny Cash certainly had a very difficult, challenging, and impossible life, but his music kept him moving. While Walk The Line may not necessarily capture every aspect of his life, it does do a fine job of giving the viewer access to a person who's music and personality will most definitely be missed, and might even inspire them to do some individual exploring of John R. Cash and his life, as there are quite a few books written about the man.

This review is of the extended cut, which adds another 16-minutes of footage. Having watched both versions, I prefer the extended cut, and it's interesting — to say the least — why the extended cut was initially released in the UK, not in the states. After doing a search online...there is still not an official US release of the extended cut on Blu-ray, even though there is the extended cut DVD which was released in the US.

Another note on this edition, is there are two Blu-ray discs, and both discs are Region A, B, and C. Some websites only specify one disc (Amazon UK has since updated their listing, but still have it Region B/2, which it is not), but there are two discs; the first disc containing the extended cut and feature commentary, and the second disc featuring all the extras.

The Plot

Walk The Line begins with a rather impressive Folsom State Prison scene with a mature and made Man In Black as he reflects on a young JR Cash in Dyess, Arkansas (1944), who eventually becomes John R. Cash (Joaquin Phoenix) when he enlists in the US Army — the US Army doesn't recognize initials, so JR had to come up with a name.

We see that JR and his brother are close. Unfortunately, his brother Jack (Lucas Till) gets into a fatal accident at the local saw mill. In the movie, we see JR's father Ray (Robert Patrick) blaming him for not being there to help his brother. It is interesting to note that in Cash's own biography, this particular day gave him, his brother, and his mother Carrie (Shelby Lynne) a very suspicious feeling while their father was away, and Jack could have gone fishing with JR to avoid the tragedy, but conveyed to JR and his mother there was work to be done, and he was committed to it. In his biography, Johnny Cash mentions the guilt which lasted during his entire life.

When in Germany, Cash buys a guitar and begins his challenging road to popularity, addiction, and self-discovery. Proposing to Vivian Cash (Ginnifer Goodwin), they start a family. It's not long after Cash begins to perform, he gets acquainted with June Carter (Reese Witherspoon). We soon see the struggle with being attracted to June, keeping his addictions at arm's length, and yet somehow believing his marriage can still work.

Packaging

Packaging for Walk The Line: Extended Cut arrived in an Amaray European Blu-ray Case, which is a little thicker than typical 2-disc Blu-ray cases.

Screencaps

Video

Walk The Line: Extended Cut is a sight to be seen. This looks great. Blacks are deep but still show detail and faces have a nice tone. Overall, I'd say this is a reference title for video.

Additional Screencaps

Extras
Disc 1

Feature Commentary With Co-Writer And Director James Mangold
Disc 2

Johnny Cash Jukebox: Walk The Line Extended Musical Sequences (16:22) HD
Deleted Scenes (6:28) HD
Walk The Line Theatrical Trailer
Becoming Cash / Becoming Carter (10:57) (480 / 60fps)
Folsom: Cash & The Comeback (11:48) (480 / 60fps)
Ring Of Fire: The Passion Of Johnny & June (11:30) (480 / 60fps)
Cash & His Faith (11:14) (480 / 60fps)
Celebrating The Man In Black: The Making Of Walk The Line (21:39) (480 / 60fps)
Sun Records & The Johnny Cash Sound (11:48) (480 / 60fps)
The Cash Legacy (15:10) (480 / 60fps)
Specifications
Main Audio Track: DTS-HD Master 5.1 (English) @ 3370 Kbps (48kHz/24-bit)
Subtitles: French, German, English SDH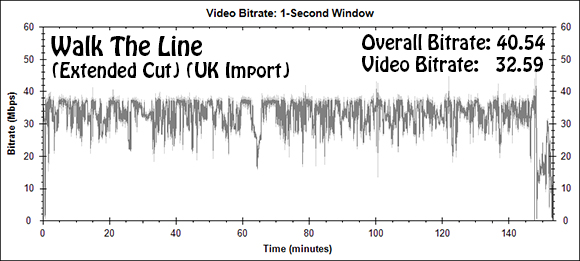 Walk The Line (Extended Cut) (UK) Bitrate Graph


Rating
| | |
| --- | --- |
| AUDIO | |
| VIDEO | |
| CONTENT | |
| EXTRAS | |
HIGHLY RECOMMENDED PLUS
Conclusion
Walk The Line: Extended Cut sounds terrific. If you turn your HT system up a little more than what you normally do at the beginning of the movie, you'll just about feel like you're there in Folsom. In this case...it's a good thing. It's difficult to put everything into a movie, but Director James Mangold does a very good job of delivering a sample of the life of Cash, and the life of a magnificent musician.
With a sharp video presentation and an audio track that delivers, Walk The Line: Extended Cut 2-Disc (Blu-ray)(UK) gets a HIGHLY RECOMMENDED. The performances were just spectacular, and knowing the singing of the songs are actually from Joaquin Phoenix and Reese Witherspoon themselves, it makes for a truly engulfing movie. Even if you have a modest home theater system, definitely test it out on WTL.
I certainly recommend reading a few books from the perspective of Cash himself. Like many musicians, their lives are an ever-challenging time, with struggles of addiction.