Heat
Features: 11 additional scenes, 5 documentaries, theatrical trailers, and more.
Codec / Resolution: MPEG-4 AVC / 1080p
Studio: Warner Bros. Pictures
Distributor: Warner Home Video
Theatrical Release:December 15, 1995
This Release: November 10, 2009
Region: A
MPAA Rating: R
Aspect Ratio: 2.40:1
Active Pixel Area: 1920 x 1080 pixels
Inactive Pixel Area: NA
Running Time: 170mins
Number Of Discs: 1
MSRP: $14.98
Current Price: Check Price / Purchase


Michael Mann has been fascinated with the dualities of crime, and how things just aren't so black and white — for law enforcement or the person committing the crime. If you look at his legacy, he's been conveying this point for quite some time, and his movies and television series productions have spawned many of the crime shows we see today. Personally, I think Mann really scored with Heat. Of course, with every epic movie, I often wonder if things could have been extended more, digging even deeper into the characters. With Heat, there was certainly a lot of potential to expand on this, but due to budget constraints and financial backing, I'm sure this wasn't possible. Heat was Mann's first crime movie creation, after Miami Vice ended in 1990. While Miami Vice set a pivotal point on broadcast television, Mann wanted to bring something even more raw to the screen.

The Plot

Neil McCauley (Robert De Niro), Chris Shiherlis (Val Kilmer), and Michael Cheritto (Tom Sizemore) are a very close group of professionals who do takeovers. Takeovers are not your ordinary crime. They are situations where a group of well-seasoned, well-informed, and well-armed professionals literally take over a bank or some other situation in order to obtain money or other materials of high value — and do it so quickly, law enforcement has a difficult time tracking the crime beyond the takeover spot.

Lt. Vincent Hanna (Al Pacino), Detective Casals (Wes Studi), and Bosko (Ted Levine), are also a tight group of guys, but they take down those who are oblivious to the laws around them, and also make sure to remind the steadfast criminal who will be waiting around the corner when a mistake happens.

Neil and his gang need an extra hand in an upcoming armored car takeover. A rather odd dude who goes by the name Waingro (Kevin Gage) has been recommended by a third party, but things immediately get out of proportion as the new guy kills one of the armored car officers. Since there is now a murder charge hovering over the entire crew, the remaining two officers are also shot in order to prevent any witnesses from ever having a remote chance of identifying them.

Vincent arrives on the scene, and as head of Robbery Homicide, notices this is not a typical heist. This criminal team has thought about every angle, and has Vincent a little concerned on what landed on his lap.

It seems outside of the takeover area...the crew just disappeared. Who are these guys? Why did they skip taking the cash? Why were the three armored car officers killed?

Packaging

Packaging for Heat sits on my shelf in an Elite Eco-Case. And yes, it's unfortunate I couldn't have managed to have just a tad of those explosives Chris obtained at that construction materials store, because I would have blown this case up in my back yard.

Screencaps

Video

As far as I know, this is probably the only Blu-ray version of Heat we'll ever see. And that's a shame, because we have a few problems. Many scenes are just way too dark. This could be Michael Mann's intent, as he is always very attentive to lighting. However, I think there does need to be a little room for more exposure. Outdoor scenes appear to be more dark than what really should be. Heat itself is very sharp and crisp — another Michael Mann attention to detail. However, this sharpness is often overruled by the exposure issue.

Extras
Commentary by Michael Mann
The Making Of Heat: True Crime 4:3 / Letterbox (480i) (14:46)
The Making Of Heat: Crime Stories 4:3 / Letterbox (480i) (20:26)
The Making Of Heat: Into The Fire 4:3 / Letterbox (480i) (24:02)
Return To The Scene Of The Crime 4:3 / Letterbox (480i) (12:03)
Pacino & DeNiro: The Conversation 4:3 / Letterbox (480i) (9:55)
New Content Changes Supervised By Michael Mann
11 Additional Scenes 4:3 / Letterbox (480i) (9:32)
Theatrical Trailers 4:3 / Letterbox (480i) (6:45)
Specifications
Main Audio Track: DTS-HD Master 5.1 (English) @ 1440 Kbps (48kHz/16-bit)
Subtitles: English, French, Spanish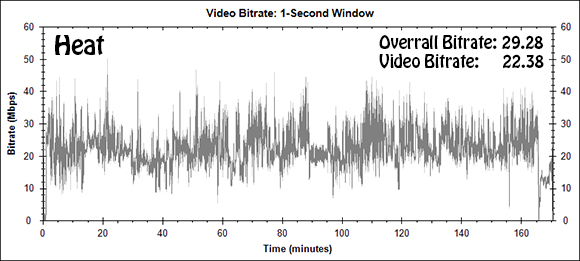 Heat Bitrate Graph
HEAT
Codec: MPEG-4 AVC Video
Resolution: 1080p
Blu-ray BD-50
Disc Size: 41,621,652,131 bytes (38.76 GB)
Movie Size: 37,431,152,640 bytes (34.86 GB)
Overall Bitrate: 29.28 Mbps
Video Bitrate: 22.38 Mbps
Download: HEAT BD Info File
Rating
| | |
| --- | --- |
| AUDIO | |
| VIDEO | |
| CONTENT | |
| EXTRAS | |
RECOMMENDED
Conclusion
I have been expecting Heat to get some sort of remaster, especially pertaining to the image quality and the audio track could be presented more fully. November 2014 will be about 4 years since it's initial release, and I still have hopes Michael Mann will revisit his masterpiece.
With the strongest aspect of this movie being the content, Heat (Blu-ray) gets a RECOMMENDED. It's too bad the extras are fullscreen and even letterboxed, as well as 480i resolution. Maybe these are the only remaining masters, but I would hope not. Audio is lacking, and just like the DVD versions, I'm having to turn up the volume in some areas and down in others.
New Content Changes Surpervised by Director Michael Mann
For this Blu-ray release, Michael Mann has removed five words from Diane Venora's character, which was previously uncut on the DVD editions (both regular and Special Edition DVD):
Justine Hanna (Diane Venora): You don't live with me, you live among the remains of dead people. You sift through the detritus, you read the terrain, you search for signs of passing, for the scent of your prey, and then you hunt them down. That's the only thing you're committed to. The rest is the mess you leave as you pass through.
To be fair, Michael Mann removed five words intuitively, and I stand by his decision. It was way over the top, and shouldn't have been included for this character. I remember watching the DVD, thinking this was odd and just jumped out at me.