Game Of Thrones: Season 3
Features: Several featurettes such as A Gathering Storm, Inside The Wildlings, 12 audio commentaries, and more.
Codec / Resolution: MPEG-4 AVC / 1080p
Studio: HBO Home Entertainment
Distributor: HBO Home Entertainment
Theatrical Release: March 31, 2013
This Release: February 18, 2014
Digital Copy Expires: February 29, 2016
Region: A
MPAA Rating: TV-MA
Aspect Ratio: 1.78:1
Active Pixel Area: 1920 x 1080 pixels
Inactive Pixel Area: NA
Running Time: 555mins
Number Of Discs: 7 (BD: 5 Discs; DVD: 2 Discs)
MSRP: $79.99
Current Price: Check Price / Purchase


Game Of Thrones: The Complete Third Season continues the somewhat complex story of several kingdoms who are competing (an understatement, I realize) to rule all the kingdoms. In this particular season, I'm sure you've heard about the controversial and "jaw-dropping" moments about a certain scene, and I won't comment any further. However, I will say GoT:S3 begins to ramp things up and there is much more happening than the second season — which is a good thing as I was getting a little bored. I have to make a confession that I love the dialogue between the characters, and I always look forward to scenes with Tyrion Lannister (Peter Dinklage). Come to think of it, Tyrion is stealing the entire series for himself, as he's been amazing in his performance. I wasn't even looking for this actor when watching the first season, but at the end of it, he perked my interest. In the second season, I was saying regular frequency: More Tyrion!

The Plot

In the first episode of this third season, we see Samwell Tarly (John Bradley) managing to slip away from the White Walkers, but they are soon on to his escape. Just when Sam thinks his life is about to end, members of the surviving Night Watch rescue him, but with reservations about his escape. Afterall, how did this one man (some would say less) avoid death when most of his men around him perished?

Jon Snow (Kit Harington) is brought into the Wildling camp along with his captor Ygritte (Rose Leslie), where he meets Mance Rayder (Ciarαn Hinds), more infamously known as The King Beyond The Wall. Why does Jon Snow want to defect from the Night Watch, inquires Mance. Jon replies the complacent behavior of Lord Commander Jeor Mormont (James Cosmo) towards Craster (Robert Pugh), who's been feeding the White Walkers infants.

At the end of GoT:S2 Daenerys Targaryen (Emilia Clarke) gives Xaro Xhoan Daxos (Nonso Anozie) his just reward, and leaves the city of Qarth, as there is nothing left to help and the city is mostly a bunch of self-ruling politicians living in a fantasy world. Definitely not the makings of the backbones of warriors. Creating an army is priority, and in order for the Mother Of Dragons to rise to supreme leader of Westeros, she realizes her numbers are still very small, and must increase them. But how? The best option is to sail to Astapor.

Packaging

Packaging for Game Of Thrones: The Complete Third Season arrived at my door step directly from Best Buy. For this season, I opted for the House Lannister Slipcover. Some people like these slipcovers, some do not. I love'em. Having three different slipcovers on my shelf so far, they really look good.

Unfortunately, we have the same frustrating fold-out disc containment system as the other seasons, and I would have hoped HBO would have changed it by now. They changed the outside color of the box to a more royal white color, while the other two were black...so...what's up with this. Many of us still have the Alien Quadrilogy fold-out fiasco, and this is very similar. Unless you have a friend (or two?) in your living room to help with unfolding this thing, you're gonna have to find a place to spread this 35-inch (that's basically 3 feet) artistic masterpiece to grab your favorite disc.

A digital copy code and two dual-sided DVDs which have the MPEG2 versions of Game Of Thrones: The Complete Third Season, are included in a thin booklet. These will more than likely come to be very convenient. Why? I already have friends asking to borrow my Blu-ray discs for the third season. And repeatedly, I say...NOPE. For those of us who have a respectful collection...it didn't get that way loaning our movies out. However, with a DVD copy included, we can satisfy most of our friends' need for a GoT fix.

Screencaps

Video

As usual, Game Of Thrones: The Complete Third Season does not disappoint where image quality is being monitored, and it's one of the best Blu-ray releases to date, let alone a television series looking so fabulous. So yes, this series could — and should — be used as a reference for video.

Additional Screencaps

Extras
A total of 12 audio commentaries are spread across all episodes except the first episode
Game Of Thrones: A Gathering Storm HD (14:02)
Game Of Thrones: The Politics Of Marriage HD (8:39)
Game Of Thrones: Inside The Wildlings HD (6:21)
Game Of Thrones Recap HD (10:01)
Five Extended and Deleted Scenes HD (9:42)
Game Of Thrones: New Characters HD
In-Episode Guide
The Rains Of Castemere Unveiled HD
Histories And Lore HD
Roots Of Westeros HD
Specifications
Main Audio Track (EP01): DTS-HD Master 5.1 (English) @ 3643 Kbps (48kHz/24-bit)
Main Audio Track (EP02): DTS-HD Master 5.1 (English) @ 3718 Kbps (48kHz/24-bit)
Subtitles: English, French, Spanish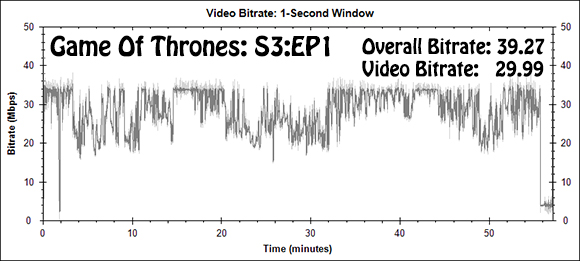 Game Of Thrones: Season 3 Bitrate Graph


Rating
| | |
| --- | --- |
| AUDIO | |
| VIDEO | |
| CONTENT | |
| EXTRAS | |
HIGHLY RECOMMENDED PLUS
Conclusion
Game Of Thrones: The Complete Third Season does not disappoint for the 3rd season, and I can't wait for the fourth season. I will admit, there are times when the dialogue gets a little tired because I want to see more of the special effects — and more of the White Walkers. These are the most elusive characters in the entire series so far, and only a few tidbits of information are revealed every season.
Having image quality and special effects that rival a 3-digit million dollar blockbuster movie, Game Of Thrones: The Complete Third Season (Blu-ray) gets a HIGHLY RECOMMENDED PLUS. The third season is a must-own.
Special effects aside, GoT:S3 also has a solid cast of characters which is very rare when it comes to a continuing series. Normally, the acting dries up by the second season, different writing attempts to gain new viewers, but GoT is sticking to the basics of a successful book-to-tv series. Unfortunately, characters must leave series as their time comes due such as Ned Stark (Sean Bean), but I suppose this makes Got even better, as we learn to treasure the times each character has throughout the entire series so far.