Men In Black 3
Features: Several featurettes, Scene Investigations, Partners In Time: The Making of MIB3, gag reel, and more.
Codec / Resolution: MPEG-4 AVC / 1080p
Studio: Sony Pictures
Distributor: Sony Pictures
Theatrical Release: May 25, 2012
This Release: November 30, 2012
Region: A, B, C
MPAA Rating: PG-13
Aspect Ratio: 1.85:1
Active Pixel Area: 1920 x 1040 pixels
Inactive Pixel Area: 1920 x 40 pixels
Running Time: 106mins
Number Of Discs: 2
MSRP: $19.99
Current Price: Check Price / Purchase


Men In Black 3 manages to keep the humor fresh and a storyline which is believable — and if it isn't then the special effects make it believable. After all, we don't take MIB3 too seriously, and I think I'm not the only one to say the MIB films have been enjoyable ever since it began in 1997. It's really a testament to superb directing and excellent writing to keep a film series going for 15 years without any hiccups. I suppose one of the major reasons why I have all three films in my Blu-ray collection is because of the actors who make the characters so real and fun to watch as they go back and forth with insults and encounter ugly (and some of them beautiful) aliens. This might seem childish but I like to sit back and just have fun watching a spacey comedy flick. And let's also not forget the fact finding a film with original visual effects that are top-notch in today's films are very rare.

The Plot

Agent J (Will Smith) and Agent K (Tommy Lee Jones) are up against one of the most vicious and dangerous villains to plague the galaxy ever. Boris The Animal (Jemaine Clement) has been imprisoned in a secret facility which houses only the most ruthless and perilous of aliens. And due to this, the facility is kept on the Moon, hundreds of thousands of miles from citizens of Earth. Of course, it was only a matter of time before Boris would find a way to escape and get revenge on the person who put him there.

After Boris escapes the prison on the Moon, he goes directly to Earth to formulate his plan to make sure he is never imprisoned again. But how to do this? Well, going back in time and taking out Agent K is on the top of the list.

The next day Agent J goes to work to discover his partner is nowhere to be found, and finds out from Agent O (Emma Thompson) that Agent K died in a battle with Boris back in 1969. It doesn't take long for Agent J to figure out Boris has gone back in time and messed around with history — eliminating Agent K from getting in the way in the future.

Agent J goes back in time to convince Young Agent K (Josh Brolin) who he is, and the alien he did not kill...will come back and kill him, enabling the unleashing of an invasion on Earth 25 years later. This time Boris must be permanently taken care of.

Sounds easy, right?

Packaging

Packaging for Men In Black 3 arrived in a standard "Snapper" Blu-ray case, with one Blu-ray disc and a DVD disc. I don't particularly like these Snappers, but I did manage to receive a slipcover as well, so all is well.

Screencaps

Video

Men In Black 3 is one of the best Blu-ray releases I've seen, and could be used as a reference for video.

Extras
Partners In Time: The Making Of MIB 3 HD (26:25)
Keeping It Surreal: The Visual FX Of MIB 3 HD (10:27)
The Evolution Of Cool: MIB 1960's vs. Today HD (11:15)
Scene Investigation: Lunar Prison Escape HD (4:20)
Scene Investigation: Showdown At Mr. Wu's HD (4:25)
Scene Investigation: J's Time Jump HD (4:02)
Scene Investigation: The Monocycle Chase HD (4:39)
MIB3: Trailer HD (2:32)
MIB3: Creating The Weasel HD (2:48)
MIB3: Alien Fish HD (2:57)
MIB3: Monocycle Chase HD (3:56)
MIB3: Creating Cape Canaveral HD (3:59)
Gag Reel HD
Back In Time music video by Pitbull HD
Specifications
Main Audio Track: DTS-HD Master 5.1 (English) @ 2403 Kbps (48kHz/16-bit)
Subtitles: English, French, Spanish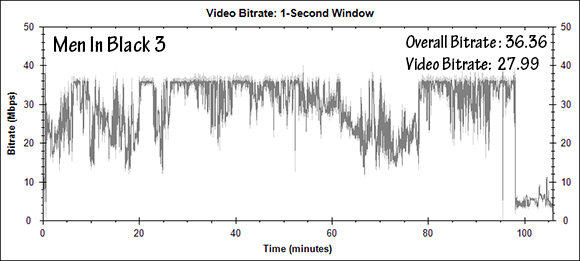 Men In Black 3 Bitrate Graph
MEN_IN_BLACK_3
Codec: MPEG-4 AVC Video
Resolution: 1080p
Blu-ray BD-50
Disc Size: 44,974,324,683 bytes (41.89 GB)
Movie Size: 28,859,516,928 bytes (26.88 GB)
Overall Bitrate: 36.36 Mbps
Video Bitrate: 27.99 Mbps
Download: MEN_IN_BLACK_3 BD Info File
Rating
| | |
| --- | --- |
| AUDIO | |
| VIDEO | |
| CONTENT | |
| EXTRAS | |
HIGHLY RECOMMENDED
Conclusion
Men In Black 3 has delivered. I have to admit, I was a little cautious with the third MIB installment, but ever since the beginning of the film, I didn't look back. One of the best indicators if a movie has done it's job is how many times I get up off the couch. For MIB3...I didn't get up off the couch at all.
Having one of the very few amazing picture quality presentations I've ever seen, as well as a cast of characters which do not disappoint, Men In Black 3 (Blu-ray) gets a HIGHLY RECOMMENDED.
I have to admit: I wish there were more MIB films popping up every other year or so, because Will Smith and Tommy Lee Jones just click their heels together in unison when it comes to comedy. Some people may not like the rather raw and simple schtick humor, but I love it when somebody gets gooed by an alien creature, or their little head pops off while doing something outrageous. Some actors cannot pull this off or enhance the other characters. This is why I prefer Will Smith and Tommy Lee Jones because their personalities clash, which makes it so believable.
Another note about the video. Yes, it's looks gorgeous. You should get a copy of MIB3 just for video reference purposes to show off your new HDTV. You won't be disappointed, but you WILL BE disappointed at how many Blu-ray releases could have been so much better.