Iron Sky: Dictator's Cut
Features: 20mins of additional footage, 75-minute Making of Iron Sky, 32-Page concept art book.
Codec / Resolution: MPEG-4 AVC / 1080p
Studio: Blind Spot Pictures
Distributor: 4Digital Media
Theatrical Release: October 2011
This Release: February 10, 2014 (UK)
Region: A
BBFC Rating: 15
Aspect Ratio: 2.39:1
Active Pixel Area: 1920 x 798 pixels
Inactive Pixel Area: 1920 x 282 pixels
Running Time: 110mins
Number Of Discs: 1
MSRP: £19.99
Current Price: Check Price / Purchase


Iron Sky: Dictator's Cut is finally available, and in this particular review, it's being presented with Steelbook packaging. I'm not particularly a Steelbook Fan (I think this brings the total to 2 out of my 870+ something HD collection), but for this movie, it just looks so much better sitting on my shelf as a Steelbook. Of course, Steelbook packaging aside, the major reason for getting this was the additional 20-minutes of footage which brings the movie to a more solid and certainly more exciting atmosphere. Many more visual effects are offered in this release. Also included with this particular cut is a 78-minute Making of Iron Sky.

Dictator's Cut or Director's Cut

If you're purchasing this Steelbook OUTSIDE THE US, the original nomenclature is Dictator's Cut. If you buy the Steelbook (or the longer cut in basic Blu-ray packaging), you'll discover the cut has been renamed to Director's Cut and this will be embossed on the Steelbook as well. So, it's your call as to which one you want. Currently, you'll pay about $5 USD more for the import. I guess the powers that be thought Americans couldn't handle such an aggressive title and would incur the wrath of the Mondnazis.

The Plot

Towards the end of World War II, the Nazis used their secret space program to send a group to the Dark Side Of The Moon to escape capture. In addition, the Master Plan was to eventually fight back in the future with overwhelming force and technological superiority. However, this would take time. Maybe 2018?

Back on Earth, the President of the United States (Stephanie Paul) has successfully launched a lunar vessel to the Moon, which has James Washington (Christopher Kirby) on board. The fact he's an All-American Black male is no mistake, and the POTUS is hoping this political move will launch her campaign into unseen territorial victory. Unfortunate for Washington, he's landed next to the Moon Nazi Base, and it does not take long for the Nazis to spot him and take him prisoner. When Washington takes off his helmet, he's as surprised to see them as they are to see him.

Renate Richter (Julia Dietze) is an άber-sexy Nazi teacher, who discovers Washington is more dimensional than what she was lead to believe from the likes of Klaus Adler (Gφtz Otto) and Wolfgang Kortzfleisch (Udo Kier). With the unexpected arrival of Washington on the doorstep of the their Moonbase, Klaus observes an opportunity to go to Earth and get more of the technology found on the astronaut...a cell phone.

Packaging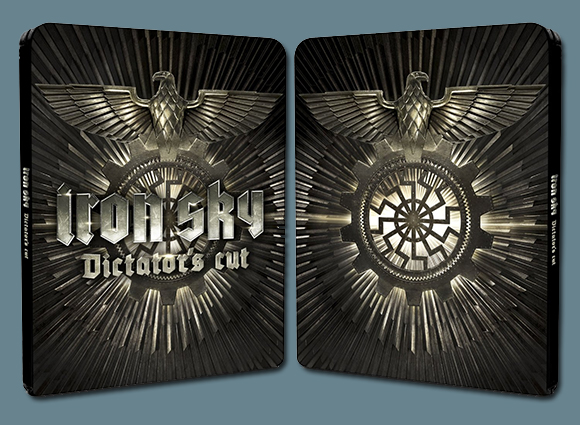 Iron Sky: Dictator's Cut (Blu-ray Steelbook)
Packaging for Iron Sky: Dictator's Cut arrived in the standard Steelbook case, with one Blu-ray disc. The artwork is pretty nice and matches the film perfectly. In addition to the specially-marked Blu-ray disc, there's a 32-page concept art booklet stamped with GEHEIM! on it.
Screencaps
Video
Iron Sky: Dictator's Cut looks very sharp, and the metalic and slightly muted colors for scenes on the Moon look exceptional.
Additional Screencaps
Extras
Making of Iron Sky HD (1:18)
Specifications
Main Audio Track: DTS-HD Master 5.1 (English) @ 1964 Kbps (48kHz/16-bit)
Subtitles: English, English SDH, Danish, Finnish, Norwegian, Swedish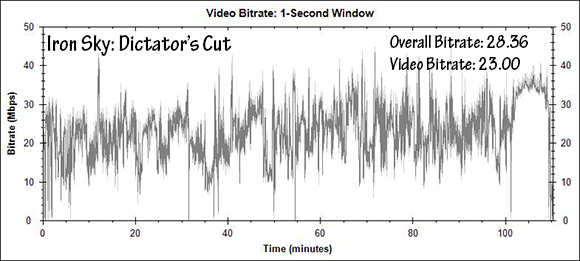 Iron Sky: Dictator's Cut Bitrate Graph
IRON SKY DICTATORS CUT
Codec: MPEG-4 AVC Video
Resolution: 1080p
Blu-ray BD-50
Disc Size: 42,822,945,292 bytes (39.88 GB)
Movie Size: 23,448,090,624 bytes (21.84 GB)
Overall Bitrate: 28.36 Mbps
Video Bitrate: 23.00 Mbps
Download: IRON SKY DICTATORS CUT BD Info File
Rating
| | |
| --- | --- |
| AUDIO | |
| VIDEO | |
| CONTENT | |
| EXTRAS | |
HIGHLY RECOMMENDED
Conclusion
Iron Sky: Dictator's Cut is the best way to view this outrageous comedy in all its visual effect eye-candy and additional politically incorrect comments made by the characters. The overrall picture quality is just great and probably worth a reference for video. On the other hand, the audio is a little lacking, and didn't have as much dynamic potential as I would have hoped for during many scenes. One of the reasons I docked a little bit on the audio, was that I was planning rock out on the new music score by Laibach, but it just seemed to be missing something.
Providing an additional 20-minutes of footage, Iron Sky: Dictator's Cut (Blu-ray) (UK) gets a HIGHLY RECOMMENDED. This is the version which should have been released initially.
In case you're asking, there is another installment of Iron Sky in the works, and I can't wait to see it. While Blind Spot Pictures doesn't have a large quantity of titles released just yet, the titles they have released are worth the viewing and adding to your repeated viewing pleasure.
If you're more interested in the Americanized version of Iron Sky, which has the Steelbook naming difference as well as a DVD included, be sure to order Iron Sky: Director's Cut (Blu-ray & DVD Combo) (US).