The Hunter
Features: Making Of The Hunter, Deleted Scenes, and more.
Codec / Resolution: MPEG-4 AVC / 1080p
Distributor: Magnolia Home Entertainment
Theatrical Release: October 2011
This Release: July 3, 2012
Region: A
MPAA Rating: R
Aspect Ratio: 2.35:1
Active Pixel Area: 1920 x 818 pixels
Inactive Pixel Area: 1920 x 262 pixels
Running Time: 102mins
Number Of Discs: 1
MSRP: $19.99
Current Price: Check Price / Purchase


The Hunter is one of those movies which flew under the radar, but more than likely because it had limited release (initially premiering at the Toronto International Film Festival), and when it did have a release in the US, it was mostly during another independent film festival event. Of course, this is great for the film festivals, and I love film festivals as they expose some amazing talent yet to be harvested. In this particular Australian release, we have some well-known actors, which at first might seem to potentially take away from the story...but thankfully, it does not. Instead, we're left with some good material to ingest and realize that extinction of animals is many times a selfish game of control and manipulation to those who have unlimited resources.

The Plot

A military bio-tech company has a mission for Martin (Willem Dafoe): Obtain blood, organ, and tissue samples from a Tasmanian Tiger, known to have been recently sighted in the backwoods of Australia. Martin is mercenary, and this particular request is probably different than most. The Red Leaf company has requested an additional man to go along to assist, but Martin refuses on the basic assumption two people will attract more attention than one.

We have a brief idea of where the Tasmanian Tiger is supposed to be (thanks to a quick scene showing a protest camp) and even the license plate on the vehicle Martin is driving. The Upper Florentine Valley of Tasmania. Martin has been given an assumed occupational mission from a university, and is given residence with a family of the local area. Jack Mindy (Sam Neill) is the guide who is going to take Martin into the deeper parts of the valley, but Martin tells Jack he can carry on by himself.

Eventually Martin returns to the home after doing some initial scouting of the area, and is presented with a few other issues. The family of the home is missing their father, Jarrah Armstrong (Marc Watson-Paul), who has not been seen for over two weeks, and could have been in the area where Martin is searching for the Tasmanian Tiger. While Martin is far from being a university researcher, Jarrah is the real thing, and he might have some clues as to the recent reports of the extinct tiger.

Lucy Armstrong (Frances O'Connor) is the wife who has taken a depressive turn for the worse as her husband has not been found, and his demise is becoming ever so obvious as the days drag on. Because of her mental state, the home is not in the best of shape for the children, Sass (Morgana Davies) and Bike (Finn Woodlock). Bike has some very interesting drawings of a rather familiar creature and this gives Martin a sense there is truth not so far away.

Packaging

Packaging for The Hunter came to me in a standard Elite Blu-ray case.

Screencaps

Video

The Hunter looks fabulous on Blu-ray, and from looking at the bitrate graph below, this is one of those titles which is "unrestrained". Surprisingly, this is only a BD-25 disc. When needed, the bitrate is there, which provides some beautiful images.

Extras
Making Of The Hunter: The Story, The Characters, The Tiger HD (32:51)
Deleted Scenes HD (6:41)
Feature Length Audio Commentary with Director Daniel Nettheim and Producer Vincent Sheehan
Specifications
Main Audio Track: DTS-HD Master 5.1 (English) @ 1772 Kbps (48kHz/16-bit)
Subtitles: English SDH, Spanish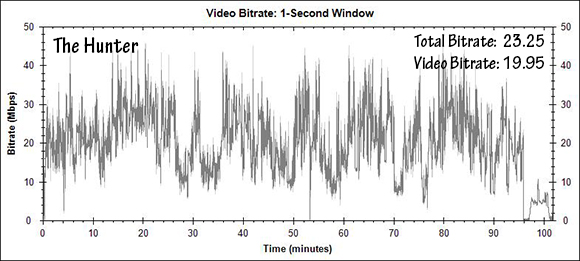 The Hunter Bitrate Graph
THE_HUNTER_BD
Codec: MPEG-4 AVC Video
Resolution: 1080p
Blu-ray BD-25
Disc Size: 24,714,528,937 bytes (23.02 GB)
Movie Size: 17,733,931,008 bytes (16.52 GB)
Overall Bitrate: 23.25 Mbps
Video Bitrate: 19.95 Mbps
Download: THE_HUNTER_BD BD Info File
Rating
| | |
| --- | --- |
| AUDIO | |
| VIDEO | |
| CONTENT | |
| EXTRAS | |
HIGHLY RECOMMENDED
Conclusion
The Hunter is a fascinating story, and the cinematography of Tasmania is amazing. The bigger your television...the more you'll enjoy this film.
A familiar set of actors which bring a gritty and realistic performance as well as few young talented actors which should be noted, The Hunter (Blu-ray) gets a HIGHLY RECOMMENDED.
The Hunter is one of those films which is more than likely already on the movie shelves of those who have a taste for outdoor adventure. But no matter what degree your outdoor thirst, be sure to add this film to your collection.