The Killing
The Complete First Season
Features: Extended Season Finale of Orpheus Descending, Deleted Scenes, Gag reel, and more.
Codec / Resolution: MPEG-4 AVC / 1080p
Distributor: AMC Network Entertainment / 20th Century Fox
Theatrical Release: April 3, 2011
This Release: March 13, 2012
Region: A
MPAA Rating: Not Rated
Aspect Ratio: 1.78:1
Active Pixel Area: 1920 x 1080 pixels
Inactive Pixel Area: NA
Running Time: 587mins
Number Of Discs: 3
MSRP: $49.99
Current Price: Check Price / Purchase


With all the crime shows floating around on network and cable television these days, you'd think real murders were solved in 60-minutes — including irritating commercials which often advertise more crime shows that air at other times of the week. Of course, out of the quantity of crap I see, there are few crime dramas which grab my attention, and make me want to write a review on them. I came across first season of The Killing by accident. It was on sale for dirt-cheap during the holidays, and had a list of actors I barely knew — ok, I admit it, I only recognized one name, which was Brent Sexton. But regardless, I looked forward to a refreshing new series which didn't have the usual crop of "talent" forced into recycled plots and characters. The Killing soon became one of my favorite crime series, and I'm sure it will be yours as well.

For those unaware, The Killing takes its lead from a Danish crime series called Forbrydelsen. Initially airing in early January 2007, only three seasons were made, and you can buy the complete set on Amazon.co.uk. I recommend this set, but it will cost you around $80 USD.

As of this review, The Killing has had three complete seasons released, and surprisingly, there is only the first season available on Blu-ray. AMC needs to hurry up and get their act together.

The Plot

In the first episode, we see Detective Sarah Linden (Mireille Enos) of the Seattle Police Department, running through one of Northwest Washington's trails. This is her last day with SPD, and after just having a surprise going away party, she's ready to head south to California with her fiance, Rick Felder (Callum Keith Rennie). In the middle of packing things up from the office, Stephen Holder (Joel Kinnaman) walks in. It's a rather awkward moment, as he's her replacement. As law enforcement life would dictate, there's a situation which comes up in the middle of everything, and Lt. Michael Oakes (Garry Chalk) suggests Sarah take Stephen along and show him a few things before she leaves.

At the scene of a crime — which has yet to be determined — an officer shows the two detectives a pink sweatshirt with a significant amount of blood which was found by schoolkids on a field trip, and a debit card with the name Stanley Larsen. So far, no body has been found. Sarah and Stephen know they need to find out where this Stanley Larsen resides and follow-up. Sarah's flight to California is at 9:00pm, but Stephen assures her she will be on the flight if only she can tag along for a little while longer on the case. Sarah relunctantly agrees.

Eventually, detectives learn Rosie Larsen (Katie Findlay) has not communicated with her parents for several days, and her alleged whereabouts are not accurate. Rosie's parents, Stan Larsen (Brent Sexton) and Mitch Larsen (Michelle Forbes), are now dreading the possibility of something unthinkable.

Packaging

Packaging for The Killing: The Complete First Season came to me in a standard Elite 3-Disc Blu-ray case. Would've been nice to have a slipcover with additional artwork, but I'm not too picky. The three Blu-ray discs have a different color of artwork: Disc One is black, Disc Two is mostly white, and Disc Three is a light brownish color. Also, if you remove the insert on the inside, you will see the series episodes broken down by disc (along with special features) displayed on the opposite-side of the cover artwork, which is very convenient.

Screencaps

Video

The Killing: The Complete First Season looks great. I've included additional screencaps due to the variancea in scenes, and because it's a series. There are some instances where grain is observed, but this is not so common. Outdoor filming is rather good, and I think I observed more grain when there were scenes inside on a dark night. Still, this series looks exceptional, and really brings out the grittyness of the circumstances of the series altogether.

Additional Screencaps

Extras
Audio Commentary on The Killing (Pilot) with Executive Producer/Writer Veena Sud (Disc 1)
No Special Features on Disc 2
An Autopsy Of The Killing HD (16:53) (Disc 3)
Deleted Scenes HD (Disc 3)
Gag Reel HD (Disc 3)
Audio Commentary on Orpheus Descending with Mireille Enos and Co-Executive Producer Nicole Yorkin (Disc 3)
Specifications
Main Audio Track: DTS-HD Master 5.1 (English) @ 3598 Kbps (48kHz/24-bit) D1
Subtitles: English, Spanish, French
Main Audio Track: DTS-HD Master 5.1 (English) @ 3481 Kbps (48kHz/24-bit) D2
Subtitles: English, Spanish, French
Main Audio Track: DTS-HD Master 5.1 (English) @ 3542 Kbps (48kHz/24-bit) D3
Subtitles: English, Spanish, French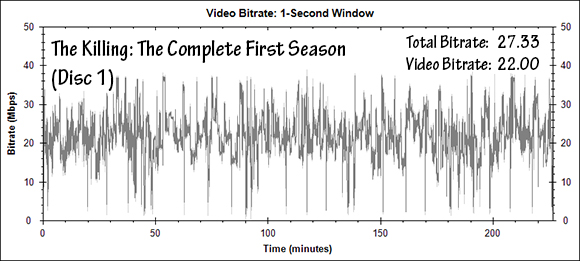 The Killing: The Complete First Season Bitrate Graph
THE_KILLING_S1_D1
Codec: MPEG-4 AVC Video
Resolution: 1080p
Blu-ray BD-50
Disc Size: 47,547,417,170 bytes (44.28 GB)
Episodes Size: 46,421,102,592 bytes (43.23 GB)
Overall Bitrate: 27.33 Mbps
Video Bitrate: 22.00 Mbps
Download: THE_KILLING_S1_D1 BD Info File
THE_KILLING_S1_D2
Codec: MPEG-4 AVC Video
Resolution: 1080p
Blu-ray BD-50
Disc Size: 46,842,165,433 bytes (43.63 GB)
Episodes Size: 45,894,193,152 bytes (42.74 GB)
Overall Bitrate: 27.17 Mbps
Video Bitrate: 22.00 Mbps
Download: THE_KILLING_S1_D2 BD Info File
THE_KILLING_S1_D3
Codec: MPEG-4 AVC Video
Resolution: 1080p
Blu-ray BD-50
Disc Size: 38,873,850,892 bytes (36.20 GB)
Episodes Size: 31,219,716,096 bytes (29.08 GB)
Overall Bitrate: 29.91 Mbps
Video Bitrate: 24.50 Mbps
Download: THE_KILLING_S1_D3 BD Info File
Rating
| | |
| --- | --- |
| AUDIO | |
| VIDEO | |
| CONTENT | |
| EXTRAS | |
HIGHLY RECOMMENDED PLUS
Conclusion
The Killing: The Complete First Season is one of my favorite crime shows available. I've read about comments regarding the "chain-of-evidence" during the series, and while these points are valid...you have to ask yourself what the series is more interested in: Chain Of Evidence procedures...or the psychological circumstances of the characters and how they play out with one another. Sure, let's add an extra 30-minutes per episode, watching Linden and Holder log evidence. I'm sure that'll put the series into the most exciting crime thrillers ever to grace television!
Not.
One of the few crime shows to make its way past the typical wrap-it-up-in 60-minutes for better advertising profits genres, The Killing: The Complete First Season (Blu-ray) gets a HIGHLY RECOMMENDED PLUS. If you like watching a crime unfold slower, building up to an amazing discovery of events, this is for you.
The Killing also presents us with several up-and-coming young actors which I am sure we'll see in future movies and maybe other TV series. Characters such as Bullet (Bex Taylor-Klaus) and Lyric (Julia Sarah Stone) stand out in my mind throughout the third installment of the series and I hope to be reviewing these other seasons eventually.
It would be nice to present the reviews of Season Two and Season Three of The Killing...but they aren't on Blu-ray yet. This is one of those very irritating behaviors of studios which frustrates me. You have something good, sales are good, so why not release it on Blu-ray?
The Killing of The Killing...and more Killing...?
Initially, The Killing was slated for only one season, but due to a surprising demand (yes, it's true, many viewers do know what quality content is), a second and third season was created. Then we heard the third season was the last...and now recently we have a fourth season being created to finally end the series, but this time, Netflix will be producing it, leaving AMC out of the production. Netflix has had some pretty good original productions, so I'm confident they can pull something together for a final...finale.