Everything Must Go
Features: Audio Commentary with Dan Rush & Michael Pena, featurettes, deleted scenes, and more.
Codec / Resolution: MPEG-4 AVC / 1080p
Distributor: Lionsgate Films
Theatrical Release: April 27, 2011
This Release: September 6, 2011
Region: All Regions
MPAA Rating: R
Aspect Ratio: 2.40:1
Active Pixel Area: 1920 x 800 pixels
Inactive Pixel Area: 1920 x 280 pixels
Running Time: 97mins
Number Of Discs: 1
MSRP: $14.99
Current Price: Check Price / Purchase


What I've found consistent of the opinions of Will Ferrell, is you either you love the guy's sense of humor...or you wish he would go somewhere where no human would want to go and politely die. I'm not sure why this is. Whoever I talk to, either they are a huge fan or I find myself attempting to justify the humor of an actor and losing the battle of winning them over. The other night I was pondering this very question as I was wondering what movie I should watch. I came across Everything Must Go. Considering how ashamed I felt when I pulled it off my shelf, I suppose yes, I do have a Ferrell Fetish to some degree. For those who may have missed this particular film, the humor of Will Ferrell is still there, but it does have a different tone than most of his other movies. Life is not entirely schtick in Ferrell World — in fact it can be quite serious. The key in facing compounding problems and obstacles...is how we deal with them.

The Plot

Nick Halsey (Will Ferrell) just got fired from his 15-year job. His numbers were good. Oh yes, his numbers were good. Some great sales were made, indeed. But one problem has over-shadowed his performance record, and is now staring him in the face. Nick has a drinking problem, and it has finally come to the point where his job is now taken away. As with any addiction, there is the domino effect, and his job is only the beginning. Pulling up into his driveway, Nick discovers his wife has left him — this time for good — and all of his belongings are in the front yard. And he's been locked out. The company car he's been using...is going back to the company.

Without much going for him, Nick decides to camp out in the front yard, grabs a lawn chair, and drinks until he falls asleep. The next day, a friend of Nick, Officer Frank Garcia (Michael Peña) — and also his AA sponsor — informs him he needs to get his stuff off the lawn or the city will be forced to haul it away. Of course, he also lets him know if there is a yard sale in progress, he could keep his stuff on the lawn for several more days. With the help of an inquiring chubby kid with good intentions, Kenny Loftus (Christopher Jordan Wallace) helps Nick begin the yard sale of the neighborhood.

Recently moved-in neighbor Samantha (Rebecca Hall) and old high school friend Delilah (Laura Dern) give Nick a new perspective on life, allowing more reflection on the problems a person faces, the addictions, and how one can manage them.

Packaging

Packaging for Everything Must Go came to me in a standard Elite Blu-ray case.

Screencaps

Video

For the most part Everything Must Go looks good, but I did notice many instances of crush in the lighter colors (white more specifically), along with some pixelation. I'm not sure a BD-50 wasn't used as just about any decent movie over 90-minutes will be 25GB+. Why Lionsgate decided to compress an extra 2-5GB, is beyond my comprehension. In any case, the movie looks ok, but could be better.

Extras
Everything Must Go: Deleted Scenes HD (12:55)
Everything Must Go: Behind-The-Scenes HD (10:32)
In Character (with Will Ferrell) HD (8:35)
Specifications
Main Audio Track: DTS-HD Master 5.1 (English) @ 3346 Kbps (48kHz/24-bit)
Subtitles: English, Spanish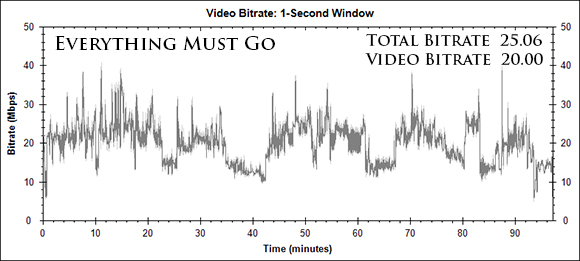 Everything Must Go Bitrate Graph
EVERYTHINGMUSTGO
Codec: MPEG-4 AVC Video
Resolution: 1080p
Blu-ray BD-25
Disc Size: 24,906,084,727 bytes ( GB)
Movie Size: 18,252,478,464 bytes ( GB)
Overall Bitrate: 25.06 Mbps
Video Bitrate: 20.00 Mbps
Download: EVERYTHINGMUSTGO BD Info File
Rating
| | |
| --- | --- |
| AUDIO | |
| VIDEO | |
| CONTENT | |
| EXTRAS | |
RECOMMENDED PLUS
Conclusion
If you haven't like Will Ferrell in other movies where the humor was just way over the top...you just might like Everything Must Go. What happens when your addiction gets the best of you? Everyting else must go in order for the realization the addiction is getting out of control, and ruining your life.
A more realistic look at how a person finds himself after losing just about everything, Everything Must Go (Blu-ray) gets a RECOMMENDED PLUS.
What was more rewarding than many films of this type, was there is no happy ending, where everyone gets together with just the right man or woman. Everything Must Go is a solid take on a man's addiction, and what happens when an addiction catches up with him.