Hanna
Features: Blu-ray and Digital Copy, featurettes, deleted scenes, alternate ending, and more.
Codec / Resolution: MPEG-4 AVC / 1080p
Distributor: Focus Features
Theatrical Release: April 8, 2011
This Release: September 6, 2011
Region: All Regions
MPAA Rating: PG-13
Aspect Ratio: 2.40:1
Active Pixel Area: 1920 x 800 pixels
Running Time: 111mins
Number Of Discs: 1
MSRP: $14.98
Current Price: Check Price / Purchase


Saoirse Ronan may not be too familiar to you, but after this film, she will be. Known for being the little — but very vicious — girl in Atonement, Joe Wright has chosen her once again for another film under his direction. In Hanna, we see her expand her role to someone who is much more independent — and extremely dangerous. Hanna received fairly good ratings in theaters, but it seems more proper attention became known once it was available for individual purchase. Surprisingly, Hanna has been out for over 2 years, but it's still a favorite of mine. During the winter months, I like to grab a movie off my shelf that resembles the outdoors, and this is one of my favorites.

The Plot

Deep in the arctic region of northern Sweden, Hanna and her father Erik Heller (Eric Bana) have been living off the land for many years. A cabin hidden in a thickly-forested area near Jokkmokk, is where layers of fur, hunting bow, and bow drill are essential to survival.

Jokkmokk is a beautiful area to live, and one can be far away from most of civilization, but still within reach of it. Moose and reindeer meat, fish, and cloudberries are common food sources of the Lapland. Because of the moist climate, mosquitoes are the only hindrance for this arctic paradise.

Erik and his 14-year old daughter are not estranged from the common population by choice. Someone means them extreme harm, and there is a violent history which involves Hanna's mother. Erik has given Hanna the opportunity for the light to be shown on her, at her discretion. An ex-CIA agent, Erik has been training his daughter for several years, to be become the perfect assassin. He knows he stands no chance of getting his hands on the person who was responsible for his wife's death. While he has exceptional skill, it is no match for Marissa Wiegler (Cate Blanchett), a rogue administrative agent who has unlimited resources.

Hanna is only one person who can possibly get close to the person who killed her mother.

Packaging

Packaging for Hanna comes in a standard Blu-ray case, along with a Digital Copy. The case I received was the standard (and solid) Elite case.

Screencaps

Video

Hanna looks impressive, and the cinematography is to be enjoyed. Images — especially faces — look rather sharp.

Extras
Adapt Or Die HD (13:16)
Central Intelligence Allegory HD (8:55)
Chemical Reaction HD (6:07)
Anatomy Of A Scene: The Escape From Camp G HD (13:16)
Alternate Ending / Deleted Scenes HD (3:47)
Feature Commentary with Director Joe Wright
Specifications
Main Audio Track: DTS-HD Master 5.1 (English) @ 3909 Kbps (48kHz/24-bit)
Subtitles: English, French, Spanish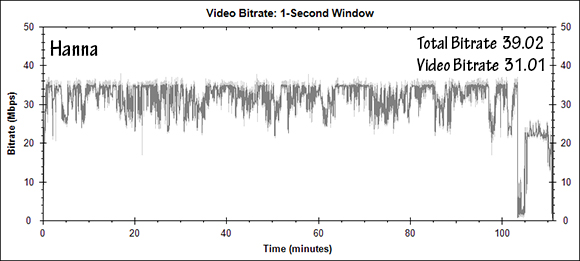 Hanna Bitrate Graph
HANNA_DOM
Codec: MPEG-4 AVC Video
Resolution: 1080p
Blu-ray BD-50
Disc Size: 41,735,848,429 bytes (38.87 GB)
Movie Size: 32,496,660,480 bytes (30.26 GB)
Overall Bitrate: 39.02 Mbps
Video Bitrate: 31.01 Mbps
Download: HANNA_DOM BD Info File
Rating
| | |
| --- | --- |
| AUDIO | |
| VIDEO | |
| CONTENT | |
| EXTRAS | |
HIGHLY RECOMMENDED PLUS
Conclusion
Every year we have a small percentage of titles (recently, less than this) which manage to capture the essence of geographical areas and the adventure and drama together. Rarely do I see films successfully do both. The initial scenes of Hanna in northern Sweden really get me excited about the country. Many films attempt to bring the country's exoticness into the studio, but director Joe Wright does just the oppposite.
A young assassin trained by her father to weild his vengeance, Hanna (Blu-ray) gets a HIGHLY RECOMMENDED PLUS.
Saoirse Ronan has only been featured in a handful of titles, but in 2014 she has at least three films in production, according to IMDB. Definitely keep an eye out for them.