Lifeforce
Collector's Edition
Features: Exclusive HD transer, exclusive extras, reversable insert, and more.
Codec / Resolution: MPEG-4 AVC / 1080p
Distributor: Shout! Factory / Scream Factory
Original Release: June 21, 1985
This Release: June 18, 2013
Region: Region A
MPAA Rating: R
Aspect Ratio: 2.35:1
Active Pixel Area: 1920 x 816 pixels
Running Time: 101mins / 116mins
Number Of Discs: 2 (Blu-ray + DVD)
MSRP: $29.93
Current Price: Check Price / Purchase


Lifeforce is one of those classic sci-fi horror films where you either like it...or you'd rather drink a gallon of used oil out of a large construction vehicle. Fortunately, I have a favorite spot in my heart for Lifeforce. Some might say it has to do with Mathilda May, and they would be spot-on correct. In any case, Shout! Factory has released a Tobe Hooper-approved transfer, and I'll just say right now it looks great. Buy it. Now. I suppose you could stop there and just mouse-click that order, but do take a look at the screenshots below, as this is the best I've seen Lifeforce. Just in case you have not seen this movie, well, certainly give it a once over. If you're a fan of 80's horror movies, or are familiar with Shout! Factory and their exclusive releases, you'll more than likely do just fine adding this to your collection.

The Plot

The HMS Churchill has a joint British-American space team onboard to explore Halley's Comet. On their way, they discover a 150-mile long (and about 2 miles high) spaceship embedded in the tail of the comet. Col. Tom Carlsen (Steve Railsback) heads the American team and is persistent in boarding this alien spacecraft, as it will be their last chance to view investigate such an amazing thing (and its internal contents) for another 76 years. Halley's Comet only comes around about once a century, so whatever is using the comet's tail as a form of energy, will probably not be around for quite some time. Taking advantage of the moment, and putting Halley's Comet research on the back-burner, is common sense, and so a special team embarks out to the Halley Comet parasite.

Once inside the alien craft, they come across what appear to be thousands of bat-like creatures, thousands of years old. Proceeding further into the ship, the team comes across three human bodies; two males and one particularly beautiful human Space Girl (Mathilda May). Obviously a find of the century, the three humanoids and one bat creature are taken back to the HMS Churchill, where they will be stored for futhur research.

Down on earth in London, Dr. Hans Fallada (Frank Finlay) and Dr. Bukovsky (Michael Gothard) await news from the HMS Churchill on returning from its voyage, but receive no transmission from it. Sending a space shuttle to intercept, they find no survivors, but the three humanoids.

Space Girl is initially the first to go under observation, but sucks the life out of one of the guards who can't keep his hands to himself. A few hours later, the guard needs to suck another human himself in order to survive. This triggers a cycle that Dr. Bukovsky recognizes.

Other events taking place are the lifecraft discovery which contains Col. Tom Carlsen, and he has a rather interesting story to tell...

Packaging

Packaging for Lifeforce is the standard Shout! Factory type of packaging: Shout! Factory's own artwork on the front insert, but if you want the original artwork, simply reverse the insert. The standard slipcover for the Elite Blu-ray case, so you're getting the best of all possible Blu-ray worlds: Slipcover and a dual-sided Blu-ray case insert.

Screencaps

Video

Lifeforce comes out on Blu-ray in a rather impressive transfer. This is certainly the best I've ever seen it.

Extras

With this release Shout! Factory has included many new extras:
The Making Of Lifeforce (4:3 Aspect Ratio) (21:19)
Dangerous Beauty (with Mathilda May) HD (15:16)
Space Vampires In London (with Tobe Hooper) HD (9:59)
Carlsen's Curse (with Steve Railsback) HD (7:08)
Photo Gallery (full-frame images) (5:18)
Lifeforce Theatrical Trailers (3:33)
Specifications
Main Audio Track: DTS-HD Master 5.1 (English) @ 2394 Kbps (48kHz/24-bit)
Subtitles: English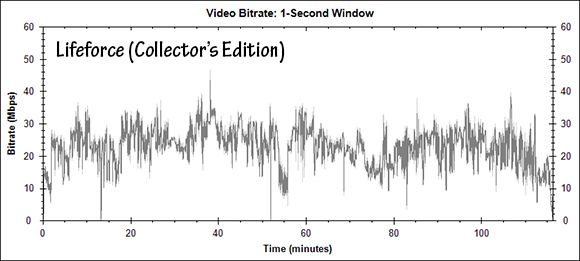 Lifeforce (Collector's Edition) Bitrate Graph
LIFEFORCE
Codec: MPEG-4 AVC Video
Resolution: 1080p
Blu-ray BD-50
Disc Size: 48,607,411,005 bytes (45.27 GB)
Feature Film Size: 28,833,945,600 bytes (26.85 GB)
Overall Bitrate: 33.08 Mbps
Video Bitrate: 23.00 Mbps
Download: Lifeforce BD Info File
Rating
| | |
| --- | --- |
| AUDIO | |
| VIDEO | |
| CONTENT | |
| EXTRAS | |
HIGHLY RECOMMENDED PLUS
Conclusion
Lifeforce (also known as Vampires From Outer Space in the UK) is one of my favorite movies, and would rent it on VHS several times (which easily cost more than the price of this Blu-ray release). In fact, I think I'm probably responsible for some rather haggard VHS rental copies still floating around, as I probably watched it about 4 times a year. Once the revolutionary formate DVD was announced, I was first in line to get my $29.99 DVD back in the late 90's. When I put that DVD on my $1000 Sony DVD player, I rejoiced. I couldn't believe how the picture looked. And now as Lifeforce is released on Blu-ray, I have the same reaction. This is seeing another improved visual representation.
Lifeforce may not be the best of sci-fi horror films, but it's certainly managed to continue on, and with a Blu-ray transfer on a larger HDTV, you simply can't go wrong. Shout! Factory has once again chosen a fan favorite. Lifeforce is a classic, and not to mention, has a list of respectable actors.
With the best transfer yet to date and some nice extras that are exclusive to this Shout! Factory release, Lifeforce (Collector's Edition) (Blu-ray) gets a HIGHLY RECOMMENDED PLUS.
In case you're curious, Shout! Factory has the dual-sided insert for those dedicated fans who remember the original artwork when they either purchased the DVD (or VHS) or even had the chance to buy a poster at the time.