The Fog
Collector's Edition
Features: Exclusive HD transer, exclusive extras, reversable insert, and more.
Codec / Resolution: MPEG-4 AVC / 1080p
Distributor: Shout! Factory / Scream Factory
Original Release: February 8, 1980
This Release: July 30, 2013
Region: Region A
MPAA Rating: R
Aspect Ratio: 2.35:1
Active Pixel Area: 1920 x 816 pixels
Running Time: 89mins
Number Of Discs: 1
MSRP: $29.93
Current Price: Check Price / Purchase


The Fog is another Shout! Factory release, and yes...it's another John Carpenter film. There are a few versions floating around, and I was just about to grab the UK version, but I'm glad I waited a little while longer to let Shout! Factory get a hold of it.

The Plot

Antonio Bay is a small seaside town in northern California, and for the most part — nothing out of the ordinary really happens on these mossy rocks — except for the creepy thick fog that's rolling in and anyone caught in it...is hacked and poked to death!

Several of my favorite actors are in The Fog. Stevie Wayne (Adrienne Barbeau) is the local radio DJ who notices a rather strange fog encroaching on the town. She's in the perfect place to notice it, as she's in a lighthouse overlooking the bay. Father Malone (Hal Holbrook) just might know something about the unnatural weather front as his family has been living in Antonio Bay for the last 100 years, and if your family has been in one spot for 100 years...they've probably probably done some questionable things here and there. The church he is in charge of...has been losing a few stones from its walls lately, revealing a journal which seems to be exactly 100 years old.

Probably not a good sign.

Out-of-towner Elizabeth Solley (Jamie Lee Curtis) catches a ride with a local resident, Nick Castle (Tom Atkins). The two end up experiencing some rather scary goings-on as they get closer to Antonio Bay, and have a lot of questions.

Kathy Williams (Janet Leigh) is organizing the town's centennial along with her assistant Sandy Fadel (Nancy Kyes). Kathy asks Father Malone to read some passages from the journal for the 100-year celebration of the town.

The Lighthouse

For those familiar with the area, the Point Reyes Lighthouse was used in the filming of The Fog. In 1975, it was no longer a necessity for the U.S. Coast Guard to physically have personnel operating it due to the lighthouse being installed with an automated light. Point Reyes was an ideal and realistic filming location because the area frequently gets severe fog patterns in the summer months, according to the National Park Service.

Packaging

Packaging for The Fog is the standard Shout! Factory type of packaging: Shout! Factory's own artwork on the front insert, but if you want the original artwork, simply reverse the insert. Also, we have the standard slipcover for the Elite Blu-ray case, so you're getting the best of all possible Blu-ray worlds: Slipcover and a dual-sided Blu-ray case insert.

Screencaps

Video

For being over 30 years old The Fog looks pretty good, but I have to be honest...most of the film is rather soft. Once again, this is not because of a poor transfer, low video bitrate (if anyone suggested it), or anything related to a potentially better transfer. The reason for the soft video is due to the filming equipment used at the time. What I do praise Shout! Factory for, is NOT enhancing the video, but making a compromise on its appearance. Let's face it, if you own a modern television, you have so many adjustments you could make, not to mention adjustments within a sub-$99 Blu-ray player (and you might be able to save such adjustments for other "soft" movies at the touch of a button).

Extras

With this release Shout! Factory has included many new extras:
Tales From The Mist: Inside The Fog (27:59)
Fear On Film: Inside The Fog (4:3 Aspect Ratio) (7:43)
My Time With Terror (with Jamie Lee Curtis) HD (21:47)
Horror's Hallowed Grounds (The Fog) HD (20:22)
Dean Of Darkness (with Dean Cundey) HD (18:41)
Photo Gallery (full-frame images) (8:02)
The Fog Theatrical Trailer (4:34)
Outtakes (4:10)
TV Spots (3:06)
Specifications
Main Audio Track: DTS-HD Master 5.1 (English) @ 3072 Kbps (48kHz/24-bit)
Subtitles: English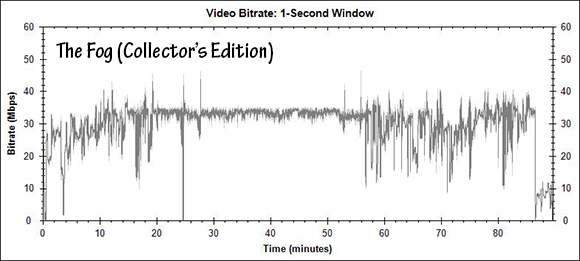 The Fog (Collector's Edition) Bitrate Graph
THE_FOG
Codec: MPEG-4 AVC Video
Resolution: 1080p
Blu-ray BD-50
Disc Size: 47,192,303,113 bytes (43.95 GB)
Feature Film Size: 30,540,779,520 bytes (28.44 GB)
Overall Bitrate: 40.07 Mbps
Video Bitrate: 30.00 Mbps
Download: The Fog BD Info File
Rating
| | |
| --- | --- |
| AUDIO | |
| VIDEO | |
| CONTENT | |
| EXTRAS | |
HIGHLY RECOMMENDED
Conclusion
Viewing The Fog for the first time in high-definition was worth the price. I hadn't seen this film in probably over 5 years, and there is detail which I do not remember seeing on my DVD (and especially my VHS) copy.
Even though we have a slightly soft presentation, The Fog (Collector's Edition) (Blu-ray) gets a HIGHLY RECOMMENDED. Don't let the soft comments turn you away from this release. This is definitely a must-purchase for your classic horror collection.
In case you're curious, Shout! Factory has the dual-sided insert for those dedicated fans who remember the original artwork when they either purchased the DVD (or VHS) or even had the chance to buy a poster at the time.