Prince Of Darkness
Collector's Edition
Features: Exclusive HD transer, exclusive extras, reversable insert, and more.
Codec / Resolution: MPEG-4 AVC / 1080p
Distributor: Shout! Factory / Scream Factory
Original Release: October 23, 1987
This Release: September 24, 2013
Region: Region A
MPAA Rating: R
Aspect Ratio: 2.35:1
Active Pixel Area: 1920 x 816 pixels
Running Time: 102mins
Number Of Discs: 1
MSRP: $29.93
Current Price: Check Price / Purchase


Shout! Factory has been releasing some very nice transfers, and since they have exclusively released many of my favorites, I had to jump-in and order a few titles to see for myself. Prince Of Darkness will be my first review from Shout! Factory. Prince Of Darkness is also personal favorite, due to the director being John Carpenter.

The Plot

I don't think I sported a mustache like Jameson Parker did in this film when I was in college, but if I did, I would hope it looked like that. Brian Marsh is a graduate student who will be observing a rather interesting (and very old) green-goo filled canister that apparently has a shelf life of several million years. And as if the canister itself isn't scary enough...it's been locked away in a church within Los Angeles.

The local Priest (Donald Pleasence) and Prof. Howard Birack (Victor Wong) have recruited a small group of graduate students from Harvard University in the hopes of interpreting an old manuscript which holds secrets to the canister's origins (as well as its intentions). Catherine Danforth (Lisa Blount), Lisa (Ann Yen) and Kelly (Susan Blanchard) are key students in deciphering the potential messages.

Dr. Paul Leahy (Peter Jason) is concerned about the entire project and where it might lead as the contents of the canister are becoming more clear as the night progresses.

Prince Of Darkness initially did not receive many positive reviews. Today, as I look back on horror movies made over the last 25 years, Prince Of Darkness still holds up, and in my opinion, sticks a tongue out at the harsh criticism. So I hope the original critics who are still around today can palate what they wrote back then. True, we have some corny scenes and dialogue, but considering the amount of crap horror movies I see today, there is an amount of satisfaction knowing my opinions of Prince Of Darkness have not changed over the last 25 years.

Packaging

Packaging for Prince Of Darkness is a standard Shout! Factory type of packaging: Shout! Factory's own artwork on the front cover, but this is a reversable case cover which reveals the original artwork on the inside. Slick and I love it. Also, we have the standard slipcover for the Elite Blu-ray case.

Screencaps

Video

For being over 25 years old Prince Of Darkness looks great. It's sharp and crisp, and the video bitrate averages 30Mbps.

Prince Of Darkness does however, reveal the limited area of the camera lens which comes out as sharp. At times, the entire screen is not consistently crisp, and appears out of focus in areas which normally shouldn't be, but this is due to the equipment used at the time for filming. Below are some of the best representations I personally observed captured for your viewing.

Extras

Shout! Factory has included many new extras and this is why I have come to adore their releases. Sean Clark's: Horror's Hallowed Grounds (13:44), The Messenger (12:42), Prince Of Darkness: 25th Anniversary Screening (12:10), Hell On Earth (with Alan Hayworth) (10:16), Alice at the Apocalypse (9:27), Sympathy For The Devil (with John Carpenter (10:29), audio commentary with John Carpenter, and an alternate opening from the Television Version (6:56), as well as the standard Original Theatrical Trailer.

Specifications

Main Audio Track: DTS-HD Master 5.1 (English) @ 3569 Kbps (48kHz/24-bit)
Subtitles: English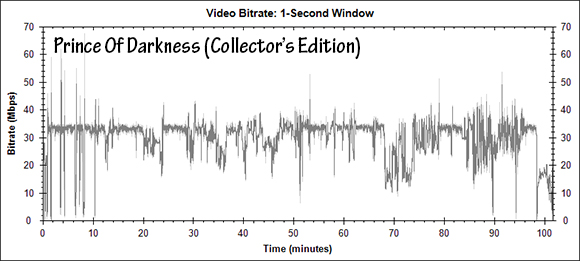 Prince Of Darkness Bitrate Graph
Prince_of_Darkness
Codec: MPEG-4 AVC Video
Resolution: 1080p
Blu-ray BD-50
Disc Size: 47,192,303,113 bytes (43.95 GB)
Feature Film Size: 30,540,779,520 bytes (28.44 GB)
Overall Bitrate: 40.07 Mbps
Video Bitrate: 30.00 Mbps
Download: Prince Of Darkness BD Info File
Rating
| | |
| --- | --- |
| AUDIO | |
| VIDEO | |
| CONTENT | |
| EXTRAS | |
HIGHLY RECOMMENDED PLUS
Conclusion
It was a real treat seeing Prince Of Darkness in high-def. The last time I saw this film was several years ago on DVD. Shout! Factory's transfer makes it like seeing PoD for the first time. The green goo in the canister looked fabulously evil.
There were only a few scenes where the type of camera lens used limited the focal area, so you will observe out-of-focus (or "OOFs" as I call them) areas which are rather conspicuous. Even so, Prince Of Darkness overall is worth seeing on Blu-ray, and Shout! Factory has done an excellent job on the transfer.
The most attentive feature Shout! Factory realizes for a Blu-ray release, is creating a dual-sided insert for those dedicated fans who remember the original artwork when they either purchased the DVD (or VHS) or even had the chance to buy a poster at the time. This is a nice tribute to a particular time that some of us remember...and many do not.
A great transfer, some awesome corny moments and scenes, and of course, one of my favorite directors, Prince Of Darkness (Blu-ray) gets a HIGHLY RECOMMENDED PLUS.
It's too bad Shout! Factory hasn't managed to do their own version of In The Mouth Of Madness (Blu-ray), because this is John Carpenter's last of a particular Apocalypse trilogy he initated with The Thing (Blu-ray). In any case, if you haven't seen these other two movies, be sure to add them to your collection.