Homeland
The Complete First Season
Features: Season One on 3 BD-50 Blu-ray discs, several deleted scenes, and a 30-minute featurette.
Codec / Resolution: MPEG-4 AVC / 1080p
Distributor: Showtime
Television Release: October 11, 2011
Region: Region A
This Release: August 28, 2012
MPAA Rating: Not Rated
Aspect Ratio: 1.78:1
Active Pixel Area: 1920 x 1080 pixels
Running Time: 664mins
Number Of Discs: 3
MSRP: $69.99
Current Price: Check Price / Purchase


Showtime really has a gem on their hands with Homeland, and it might not be exactly why you think this is. Initially, I was like many of the viewers who just loved the mystery and suspense, but by the middle of Season 1, observed an underlying issue, which I think Showtime portrays rather accurately. And that is...Bipolar Disorder (BPD). Without giving away too much of the first season, we see how BPD affects the lives of not only the person with BPD, but those who have decided to stick around. Claire Danes does a remarkable job of portraying this character. In fact, at many times watching the first season, I was more interested in Carrie Mathison the person, rather than Carrie Mathison the CIA agent.

The Plot

Carrie Mathison (Claire Danes) is a CIA Agent, who is dedicated to finding terrorist threats and neutralizing them, no matter where in the world they may be. After one of her informants whispers to Carrie (as he is about to be executed in Baghdad so there isn't much to lose for revealing the information, other than having a clear conscious) there is an American who has been turned.

Ten months later, a POW thought to be dead, Marine Sgt. Nicholas Brody (Damian Lewis), is found indirectely by a Special Forces team who raids a terrorist cell, finding Brody in a dark room. Carrie Mathison correlates the two events, and is out to discover just what is going on, and to what extent this threat will have to The United States.

Packaging

Packaging for Homeland: The Complete First Season is the Viva / Elite 3-Disc non-flap case (chosen by 20th Century Fox) which I thoroughly enjoy, and also comes with a slipcover. If you purchased this from Best Buy...you probably have those impossible-to-remove pricetags, slapped right on the slipcover. Best Buy should be giving out free bottles of Goo Gone at this point.

Screencaps

The first season of Homeland looks great. It's sharp and crisp, and what'll even intrigue you almost as much as the series itself...is the video bitrate averages 18Mbps.

Homeland is mostly a drama, so we're not going to see action sequences back-to-back which would demand a steady higher bitrate. However, when some scenes require more video horsepower...we see spikes up to the 40Mbps range. Since the series has been mastered on three BD-50 Blu-ray discs, there is enough room to deliver.

Extras

Disc 1 has a deleted scene and an audio commentary for the pilot episode. Disc 2 has only one deleted scene. For Disc 3, we have Homeland Season One: Under Surveillance (33:46) and two deleted scenes, as well as Week 10: A Prologue to Season Two (3:54).

Specifications

Main Audio Track: DTS-HD Master 5.1 (English) @ 3666 Kbps (48kHz/24-bit)
Subtitles: English SDH, Spanish, French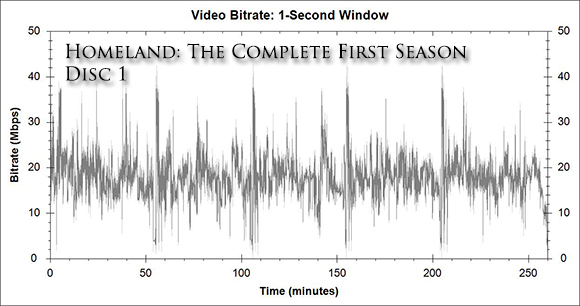 Homeland: The Complete First Season Bitrate Graph
Since the above Bitrate Graph includes five episodes, below is a closer look at the first episode of Disc One: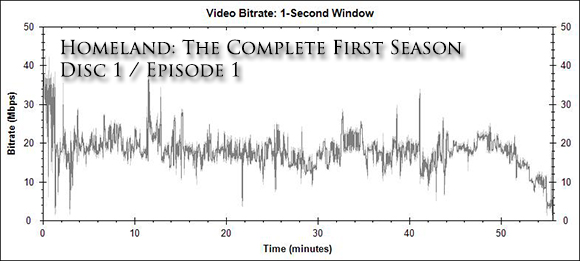 Homeland: S1; Episode 1 Bitrate Graph
HOMELAND_S1_D1
Codec: MPEG-4 AVC Video
Resolution: 1080p
Blu-ray BD-50
Disc Size: 47,449,336,056 bytes (44.19 GB)
Feature Film Size: 45,353,336,832 bytes (42.24 GB)
Overall Bitrate: 23.24 Mbps
Video Bitrate: 17.99 Mbps
Rating
| | |
| --- | --- |
| AUDIO | |
| VIDEO | |
| CONTENT | |
| EXTRAS | |
HIGHLY RECOMMENDED PLUS
Conclusion
Homeland: The Complete First Season is a fantastic series on so many levels. The television series works its way from an overall national security suspense and mystery, to a more personal level, which makes the series believable.
Personally, I can't wait until Season 2 of Homeland is released. Homeland: The Complete First Season (Blu-ray) gets a HIGHLY RECOMMENDED PLUS.
On a side note, I was wondering what other series felt familiar, pertaining to its personal and global consequences, and I finally narrowed it down. 24. The very-much missed 24 series dealt with events which were affected by Jack Bauer and vice versa. There are many television creations which attempt to connect a personal theme to it, but most fail miserably. Homeland probably won't be around for eight seasons like 24, due to the current plot, but if it lasts for three seasons, I'll be pleased.