Taken
(2-Disc Extended Cut)
Features: Digital Copy, A few audio commentaries, scene comparisons, Le Making-of featurette, and the Avant Premiere featurette.
Codec / Resolution: MPEG-4 AVC / 1080p
Distributor: 20th Century Fox
Original Theatrical Release: February 27, 2008
USA Theatrical Release: January 30, 2009
Region: Region A
This Release: May 12, 2009
MPAA Rating: PG-13 / Unrated
Aspect Ratio: 2.35:1
Active Pixel Area: 1920 x 816 pixels
Running Time: 91mins / 93mins
Number Of Discs: 2
MSRP: $34.98
Current Price: Check Price / Purchase


Taken is one of those movies which comes off as a drama...but then goes totally off the charts. Not having seen previous trailers or reviews of any kind, I was pleasantly surprised with how the movie gradually picked-up in momentum. Sometimes action flicks can hit you way too hard and too fast, but Taken has a unique balance. What's interesting to note, is Taken originally appeared in theaters in France in February 2008, and was almost a year later before theaters in the US rolled it out.

The Plot

Kim (Maggie Grace) and best friend Amanda (Katie Cassidy) are going to Europe to stay at an upscale apartment of Amanda's parents in Paris. However, the two teens don't necessarily tell the truth about the situation in Europe and don't explain they will be on their own with no parents around. As fate would have it, they end up being kidnapped and involved with an Albanian Sex Trafficking Ring.

Kim's dad Bryan (Liam Neeson) has a few surprises of his own, and books a flight to Paris to find his kidnapped (but estranged) daughter.

Packaging

Packaging for Taken (2-Disc Extended Cut) is the Viva / Elite non-flap case (chosen by 20th Century Fox) which I prefer, but...is also an Eco-Case, with most of the durability of the case taken away. Thanks! I'd rather put these two discs in an envelope.

Screencaps

The picture looks rather nice, and even in dark scenes, there's a little grain, but this is to be expected.

Extras

The extras on Taken aren't too bad, as there are a few audio commentaries, but the "Making Of" featurette...is 1.33:1 (Fullscreen) and not in high-def. I'm still pondering the reason why ANY footage on the movie set is NOT recorded in high-def these days, unless it's an independent film, and this is certainly not.

Specifications

Main Audio Track: DTS-HD Master 5.1 (English) @ 3861 Kbps (48kHz/16-bit)
Audio 2: Dolby Digital 5.1 (Spanish) @ 448 Kbps (48kHz)
Audio 3: Dolby Digital 5.1 (French) @ 448 Kbps (48kHz)
Subtitles: English SDH, Spanish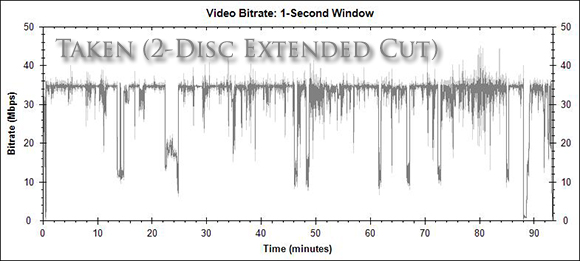 Taken Bitrate Graph
TAKEN
Codec: MPEG-4 AVC Video
Resolution: 1080p
Blu-ray BD-50
Disc Size: 41,327,037,386 bytes (38.49 GB)
Feature Film Size: 27,977,299,968 bytes (26.06 GB)
Overall Bitrate: 39.93 Mbps
Video Bitrate: 32.03 Mbps
Download: Taken BD Info File
Rating
| | |
| --- | --- |
| AUDIO | |
| VIDEO | |
| CONTENT | |
| EXTRAS | |
RECOMMENDED PLUS
Conclusion
Taken is one of those movies which starts out slow but has you reaching for your Couch Potato Seatbelt soon after.
Even though Taken doesn't have that much of an impressive amount of extras, the story is certainly entertaining and takes you by surprise, and thus, I give Taken (2-Disc Extended Cut) (Blu-ray) a RECOMMENDED PLUS.
Taken 2 (Unrated Cut) (Blu-ray) has already been released, but when you think about it...just how could you create a sequel, and get away with it. Another thing to note is that we don't have the original director from the first film. Hmmmm.