Stake Land
Features: 2 Feature-Length Cast & Crew documentaries, Going For The Throat: The Making Of Stake Land, Character Prequels: 7 Short Films, Video Diaries, and TIFF Premiere and Q&A.
Codec / Resolution: MPEG-4 AVC / 1080p
Distributor: Dark Sky Films
Theatrical Release: June 17, 2011
Region: Region A
This Release: August 2, 2011
MPAA Rating: R
Aspect Ratio: 2.39:1
Active Pixel Area: 1920 x 804 pixels
Running Time: 98 mins
Number Of Discs: 1
MSRP: $34.98
Current Price: Check Price / Purchase


Stake Land reminds me of a really good vampire movie with apocalyptic elements and a survivalist feel from films like The Road. And this is probably why Stake Land remains with you a long time after you eject the movie from your Blu-ray player. While this film is about vampires, there are a lot of key scenes which we all can personalize and wonder about just how our own actions would play out. This is one of my all-time movies, and it seems to have slipped under the radar of many moviegoers.

The Plot

Martin (Connor Paolo) and his family are observant of the new way of life. Unfortuantely, life has the expectancy of an effervescent bubble in a soda can, and a man who only goes by the name of Mister (Nick Damici), takes Martin under his survivalist wing, and shows him how to become more independent. However, even with new skills and a more hardened view of life, fast-moving vampires are not the only enemy...

Packaging

Packaging for Stake Land is the Viva / Elite non-flap case (chosen by Dark Sky Films) which I prefer. Too bad it doesn't have double-sided cover art.

Screencaps

We have really nice cinematography here, as well a sharp picture. Stake Land can be cool or warm, with regards to ambient lighting, and Director Jim Mickle does a superb job at controlling both enivironments throughout the movie.

Extras

There is a good amount of extras on this single-disc release, which is pleasantly surprising, and might be a direct-port from the 2-Disc Special Edition DVD. Two Feature-Length Cast & Crew documentaries, Going For The Throat: The Making Of Stake Land which is a 1-hour feature alone, Character Prequels: 7 Short Films, Video Diaries, and TIFF Premiere and Q&A. A very healthy selection of material here, and you can see by the disc size below, the BD-50 capacity was used as much as possible — which is how all Blu-ray releases should be!

Specifications

Main Audio Track: DTS-HD Master 5.1 (English) @ 2166 Kbps (48kHz/16-bit)
Audio 2: LPCM Audio 2.0 (English) @ 1536 Kbps (48kHz/16-bit)
Audio 3 & 4: Dolby Digital Audio 2.0 (English) @ 384 Kbps (48kHz/16-bit) (Commentary)
Subtitles: English SDH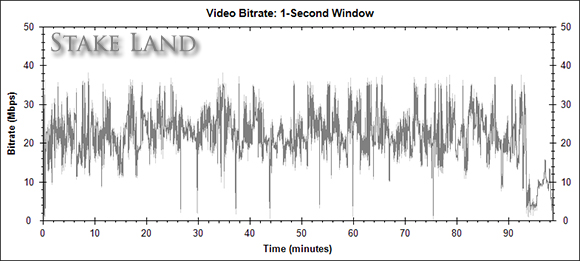 Stake Land Bitrate Graph
STAKE_LAND
Codec: MPEG-4 AVC Video
Resolution: 1080p
Blu-ray BD-50
Disc Size: 44,116,715,971 bytes (41.07 GB)
Feature Film Size: 20,872,409,088 bytes (19.44 GB)
Overall Bitrate: 28.26 Mbps
Video Bitrate: 21.98 Mbps
Download: Stake Land BD Info File
Rating
| | |
| --- | --- |
| AUDIO | |
| VIDEO | |
| CONTENT | |
| EXTRAS | |
HIGHLY RECOMMENDED PLUS
Conclusion
Many films try way too hard to be different when interpreting vampires, but Stake Land takes a logical and common-sense approach to the genre, and injects it with adrenaline from beginning to end.
From the sharp and crisp picture (which is not easy to do) to thrilling action scenes, Stake Land (Blu-ray) gets a HIGHLY RECOMMENDED PLUS.
Be sure to add Stake Land to your top 10 list of films to get this year.