Resident Evil: Damnation
Features: The Making Of Resident Evil: Damnation — The DNA of Damnation, gag reel, conceptual art gallery, and Las Plagas: Organisms of War featurette.
Codec / Resolution: MPEG-4 AVC / 1080p
Distributor: Sony Pictures Home Entertainment
Theatrical Release: September 25, 2012
Region: Region A, B, C
This Release: September 25, 2012
MPAA Rating: R
Aspect Ratio: 1.78:1
Active Pixel Area: 1920 x 1080 pixels
Running Time: 100 mins
Number Of Discs: 1
MSRP: $19.98
Current Price: Check Price / Purchase


The Resident Evil series has, in my opinion, outdone the theatrical interpretations, and might I even say, Milla Jovovich should start lending her voice to the CG Motion Picture series in the future. The CG series just gets better with every installment, and Resident Evil: Damnation blew me away. I was expecting something around 75mins or so, which is typical for a CG release, but this sucker is a full-length feature, which clocks-in at 100mins. This is one heck of a movie, and worth every penny.

The Plot

US Special Agent Leon S. Kennedy (Matthew Mercer) is on the trail of BOW's (Biological Organic Weapons) in an "Eastern Slav Republic" country.

Packaging

Packaging for Resident Evil: Damnation is the somewhat-irritating Sony Pictures Home Entertainment Blu-ray case with the snapper clip thingie on the side, but at least it's not an Eco-case. This version also has the double-sided cover art, which shows through on the inside.

Screencaps

I have to admit, I was scared in certain scenes, just waiting for some horrible mutant thingie to jump out on the screen. Even though this was a CG feature...didn't matter much when it came to creepy, crawly things with long tongues and sharp teeth.

Extras

There is a nice balance of extras on this single disc. The Making Of: RE:D — The DNA of Damnation which runs about 30mins, and Las Plagas: Organisms of War which runs around 7mins. There's also a "Gag Reel", which takes about 6mins of scenes and replaces the voices with different content. Kinda funny.

Specifications

Main Audio Track: DTS-HD Master 5.1 (English) @ 2298 Kbps (48kHz/16-bit)
Audio 2: DTS-HD Master 5.1 (French) @ 2290 Kbps (48kHz/16-bit)
Audio 3: Dolby Digital 5.1 (Portuguese) @ 2285 Kbps
Audio 4: Dolby Digital 5.1 (Spanish) @ 640 Kbps
Audio 4: Dolby Digital 5.1 (Thai) @ 640 Kbps
Subtitles: English, English SDH, Chinese, French, Korean, Portuguese, Spanish, Thai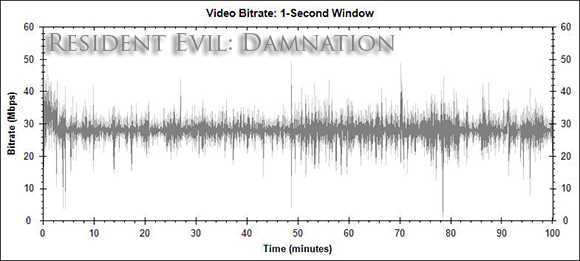 Resident Evil: Damnation Bitrate Graph
RESIDENT_EVIL_DAMNATION
Codec: MPEG-4 AVC Video
Resolution: 1080p
Blu-ray BD-50
Disc Size: 38,656,654,119 bytes (36.00 GB)
Feature Film Size: 29,125,201,920 bytes (27.12 GB)
Overall Bitrate: 38.82 Mbps
Video Bitrate: 28.05 Mbps
Download: Resident Evil: Damnation BD Info File
Rating
| | |
| --- | --- |
| AUDIO | |
| VIDEO | |
| CONTENT | |
| EXTRAS | |
HIGHLY RECOMMENDED
Conclusion
Initially watching RE:D over the holidays, I didn't expect much, but was I pleasantly surprised.What turned out to be a simple CG flick, ended up being a nicely drawn-out feature, which certainly has my attention for the next installment.
A really nice-looking CG adventure and even having the ability to scare from time to time, Resident Evil: Damnation (Blu-ray) gets a HIGHLY RECOMMENDED.
The CG Resident Evil series is something to collect if you're into this type of genre. Hek, this series has been around since 1996, and I remember this date very well, because I paid some big money for the revolutionizing gaming machine by Sony...the Playstation.