The American
Features: Deleted scenes, audio commentary by Director Anton Corbjin, and Journey To Redemption: The Making Of The American.
Codec / Resolution: MPEG-4 AVC / 1080p
Distributor: Focus Features
Theatrical Release: September 1, 2010 (USA)
Region: Region A
This Release: December 28, 2010
MPAA Rating: R
Aspect Ratio: 2.35:1
Active Pixel Area: 1920 x 816 pixels
Running Time: 105 mins
MSRP: $19.98
Current Price: Check Price / Purchase


You may not have heard of Director Anton Corbijn, but you'll soon get to appreciate his work in The American. Yes, we have a Hitman Movie, along with mystery, suspense, and of course, beautiful women. But even though we have all the elements for a typical formula, this movie certainly is not one of them.

The Plot

Jack (George Clooney) is a hitman. After recently getting close to being extinguished himself, he begins to think it's time to quit. But of course, there's just one more job his employer requires: a custom rifle, with precision accuracy.

Packaging

Packaging for The American is the standard Viva / Elite Blu-ray case chosen by Focus Features, which is my preferred type of case, and is not the flimsy Eco-Cases. Hopefully, the packaging won't change over time, but I cannot guarantee it.

Screencaps

You know, this is one fine-looking film. I'm really surprised it doesn't get as high of a rating. But who cares about the other guys, I like it.

Extras

A Digital Copy is included, deleted scenes totaling about 5-minutes, along with an audio commentary by Director Anton Corbjin, and Journey To Redemption: The Making Of The American (about 10-minutes).

Specifications

Main Audio Track: DTS-HD Master 5.1 (English) @ 3333 Kbps (48 kHz / 24-bit)
Audio 2: DTS 5.1 (Spanish) @ 768 Kbps (24-bit)
Audio 3: DTS 5.1 (French) @ 768 Kbps (24-bit)
Subtitles: English, Spanish, French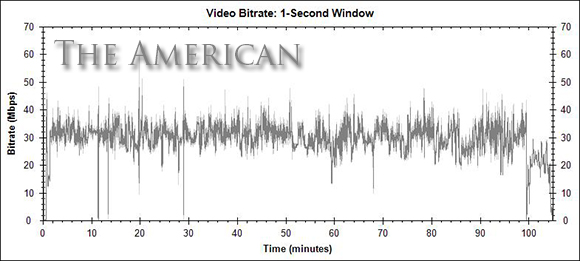 The American Bitrate Graph
THE_AMERICAN
Codec: MPEG-4 AVC Video
Resolution: 1080p
Blu-ray BD-50
Disc Size: 33,936,714,824 bytes (31.61 GB)
Feature Film Size: 29,161,426,944 bytes (27.16 GB)
Overall Bitrate: 37.06 Mbps
Video Bitrate: 29.73 Mbps
Download: The American BD Info File
Rating
| | |
| --- | --- |
| AUDIO | |
| VIDEO | |
| CONTENT | |
| EXTRAS | |
RECOMMENDED PLUS
Conclusion
If you're looking for a "Hitman Movie", but with some originality and beautiful women that can actually act...this film is for you.
The American brings you to the gorgeous area of Italy's countryside with crisp detail, and as such I give The American (Blu-ray) a RECOMMENDED PLUS.
One final note, is Paolo Bonacelli who plays the Father Benedetto, does a great job. He was very convincing, and I'd see him in more films by Anton Corbijn.