Dead Space: Aftermath
Features: Don't ask.
Codec / Resolution: MPEG-4 AVC / 1080p
Distributor: Anchor Bay Entertainment
Theatrical Release: January 25, 2011
Region: Region A
This Release: January 25, 2011
MPAA Rating: Not Rated
Aspect Ratio: 2.40:1
Running Time: 78 mins
MSRP: $19.98
Current Price: Check Price / Purchase


The Dead Space series is popular in the gaming world, but has also become just as popular in the non-gaming world. Dead Space: Aftermath is the second feature-length animation title from the series, and I personally love these. They aren't on the top of my list for best animation, but they are entertaining, and there is a cohesive storyline — which is hard to find in sequels.

The Plot

Dead Space: Aftermath picks-up from where the last feature ended, which is a nice relief and a reason to have both of these films. In 2509, the USG O'Bannnon is the First-Responder ship to the Ishimura disaster which claimed everyone (or did it?). Only four crew members of the O'Bannon have survived, and with them the knowledge of The Marker. It is up to a few interrogators from corporate, to determine just what these crew members know.

Packaging

Packaging for Dead Space: Aftermath is the standard Viva Blu-ray case chosen by Anchor Bay Entertainment and Manga, which is my preferred type of case (much like Paramount Pictures' Blu-ray cases).

Screencaps

The animation for the Dead Space series is unique, and is often criticized for not being "better". For what it's worth, I think it's just fine. Having watched both feature films so far, the style isn't too distracting, but could have a few more frames per second, and a wider color palette. Regardless, the films deliver. Screencaps come out rather clear because we're dealing with frames of prints, and not video.

Extras

This is a bare-bones release, so you get a nifty Dead Space 2 Game trailer.

Specifications

Main Audio Track: Dolby TrueHD 5.1 (English) @ 2558Kbps (48 kHz / 16-bit)
Subtitles: English SDH, Spanish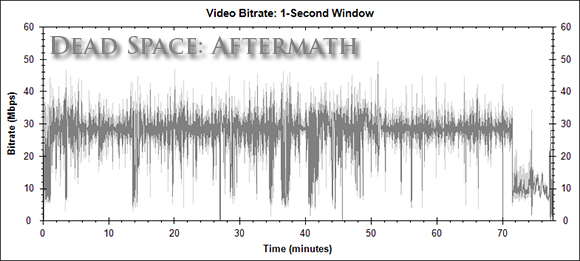 Dead Space: Aftermath Bitrate Graph
DEAD_SPACE_AFTERMATH
Codec: MPEG-4 AVC Video
Resolution: 1080p
Blu-ray BD-25
Disc Size: 20,122,560,459 bytes (18.74 GB)
Feature Film Size: 18,552,324,096 bytes (17.28 GB)
Overall Bitrate: 31.85 Mbps
Video Bitrate: 26.02 Mbps
Download: Dead Space: Aftermath BD Info File
Rating
| | |
| --- | --- |
| AUDIO | |
| VIDEO | |
| CONTENT | |
| EXTRAS | |
RECOMMENDED
Conclusion
In case you're looking for an Anime alternative, and don't really want to spend a Benjamin on some wacky cartoon with seriously disturbing innuendo, try the Dead Space series. Some might say the animation is to be desired, but this is the style for this series. Sure, I'd love to have some quality like a Final Fantasy film or the latest Resident Evil installment, but we shouldn't discount the style because it doesn't look like the others.
Scary animation, graphic horror, and a pretty good picture as well, Dead Space: Aftermath (Blu-ray) gets a RECOMMENDED.
The first of the Dead Space series doesn't need to be purchased in order to understand this film, but I certainly recommend it.