The Raid: Redemption
Features: Audio commentary with director Gareth Evans, The Making of The Raid: Redemption, An Evening with Gareth Evans, and several featurettes.
Codec / Resolution: MPEG-4 AVC / 1080p
Distributor: Sony Pictures Home Entertainment
Theatrical Release: April 13, 2012 (USA)
Region: Region A
This Release: August 14, 2012
MPAA Rating: Unrated
Aspect Ratio: 1.78:1
Running Time: 101 mins
MSRP: $35.99
Current Price: Check Price / Purchase


Gareth Evans might not be a well-known director, but after The Raid: Redemption, he certainly put himself on the map with this rather not-so-well-known hit.

The Plot

About a few dozen SWAT members which include Jama (Iko Uwais) and Sergeant Jaka (Joe Taslim), volunteer to raid a local crime lord's castle in a slum area of Jakarta. Tama Riyadi (Ray Sahetapy) is getting out of control, and the local LE wants him out. What's convenient, is the crime lord is confined to a 30-story building, so all the SWAT Team has to do, is surround it, and clean it up.

Packaging

Packaging for The Raid: Redemption is the standard Sony Pictures Home Entertainment Blu-ray case, which contains a dual-sided art cover, viewable from the inside of the Blu-ray case.

Screencaps

Due to the type of film used, it does appear as if it lacks enough lighting. Whether this was Gareth Evans' choice or not, the movie does just fine, considering what it accomplishes. Many viewers will automatically think this is some type of an Asian foreign film, but they will be surprised. Gareth Evans wanted a certain type of style and feel to the movie, and he did this rather well.

Extras

The Making of The Raid: Redemption and An Evening with Gareth Evans are the highlights of the extras on this single-disc release. Both features are about 40-minutes each, and are in High-Def. Not too bad, and worth a view. Additionally, there are several featurettes and an audio commentary with Gareth Evans.

Specifications

Audio 1: DTS-HD Master Audio HD 5.1 (English) @ 2397Kbps (48 kHz / 16-bit)
Audio 2: DTS-HD Master Audio HD 5.1 (Indonesian) @ 3531Kbps (48 kHz / 24-bit)
Audio 3: Dolby Digital 5.1 (Spanish) @ 640Kbps
Audio 4: Dolby Digital 5.1 (Portuguese) @ 640Kbps
Subtitles: English, English SDH, French, Spanish, Portuguese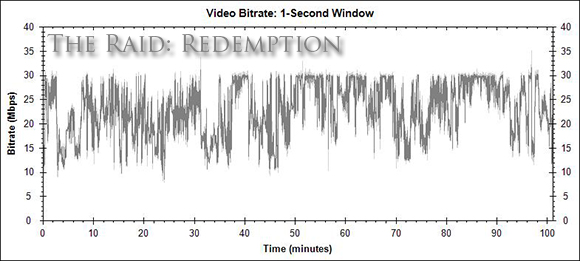 The Raid: Redemption Bitrate
THE_RAID_REDEMPTION
Codec: MPEG-4 AVC Video
Resolution: 1080p
Blu-ray BD-50
Disc Size: 49,304,209,242 bytes (45.92 GB)
Feature Film Size: 28,389,335,040 bytes (26.44 GB)
Overall Bitrate: 37.45 Mbps
Video Bitrate: 23.05 Mbps
Download: The Raid: Redemption BD Info File
Rating
| | |
| --- | --- |
| AUDIO | |
| VIDEO | |
| CONTENT | |
| EXTRAS | |
RECOMMENDED PLUS
Conclusion
For those who are looking for something more stimulating in the Martial Arts Action Adventure, this film will have you on the edge of your seat from the first few minutes to the last.
An Action Adventure Gem that might be overlooked, The Raid: Redemption (Blu-ray) gets a solid RECOMMENDED PLUS.
There were not any action screencaps taken because the entire movie is filled with lightning-fast kicks, punches, and throws, which would make the film appear to be blurry. To the human eye, the sequences look pretty good and clean, but capturing a split-second of it, is much different.