30 Days Of Night
Features: Audio commentary with Josh Hartnett, Melissa George, and Producer Rob Tapert, photo gallery, and 8 featurettes.
Codec / Resolution: MPEG-4 AVC / 1080p
Distributor: Sony Pictures Home Entertainment
Region: Region A
This Release: February 26, 2008
MPAA Rating: R
Aspect Ratio: 2.40:1
Running Time: 113 mins
MSRP: $19.99
Current Price: Check Price / Purchase


This is one of those movies which is best viewed during the Winter Season, which is why I decided to pull this title from my collection and review it while some of us gradually get into the cooler seasons of the year. For those of you in warmer climates who don't experience much of a temperature change...I'm sorry.

Vampire movies still attract the crowds, but few are worthy of a repeated viewing. 30 Days Of Night is one of those fanged films which takes the Vampire genre and produces something rather unique and rather scary. We also have a film which features an actor (Josh Hartnett) who doesn't get as much attention as he deserves.

The Plot

Small town. Negative-degree temperatures. Badass Vampires...

...and about 30 days of complete darkness just around the corner.

Packaging

Packaging for 30 Days Of Night was the standard Sony Pictures Blu-ray case, which has that lovely little flap you have to "unlock" to open the case.

Meh.

Screencaps

It appears as if we have two different types of film/filtering being used. Below, we have a little more grain with indoor scenes. The most pronounced is with Melissa George's character, and probably has to do with the skin tones of her face. If you have fair skin which has been tanned...grain will be more pronounced.

Extras

An Audio Commentary with the leading actors, 8 Behind-The-Scenes featurettes, and an image gallery, are the extras. Not too bad, considering a single-disc release.


30 Days Of Night Image Gallery
Specifications
Audio 1: Dolby TrueHD 5.1 (English) @ 3526 kbps
Audio 2: Dolby TrueHD 5.1 (French) @ 3281 kbps
Subtitles: English, English SDH, French, Spanish, Portuguese (Brazilian), Thai, Chinese, Portuguese (Classic)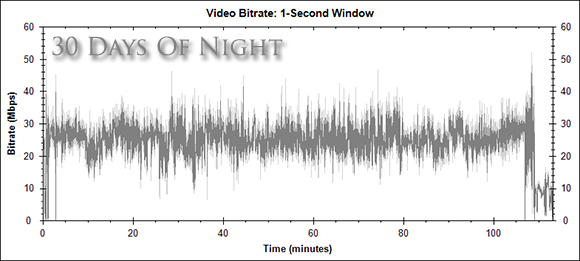 30 Days Of Night Bitrate
30_DAYS_OF_NIGHT
Codec: MPEG-4 AVC Video
Resolution: 1080p
Blu-ray BD-50
Feature Film Size: 33,023,115,264 bytes (30.76 GB)
Disc Size: 42,431,082,769 bytes (39.52 GB)
Overall Bitrate: 38.93 Mbps
Video Bitrate: 24.76 Mbps
Download: 30 Days Of Night BD Info File
Rating
| | |
| --- | --- |
| AUDIO | |
| VIDEO | |
| CONTENT | |
| EXTRAS | |
RECOMMENDED
Conclusion
It's really too bad the follow-up to this awesome original pretty much tainted any hopes of a solid 3rd installment (i.e., none of the original actors are in it, much different shooting style, much different acting), and if there is a 3rd film...you BETTER run like a vampire is after you.
Regardless of the sequel and potential sequels which will taint the original blood, you simply cannot pass on the this first film. It's a gem among the Vampire Genre.
30 Days Of Night gets a solid RECOMMENDED.
For those days when it's rather chilly outside, how about a natural way to warm up your senses with a little Vampire action.