Collateral
Features: Audio commentary with director Michael Mann, City of Night: The Making of Collateral (41-minutes), and several featurettes.
Codec / Resolution: MPEG-4 AVC / 1080p
Distributor: Sony Pictures Home Entertainment
Theatrical Release: 2004
Region: Region A
This Release: Mar 30, 2010
MPAA Rating: R
Aspect Ratio: 2.35:1
Running Time: 120 mins
MSRP: $14.99
Current Price: Check Price / Purchase


It's interesting to note, Collateral has been around for 8 years since it's initial theatrical release, and we've only had it on Blu-ray for the last 2 or so years. But it's a timeless film, where Michael Mann's style fits just about anywhere and at anytime, but yet giving reminiscent indications of an LA feel.

The Plot

Max (Jamie Foxx) is a cab driver in LA with dreams of getting out of the business. He gets an attractive woman, Annie (Jada Pinkett Smith), who leaves him her card. Then a man named Vincent (Tom Cruise) steps into his cab with several hundred dollars in cash. All he has do is just drive around to a few stops for Vincent, and keep the cab running.

Sounds easy enough.

Packaging

Packaging for Collateral is the standard Paramount Pictures (and also DreamWorks Pictures) Blu-ray case, which is the best way to make a single case, on the chance you're wondering just what kind of single-disc packaging I prefer. This type of Blu-ray case DOES NOT have the irritating flap that only closes 3/4 of the way (i.e., Sony Pictures, Columbia Pictures). Of course, this is also an "Eco-Case", meaning the case is very thin, and has pieces of the case cut out to form a cute little Environmental-Friendly Recycling logo. Yeah, that really helps the environment. Let me just hug my Blu-ray Eco-Case for a second...ahhhh...there we go. I feel so much better.

Screencaps

Collateral will sometimes be a little grainy, and other times, extremely clean. This is due to the type of film Michael Mann uses, and will vary depending on ambient light reflection, with special regard to particular colors and scene content. Shown below are some variations of this perception of "grain".

Extras

City of Night: The Making of Collateral, is an informational 41-minute feature, but unfortunately...it's only in MPEG-2 Video (DVD quality), and what's even worse, it's fullscreen. I'm hoping there's an HD version lying around, but I kinda doubt we'll see it.

Specifications

Audio 1: DTS-HD Master Audio HD 5.1 (English) @ 4263Kbps
Audio 2: Dolby Digital 5.1 (French) @ 640Kbps
Audio 3: Dolby Digital 5.1 (Spanish) @ 640Kbps
Audio 4: Dolby Digital 5.1 (Portuguese) @ 640Kbps
Subtitles: English, English SDH, French, Spanish, Portuguese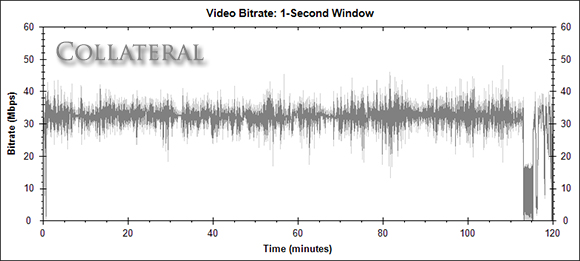 Collateral Bitrate
COLLATERAL
Codec: MPEG-4 AVC Video
Resolution: 1080p
Blu-ray BD-50
Feature Film Size: 36,434,202,624 bytes (33.93 GB)
Disc Size: 42,849,304,903 bytes (39.91 GB)
Overall Bitrate: 40.50 Mbps
Video Bitrate: 31.80 Mbps
Download: Collateral BD Info File
Rating
| | |
| --- | --- |
| AUDIO | |
| VIDEO | |
| CONTENT | |
| EXTRAS | |
RECOMMENDED PLUS
Conclusion
Michael Mann just has a mysteriously supercool way to show off his work, and this is another slick flick which manages to inject style into a thrill-ride of adventure.
Collateral gets a solid RECOMMENDED PLUS.
Collateral can be had for rather cheap if you watch the frequent sales, but don't let the low price of the film fool you. The transfer quality of Collateral is very good.