22400mAh Portable Charger
from EC Technology
Features
: 22400 mAh rating, 1A and 2A outputs, LED flashlight, 4-segment charge indicator.
Company
: EC Technology
Battery Cell Type
: Lithium Ion
Input
: 5V / 2A (MAX)
Output
: 5V 1A / 2.1A
Dimensions
: 16cm x 8cm x 2.2cm
Weight
: 450g (~1lb)
MSRP
: $89.99 USD
Current Price
:
Check Price / Purchase
It seems like I've been accumulating more and more electronic devices over the years. I'm looking at my computer desk at the moment, and I see so many devices requiring power — but more importantly, PORTABLE POWER. Why am I emphasizing portable power? Well, this is because the devices I own have to be with me. And I'm sure you're in the same situation. We have electronics of all shapes and sizes...but finding one charger to keep them running is a very difficult challenge.
I came across EC Technology by chance, as I recently got a smartphone. I'm not after the latest and greatest phone device, so I took advantage of my carrier's free phone, which was a Samsung S4 Mini. After downloading a few applications (yeah, most of those were games), I noticed the power consumption of these applications greatly diminished the phone's overall battery life. In only a few hours, I was at 30%. I hooked up the AC charger and everything was fine a few hours later, but I thought to myself: What if I'm in a situation where there is no AC outlet or even a 12V vehicle outlet to charge my phone?
The 22400 mAh Answer
EC Technology has a 22400mAh portable charging unit that can take the place of several of your AC and 12V chargers. With a 1A/2A selectability and the industry standard USB connectivity, the chances of almost all your current devices that once were conditionally bound, can now be used the way you want them to be — wherever you may want them to be.
The EC Tech 22400 weighs just under 1lb, and the size is certainly portable, but you're not going to be carrying this around with your latest smartphone without some sort of backpack or tote bag. What the 22400 temporarily replaces, is the need for daily connections to the AC outlet. When fully charged, the 22400 can replenish a smartphone completely...several times over.
For two months, I've been using the 22400 in different power requirement situations. I've charged my Samsung Galaxy S4 Mini by itself, about 9-10 times. Charging another phone with it (Samsung Convoy 2 SCH-U660) at the same time, cut the rate by about 30-40% (and that was not a smartphone, so the power requirement was less — two smartphones would give a much different result).
How to Charge Your 22400
Lithium Ion batteries are still the current power source for today's advanced electronic devices. And while Lithium Ion batteries are a great leap beyond other batteries, they still need proper conditioning. When you receive your 22400, be sure to immediately plug it in...and let it charge until it's finished. The times will vary, as each device will have its own amount of charge. My 22400 arrived almost entirely charged, however I still plugged it in to a USB port and trickle-charged it until all 4 LED displays were solid. If your 22400 is still charging, you will see the respective LED(s) blinking.
Accessories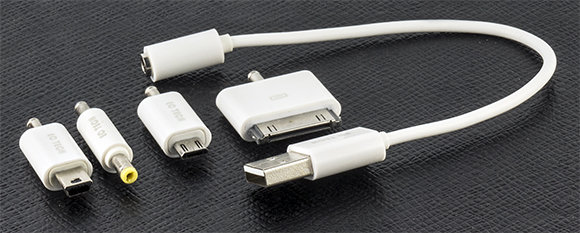 EC Tech 22400 mAh Charger Accessories
A respective amount of accessories are included, which will give you more of an idea of just how to use your charger, rather than using the supplied cables exclusively. The reason I say this, is because you will more than likely already have a set of charging/power cables for your particular device, and all you'll need to do, is plug them into the 22400. An additional longer 28-inch cable not shown above, is included.
Conclusion
Pros
22400 mAh
1A and/or 2A power output
Charge 2 smart devices simultaneously
Relatively compact form factor
4-segment LED power availability and charging status
Lithium-ion battery technology
Weight is only 16oz
A bright LED flashlight
Perfect for hiking, camping, or any kind of activity which will require the user to be away from modern power connections for an extended period of time (i.e., several days)
Cons / Disadvantages
Noteworthy Observations
I've been using this for the last two months without any problems and have charged my Samsung S4 Mini about 9-10 times completely on a single charge (which can take up to 18-24hrs)

What is the model name/number? The underside of the charger says "Model: YN-025"

Occasionally, the 22400 will turn off when connecting a device. This has only happened twice in the last two months, so I'm not entirely sure why this is happening, but doing a "reset" (i.e., holding down the power button for about 10secs) of the charger seems to bring it back to life.

The 22400 works exceptionally well with the FiiO X5 High Resolution Music Player I recently acquired.
HIGHLY RECOMMENDED
Currently, I cannot think of a better solution to keeping my power-demanding devices alive while away from civilization. The 22400 mAh has consistently and repeatedly, without hiccups, given my S4 Mini the power it needs to run applications which can be very demanding and relentless with small and portable devices.
Why should you choose a charger like this over other brands. Well, not only is this a reliable charger, but it's very inexpensive for what it delivers. You should be able to find it for around $40-$50 without any problems.
Proving its charging muscle and being reliable over the last few months under heavy use, the EC Technology 22400mAh Ultra High Capacity Dual-Port External Battery With LED Flashlight Portable USB Charger gets a solid (and most certainly deserved) HIGHLY RECOMMENDED.
EC Tech offers a wide variety of other chargers and accessories which might fit your other charger needs.