Discgear's Selector 100FX caught my eye a little while back and I decided to feature a review of it. What intrigued me, was the highly compact storage space of the Selector 100FX, capable of housing up to 100 CDs, DVDs, or both, but still allowing for quick access to any of those discs with relative ease. I think I can speak for a few of you out there who have limited desktop space, but yet the number of discs accumulating on and around your desktop, are increasing at a surprising rate. It's only when the decision to clean the desktop, that a person realizes just how many discs are duplicated and even triplicated for no reason, other than having the weakness of being unable to know just what exactly has been stored on those discs.

Many photographers visit the DigitalDingus website, and I thought this is the perfect way to keep a rather large collection of images burned on CD and DVD, right on your desktop, with a much lesser chance of those images being lost, forgotten, or duplicated. What's even more convenient, is the complete control of what is inside the Selector 100FX. Once a disc is no longer needed, you simply throw the old one out and replace it with a new updated disc. Let's take a closer look below at how the Selector 100FX operates.

Using The Selector 100FX

The Selector 100FX has a simple, but rather unique system for grabbing that one particular disc out of a possible 100.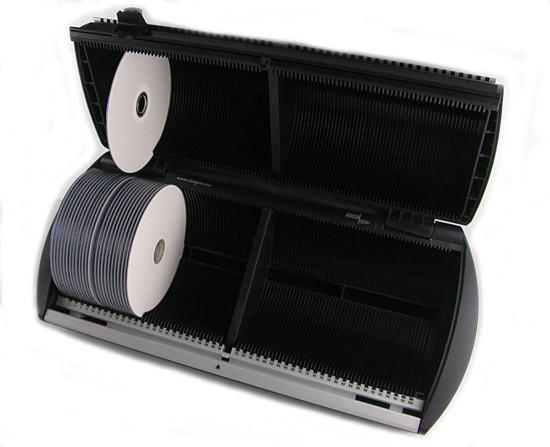 Below you can see a close-up of the selector button (oberved on the left) which gently pushes a metal bar against the disc being selected (shown on the right), resulting in the disc being squeezed against the top of the case, allowing for the disc to be lifted from the other discs. Quite the creative design. Very simple and effective. For carrying the Selector 100FX place to place, the selector button is positioned in the center of the case so it will not rub against any discs inadvertently.

Another nice feature offered by Discgear, is storing the names and locations of your discs online, and having the option print the title sheets at any time. If a title sheet becomes damaged for whatever reason, you can print another one. By registering at http://www.discwareonline.com, the task of updating your media collection can be done in a short period of time.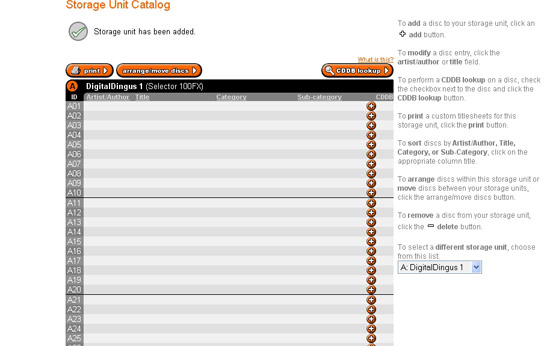 There was no observed limit as to the amount of Discgear units which can be stored online. Over time, if you manage to own several Selector 100FX's, this could be quite a valuable resource. CDDB is also offered which makes inputting the titles much easier.
Pros
Ultra-compact design
Store up to 100 CD/DVD discs
Retrieve a single disc quickly
Retrieved disc goes back into slot without touching or scraping against other discs
Included pen and title sheet for first-time labeling
Self-aligning slots
Add/Remove discs from an online database which stores your disc info
Full Lifetime Warranty
Cons
Observations
Discs are not touched on the top or bottom, but are gently squeezed from the side.
Discgear's Selector 100FX can quickly take the clutter of disc media off your desktop. After using the Selector 100FX for a few weeks, I experienced no problems with its use. The discs were always grabbed by the selector button, and other discs were never touched or scraped. For such an inexpensive product (around $40 online and in stores), I'm rather impressed.

HIGHLY RECOMMENDED

Another convenient feature Discgear offers its customers, is storing the names of discs online. By registering at http://www.discwareonline.com, the online title sheet can be printed out on your computer. This could be a valuable asset and reduces clutter on your desktop even further.

While the MSRP is quoted at $69.95, you can find the Selector 100FX for around $40 (via the link posted in the DigitalDingus "Smartbox").

For those who have a rather large collection of discs strewn about their computer desktop, and especially for photographers, the Selector 100FX is an inexpensive way to get a grasp (if you will) on your disc collection.