Micro USB to USB 2.0
from Color Cables
Features: High-quality cables which glow in the dark, enabling easy identification for your phone device.
MSRP: $15 and up
Official Website: http://www.colorcables.com

Lately, I've been concentrating on movie reviews, but a product caught my eye. Color Cables is a new company which produces glow in the dark cables for your Apple product (30-pin devices), SmartPhone (Micro USB), and Lightning device (iPhone 5, iPad 4, iPad mini, etc.). These are not your ordinary cables you'll find in stores. These are high-quality cables, specially-matched to a wide variety of phone devices and other devices which are charged via 30-pin, Micro USB, or Lightning devices.

Using The Micro USB To USB 2.0 Cable

What I like about this cable is it's built solid, not to mention available in a longer length (6ft) that keeps my device away from being too close to a cluttered computer. It's easy to grip, and I don't even have to look at it due to the familiar grooves I can feel. I also appreciate the ribbon design. If you take a quick look at your current charging cable for your phone or other device, you'll notice it's kinked and curled, and well...just looks nasty, doesn't it. With the Color Cables design, they are made to resist kinking and curling, and have a naturally tendency to stay flat.

A Closer Look At Color Cables

Taking a look at the diagram below, you can see the difference in design from typical cables purchased at a B&M electronics store, or even online.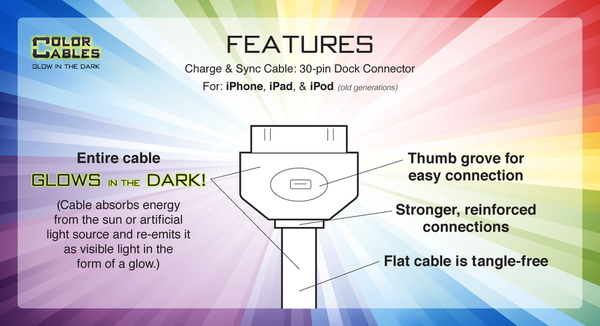 The Thumb Groove on these cables is rather convenient. I have several other Micro USB to USB 2.0 cables in my collection, and none of them have the unique feel that Color Cables gave me.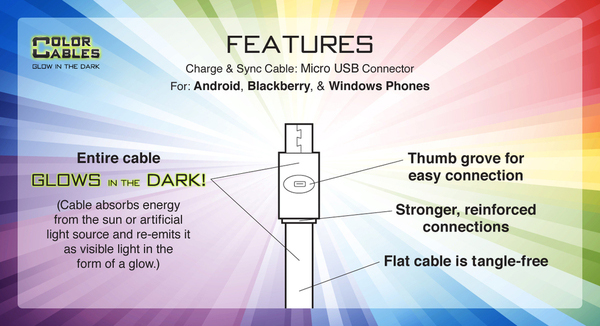 Pros
It glows in the dark!
Color-code your cables for easy distinguishing at night
Quality built
Choose from a variety of colors (Red, Green, Orange, Blue, Purple, Pink, & Grey)
Choose a 3ft cable, or a 6ft cable for those difficult areas
Ribbon cable so you don't get tangled
Cons / Disadvantages You've already spent and/or invested a lot in your phone device. It's there when you wake up...it's there when you go to sleep. Why not give it the quality it deserves with a Color Cables product? With a variety of colors available, and the extra-convenient 6ft cable for those places where you just can't use a 3ft cable without having your nose touching a bunch of wires, a Color Cable will certainly add a new dimension to your charging routine.

HIGHLY RECOMMENDED

Color Cables is new company producing some very exciting products for phone devices as well as anything that requires a Micro USB to USB 2.0 connection. Be sure to visit the website and check out the product offering. More than likely, there's a cable made just for your device.