miJam Laser Light Show
by b2
Features: Quick hook up of your iPod or MP3 player which immediately displays a dancing laser pattern on a ceiling, wall, or whatever the focus of the laser light.
Offical Website: b2
MSRP: $49.99
Street Price: ~$29.99
Current Price: Check Price / Purchase

Blue Box International has a newly formed division called b2, which specializes in music-related and entertainment products. One of those products, the miJam Laser Light Show, came across my desk recently for review. The holidays are coming up on everyone rather quickly it seems, and this looked like something which could be really fun to play around with. The miJam LLS is a rather intriguing device, and b2 says all you have to do is hook up your iPod or some other MP3 player. In a few moments, a laser light show is in your living room. For this particular review, DigitalDingus received a miJam in a rich cherry-red color. What came as some relief, is the miJam Laser Light Show is not specifically made for Apple's iPod, and you can hook up any MP3 player which has a standard 3.5mm (1/8") jack output for headphones.

Supplied with the miJam Laser Light Show is an AC/DC adapter. The miJam LLS also takes 4-AA batteries for portability where an AC outlet is not to be found. Also supplied is a 1ft 3.5mm extension for devices which cannot be situated on the miJam LLS's stand.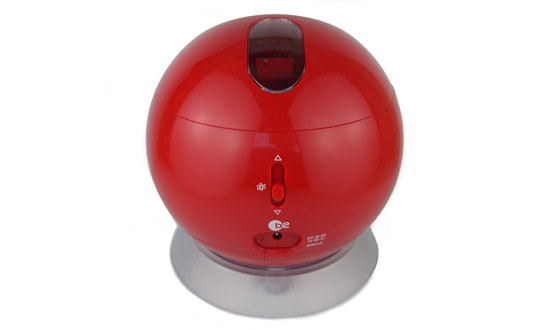 I personally don't own an iPod (there are only about 7 of us left on the planet who don't apparently), but from having several friends who do, I did notice the absence of an iPod docking jack, so the iPod can sit flush on the miJam LLS without the need for an external 3.5mm connection. The miJam Laser Light Show's packaging prominently displays an iPod or an iPod-like device so I can't but help this is being marketed to iPod owners a little too eagerly.
On a more positive note, hook up is very easy, and it's nice the miJam LLS is compatible with any device which has a 3.5mm output. Technically, if you had a larger jack output such as a receiver, you'd simply buy an adapter. So, virtually any audio output device is compatible with the miJam LLS.
The sound quality of the miJam LLS is pretty good. Loudness is another issue. Playing music directly from my SanDisk Sansa e260, I didn't get much bass, but did get crisp highs. However, when connected to my AV receiver, I had much better sound. Overall, it appears as if the miJam LLS is not tuned for lower output devices. This is rather odd, since this is exactly what this device is being marketed to and for.
Pros
Stylish design
iPods, MP3 players, and any device which has an immediate 3.5mm output jack can be attached to the miJam Laser Light Show
Additional devices which have audio outputs (such as a 1/4" output on a home theater receiver) can be matched to an adapter available at any electronics store for additional compatibility with the miJam LLS
Build quality is satisfactory
Simple to operate
Cons / Disadvantages
SanDisk Sansa e260 MP3 player didn't put out enough power to stimulate the laser beyond a few inches of laser dancing
Only two selections available: LASER ON w/MUSIC ON or LASER OFF w/MUSIC ON
Speaker output is low for portable MP3 devices
Price is kinda high for what it does
Observations
A high output device is required for good laser light show
I was rather excited to get the miJam Laser Light Show hooked up to my Sansa e260 MP3 player, but unfortunately, it didn't have enough volume output to get the laser stimulated past a few inches in diameter on my ceiling. I suspect iPods will have the same problem as they have an even lower mW amplifier output rating. The only player I can think of which could possibly do ok is a brand most unfamiliar to viewers — Cowon. Cowon, to my knowledge anyway, makes the highest amplifier output on a portable AV player.

RECOMMENDED MINUS

I can barely recommend this product at the moment without some serious hesitation. It does produce a dancing laser on your ceiling, but is certainly in need of a high-volume output device to make it work properly. To test this theory, I ran the output from the headphone jack of my Denon AVR-5700 Receiver, and the laser danced to the beat of the music with a diameter of several feet. So, b2's marketing as this being for portable iPod and iPod-like MP3 devices, isn't accurate. More than likely, what needs to happen, is a simple re-tuning of the laser's sensitivity. Of course, this might change the rated laser class rating, which might explain the issues I had. But regardless, the laser needs to be improved.

The price of the miJam Laser Light Show seems to hover around $30. This is a little high for what it currently delivers. If it had more laser settings, a better speaker system with a more powerful amp, and more sensitivity to portable devices, b2 would have a winner here.

I think b2 has a very eager product line, and I'm hoping to see some improvements and added features for the second generation miJam Laser Light Show. Usually, a product is tested in the market and then new features are added. So, while DigitalDingus gave this first-gen product a rather low rating, this does not mean you should avoid b2's products altogether, but more of an incentive to give b2 and Blue Box International a heads-up on their future version and to give DigitalDingus viewers a reason to keep track of Blue Box International's fairly new b2 subdivision in their sites for future holiday fun.

On a side note, Blue Box International has a great assortment of toys for all ages. I was recently on their website and noticed they had some rather detailed figurines which reminded me of Todd McFarlane's figurines. I'm sure BBI's are less expensive, so be sure to visit BBI's website.