Origin Of News Release: White Plains, NY
Original Release Date: September 20, 2013
Announcement: Art Of Power announces TOWER
Availability: Q4 2013
MSRP: Under $100

No More Crawling! The Art of Power Announces the TOWER

The Art of Power announced its debut product, the Tower, a standing surge protector that powers up to six electronic devices in a sleek and stable package. The device offers a solution to the common problem of finding a place to plug in all your devices, being unable to reach or find outlets, and protecting your electronics from power surges and other electrical interference. The Tower elevates your power outlets and eliminates the need for USB charge transformers, making your power easily accessible and getting rid of one of the major annoyances in a home or office.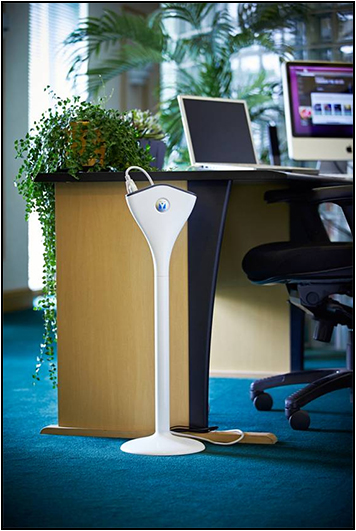 Are you tired of crawling under your desk or bed to plug in your smart phone or tablet? Are you out of space on your nightstand or desk for a place to set your electronic devices to charge? Are all of your outlets in use, forcing you to charge your most used devices in inconvenient places in your home or office? The Tower features four standard power outlets, along with two USB charging ports, allowing for the powering of up to 6 devices, simultaneously. Featuring a sleek holder that neatly stores electronic devices such as tablets and smart phones, ensuring that your electronic devices are charged and stored safely.
The Tower fits perfectly next to desks in your home or office, next to your bed or your favorite couch or recliner. The device features a sleek design that matches many modern devices, and sits at a level where the average person can plug it in without bending over. The half-circle anchor allows for placement snugly next to a table, nightstand, desk or wall.


"The Tower makes using electronic devices dramatically easier for everyone. I hated having to reach down and fumble for an outlet just to plug in for a few minutes. So my daughter and I invented the Tower," said Donald T. Beldock, founder and CEO of The Art of Power. "But we're tough customers: if it was going to be easy to reach, it was also going to be visible. We decided it also had to be beautiful. So the Tower was born: a beautiful and stylish tower delivering power outlets and USB charging right where you need them, yet still blending in with your decor."
The patented product will be coming to consumer markets this fall at a cost less than $100. It's called The Tower, and it powers, recharges and protects devices simultaneously without requiring that maddening, back straining search for outlets that are never where you need them. The Tower is always ready, at waist or desk level, whenever and wherever you need it.
About The Art of Power
The Art of Power is the power and accessibility brand of BelPower Systems, LLC, a White Plains, NY-based family business focused on developing next generation products for consumers. Created by serial entrepreneur Donald T. Beldock and his daughter, The Art of Power brand delivers ease of use, museum-quality packaging, and a sense of style to its devoted customers. The brand's flagship product, the Tower, delivers four regular AC power outlets and two USB outlets to desk or waist height, neatly hiding the cords and eliminating the need to reach down just to plug in. It's available nationwide in late 2013.
October 4, 2013
It seems like the most convenient products somehow escape the most of us, but here we have a device which can be very convenient for those who have areas within their home and business, which are challenged by space. Having an outlet strip on the floor, tucked under a cabinet is just fine...until I have to unplug it! And what if I need something temporarily plugged-in to an outlet? The TOWER looks like a very interesting product, and I hope to be reviewing it in the near future.
- DigitalDingus