Origin Of News Release: Los Angeles, CA
Original Release Date: October 25, 2012
Announcement: GoSmart announces Stylus 200 & 300 series
MSRP for Stylus 200 & 300 series: £19.95 ($24.95 USD)

Makes Pen & Paper Obsolete — Quietest, Smoothest, Most Precise Patent-Pending Stylus For iPad And Other Touchscreen Devices

GoSmart, Inc. (www.justgosmart.com) announced today that the GoSmart Stylus is now available in Europe through Amazon U.K., priced at: £19.95 or $24.95 U.S. Also available in the U.S. since August, the GoSmart Stylus is made of ergonomically designed solid aluminum, featuring a flexible patent-pending see-through Teflon coated stainless steel tip with Capacitive Coupling Technology for precision pointing -- the smoothest and most precise stylus for iPads, touchscreen tablets, smart phones and other touch screen devices. The Amazon U.K. site provides European availability of the GoSmart Stylus, with expedited shipment to the U.K. and other European countries at a reduced rate.

Patent-Pending Capacitive Coupling Technology with See-Through Wire Tip for Precision– No Tapping Sounds While Taking Notes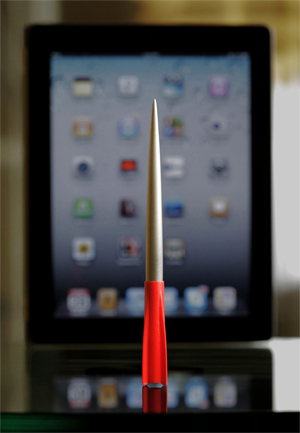 Made for painting, drawing, sketching, scribbling, writing, clicking, and selecting on any touchscreen device (even with sticky protective covers), the GoSmart Stylus with an iPad (or other tablet) makes pen and paper obsolete. The Teflon-coated metal tip of the stylus quietly glides on the iPad or other touchscreen to silently take notes during meetings or classes, with no tapping noises. It features a precise touch unimpeded by clunky foam or plastic discs, which encumber most other styluses. Strong and flexible at the same time, the tip easily pivots to accommodate various angles, never scratching your device's touchscreen display. The Stylus provides unique clarity and precision via its patent-pending tip, which employs Capacitive Coupling Technology, featuring several wire rings for an effectively solid conductive surface with minimal material for a clearer view.
The GoSmart Stylus is the perfect "digital pen and paper" for:
· Business people and students to quietly take notes at meetings and lectures.
· Doctors to update patient charts.
· Police and other government agencies to enter forms and tickets.
· Artists to paint or draw smoothly and accurately.
· Left-handed people to write quickly and easily on iPads without problems. See "Lefty" video
· Emailing Documents to sign and email PDFs without the need to scan and fax.
· Selecting text and clicking icons.
· Real estate agents, accountants and salespeople to sign PDF documents and fill out sales forms.
Customer Quotes
"I love this stylus! It glides super smooth over the glass or over the screen protector. I am a full time graduate student and I use this stylus up to 12 hours a day. I primarily use my iPad and the GoSmart Stylus to write notes in class and highlight and take notes in articles," – Michelle, University of Oklahoma.
"I scan my client's documents as PDFs and annotate them using [the GoSmart Stylus]," - Olivia, accountant.
"I'm currently storyboarding a feature film. Several of the scenes I'm doing exclusively on my iPad using the Procreate app. This is the only stylus I'll use for artwork on my iPad," - professional artist for movie industry.
Two Models with Aesthetic Design – Embedded Rare Earth Magnets Hold Stylus to iPad
The GoSmart Stylus is available in two ergonomic designs: 300 Series (rocket-shape style) and 200 Series (pen-shaped style). Both designs include two rare earth magnets embedded inside for attaching the stylus to the newer iPads.
GoSmart Stylus 300 Series
- Unique aerodynamic rocket-ship look and solid ergonomic feel
- Solid aerospace-grade aluminum
- Cap's silicone rocket fin shape prevents the stylus from rolling and allows Stylus to stand on its own
- Silently takes notes during meetings
- Includes two rare earth magnets for attaching stylus to new ipads
GoSmart Stylus 200 Series
- Shaped like a standard pen - Includes polycarbonate cap with clip for travel and easy storage in pocket
- Made with the same high quality materials and precision handling as 300 Series
- Includes two rare earth magnets for attaching stylus to new ipads
- Silently takes notes during meetings
Available in U.S. and Europe
Amazon U.K. enables the GoSmart Stylus to be exported to the following 27 EU countries:
Germany, France, Spain, Italy, Belgium, Luxembourg, Netherlands, Ireland, Portugal, Austria, Bulgaria, Cyprus, Czech Republic, Denmark, Estonia, Finland, Greece, Hungary, Latvia, Lithuania, Malta, Poland, Romania, Slovakia, Slovenia, Sweden, U.K.
The GoSmart Stylus 300 Series and 200 Series are available immediately in the U.K. at Amazon U.K. at: £19.95 and in the U.S. at the GoSmart site: http://justgosmart.com/stylus/ or Amazon.com at $24.95 each. For more information, see the GoSmart website: www.justgosmart.com
YouTube: http://www.youtube.com/user/JustGoSmart?feature=watch
Facebook: http://www.facebook.com/JustGoSmart
Twitter: https://twitter.com/#!/justgosmart.
About GoSmart
GoSmart, Inc. www.justgosmart.com is a privately held company headquartered in Los Angeles, California. GoSmart develops and markets uniquely innovative product. Their current product line includes the GoSmart Stylus with precise touchscreen pointing with an unobstructed view through a patent-pending capacitive wire tip; the GoSmart Restpad; and GoSmart Clip for iPhone for safer GPS viewing in the car. For more information, see www.justgosmart.com.
October 25, 2012
Actually, I did a search on Amazon.com and also found these:
GoSmart Stylus for an iPad and Other Touch Screen Devices (Red)
It appears as if GoSmart added their Stylus 200 and 300 series, as well as some replacement products. I like the mentioned feature of not having to scan and fax documents, in order to have a signature on those documents when they are sent to their recipients. This would save a lot of time — and paper.
- DigitalDingus