Origin Of News Release: Cologne, Germany (Photokina 2008)
Original Release Date: September 23, 2008
Announcement: X-Rite and Wacom partner to deliver ColorMunki to pen tablets
MSRP: ColorMunki Create: €129,00 ($149 USD); ColorMunki Photo: €429,00 ($499 USD); ColorMunki Design: €429,00 ($499 USD)
Availability: Now

September 24, 2008

Apparently this is only available to to European customers, but I'm hoping Wacom and X-Rite will bring this to the United States. The ColorMunki is a portable color-matching solution which keeps your colors consistent from computer to print. The ColorMunki was announced earlier this year by X-Rite.

- DigitalDingus

TIPA Award-Winning X-Rite ColorMunki Technology Now Available With Wacom Cintiq Interactive Pen Displays, Bamboo Fun Or Intuos3 Pen Tablet Products In Bundled Or Stand-Alone Options

X-Rite, Incorporated (NASDAQ: XRIT), the world leader in color management and measurement technologies, today announces an agreement with Wacom, the leading manufacturer of pen tablets, interactive pen displays and intuitive interface devices. The partnership ensures that TIPA award-winning X-Rite ColorMunki technology is now offered with Wacom's range of consumer and professional pen tablets – Cintiq, Intuos3, and Bamboo Fun.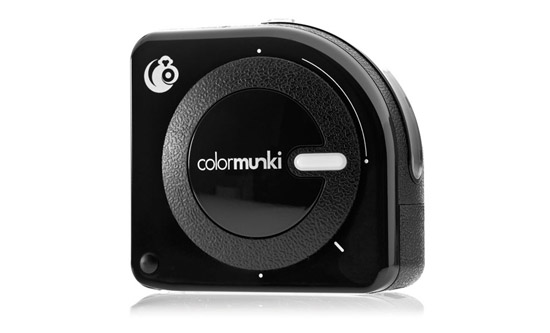 Guido Mφller, Product Manager Professional Products at Wacom, says: "Using ColorMunki with Wacom pen tablets offers our customers in Europe exceptional technology for superior results. This partnership reinforces our dedication to provide our customers with the best tools available for colour-control and creativity."
The ColorMunki portfolio of integrated software and hardware solutions – ColorMunki Photo, Design or Create – gives photographers and designers the freedom and flexibility to confidently create with and produce accurate colour. Wacom digital drawing tools are recognized as the industry standard for artists, graphic designers, architects, and cartoonists. Now, ColorMunki technology, which has won a Technical Image Press Association (TIPA) award, is available to Wacom customers through their e-Shop: www.wacom-shop.net
Partnership Innovations At photokina
At photokina, visitors to the X-Rite photokina Stand D050 Hall 4.1 or the Wacom Stand H020 Hall 4.1, have the opportunity to explore, first hand:
The Cintiq line of interactive pen displays, available with either ColorMunki Photo or ColorMunki Design. Attendees can learn more about ColorMunki Photo, a completely integrated, versatile solution developed for social, wedding and portrait photographers that profiles and calibrates monitors, printers and projectors, with DigitalPouch Image Sharing and Photo ColorPicker Custom Palette Creation. Also being shown is ColorMunki Design. Ideal for graphic professionals, from freelancers to corporate in-house designers, ColorMunki Design offers professional palette creation for specification, verification and sharing colours and colour-control for monitors, projectors and printers.
Intuos3 or Bamboo Fun pen tablets with ColorMunki Create - an affordable, simple starting point for designers whose primary objective is colour-palette creation, ColorMunki Create is an intuitive software and hardware solution for creating, managing, searching, verifying and sharing colour palettes in a production-safe environment.
"A partnership with Wacom, the leading manufacturer of pen tablets, interactive pen displays and intuitive interface devices, is right in keeping with our ongoing mission for ColorMunki, which is to ensure that colour excellence is easily achieved and seamlessly incorporated to fit distinct creative needs. Visual artists such as photographers now have expanded capabilities like monitor-to-print-match colour-control; while designers can be assured of PrintSafe colour-palette creation and colour-control when they invest in a Wacom pen tablet or interactive pen display and ColorMunki," states X-Rite Senior VP of Global Sales & Marketing, Iris Mangelschots.
Pricing And Availability
X-Rite's ColorMunki Create is priced at €129,00, ColorMunki Photo at €429,00 and ColorMunki Design at €429,00. All prices are excluding VAT. Products are available now to Wacom's European customer base from the their e-Shop: www.wacom-shop.net.
About X-Rite
X-Rite (NASDAQ: XRIT) is the global leader in colour science and technology. The company, which includes colour industry leader PANTONE Inc., develops, manufactures, markets and supports innovative colour solutions through measurement systems, software, colour standards and services.
About Wacom
Wacom Europe GmbH is a subsidiary of Wacom Company, Ltd. (Tokyo Stock Exchange 6727). Founded in 1983, Wacom is a global company based in Japan with subsidiaries and affiliate offices around the world to support marketing and distribution in over 150 countries. Wacom's vision to bring people and technology closer together through natural interface technologies has made it the world's leading manufacturer of pen tablets, interactive pen displays, and digital interface solutions. The advanced technology of Wacom's intuitive input devices has been used to create some of the most exciting digital art, films, special effects, fashion and designs around the world and provides business and home users with their leading interface technology to express their personality.