Origin Of News Release: Tualatin, OR
Original Release Date: September 22, 2008
Announcement: Lightspeed Technologies announces REDCAT and REDMIKE
MSRP: Not specified
Availability: Now

September 25, 2008

Lightspeed Technologies is but a short drive away from where DigitalDingus is located, and I'm hoping to get a review of this system in the future. In any case, the REDCAT system with the supplied REDMIKEs are an extremely portable solution for last-minute social events and classrooms where a mic system is not so easily installed and operated.

- DigitalDingus

Lightspeed Technologies is pleased to introduce the latest in classroom audio technology. The new REDCAT all-in-one classroom audio system is a simple, compact unit designed for quick set up on a shelf or wall. The new REDMIKE is the smallest and lightest infrared microphone in the industry at only 2.1 ounces, and is designed specifically for the teacher's comfort and ease of use.

The REDCAT classroom audio system allows the teacher's instruction to be clearly heard throughout the learning environment, strengthening the teacher-student connection. Research outcomes include increased 'on-task' times and higher academic performance for students, and better classroom management and reduced vocal fatigue for teachers.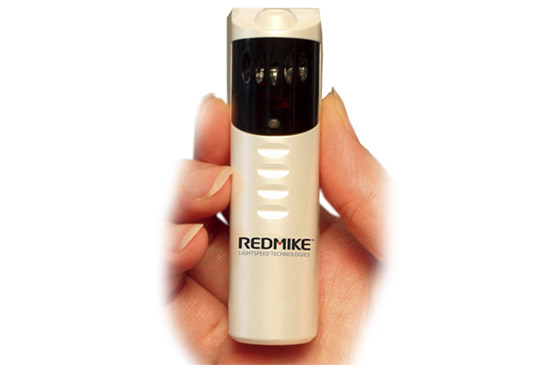 Lightspeed Technologies REDMIKE
A key component of the REDCAT design is the NXT* flat panel speaker. Lightspeed and NXT engineers have merged technologies with impressive results. A single NXT speaker provides clear audio and excellent sound distribution throughout the classroom. Another NXT advantage is its capability to enhance the voice frequency range, creating a high degree of speech intelligibility. This type of speaker is ideal for the learning environment, and Lightspeed is the only classroom audio manufacturer utilizing this state of the art technology.
"A barrier that often keeps schools from implementing this effective instructional technology is the cost of installation," says Bruce Bebb, MarCom Director at Lightspeed. "Educators have been asking for a simple solution for classroom audio for several years. Installing speakers, sensors and amplifiers may make sense for new construction projects, but can be an expensive hassle for existing classrooms. The REDCAT's unique all-in-one design requires no installation, meaning major cost savings, easy adoption and immediate results."
Shirley Dornback, an Audiologist at Richardson Independent School District in Richardson, Texas, has already started implementing the systems in her district. "The REDCAT offers something that other companies haven't been able to -- an all-in-one system -- with only one speaker that fills the room with equal sound. It is a high quality product and makes great fiscal sense."
An added benefit is the capability to route any audio source through the REDCAT. Laptops, CD players and iPods can be amplified quickly and easily through the system. The REDCAT delivers clear audio, excellent sound distribution and high speech intelligibility that engages students and allows the teacher to be more effective.
Lightspeed has been designing classroom audio systems for over 15 years and is considered an innovator in classroom audio technology. For more information, contact Lightspeed Technologies at 800-732-8999 or visit www.lightspeed-tek.com.
*NXT is a registered trademark of New Transducers Limited.