Origin Of News Release: Keelung, Taiwan
Original Release Date: August 21, 2008
Announcement: Lian Li Announces MAXIMA Force PSU Series
Availability: Shipping as of late July 2008

Enthusiast performance durable PSU series

In his Lian Li Industrial Co. Ltd has launched the MAXIMA Force series of Power supply units (PSU). The MAXIMA Force offers exceptional power regulation and safety features with 80 Plus certification showing Lian Li's commitment to quality, while exemplifying Lian Li's attention to detail through craftsmanship. MAXIMA Force complies with the newest Intel standard ATX 12V V2.3 & EPS 12V rail systems, while the environmentally friendly design for energy saving with Active PFC (>0.9) / High efficiency (>80%) complies with the best standards and allows additional full rated power draw during overclocking sessions. Hosting a complete range from 470Watts, 650Watts and 750Watts, the MAXIMA Force PSU's are designed with the enthusiast gamer in mind.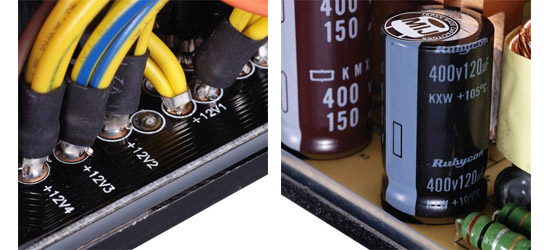 The features include Power Failure Detec tion with OVP/OCP/OLP/SCP/UVP/OTP, plus support for multi-core CPU and Multi GPU/graphics cards systems, additional support for over-clocked CPU, GPU, and RAM System hardware with a maximum 100W overpower capability for one hour. The superior Japanese capacitor components bring long lasting durability and quality for the ultimate in stable power output.
The PCI-E connector has bead-core protection to minimized electromagnetic interference (EMI) for a cleaner output. Unlike some PSU's out in the market, the MAXIMA Force can support its FULL rated power output. The cables have special sleeves to improve airflow through your case. The universal input accepts between 100V-240V and has a power switch at the back for added safety. The ball bearing fan gives consistent and quality airflow across specially designed heatsinks that have a special rippled surface to improve the surface area for superior thermal cooling performance. The uniquely coated outer casing has honeycombe d venting for excellent air-flow and ventilation.
With clean and stable power driving your PC via the MAXIMA Force PSU and the multi 12V rails output and bead core protection for the PCI-e connectors, failsafe safety protections, and 80 Plus output all combine to give the MAXIMA Force PSU superior durability than anything else you are likely to get. MAXIMA Force PSU's have today what PC gamer's need tomorrow!
For more details on features for the MAXIMA Force PSU's please go here:
http://lian-li.com/v2/en/product/product04.php?cl_index=10&sc_index=36&ss_index=88
About Lian Li
Lian Li Industrial Co. Ltd is an Aluminum Chassis and Chassis peripheral manufacturer and provider of industrial wholesale as well as OEM & ODM services for the PC industry as required. With over 20 years of service excellence, ISO 9001 certification and a team of professional staff willing to do the utmost to deliver durable, superior quality products, all backed by a *2 year guarantee; your satisfaction is guaranteed.(*conditions apply).