Origin Of News Release: Las Vegas, NV (PMA 2008)
Original Release Date: January 31, 2008
Announcement: Liberty Partners With Powis
Availability: Now

Liberty, the premier source for the development and distribution of photo gifting, lab consumables, custom lab solutions, equipment, replacement parts, and pro photography equipment, today announced its partnership with Powis to offer Liberty's photo lab customers a fast, easy-to-use photo book system; turning silver halide, dye-sub and inkjet prints into distinctive high-end photo books for consumers.

Liberty is distributing the Powis PhotoPress, Studio Photobook and the Foilfast Printer, bringing professional quality photo book binding to the photo lab. This equipment allows labs to create photo books at a fraction of the regular cost of large binding presses--while taking up the smallest space in the lab. For example the PhotoPress sells for considerably less than competing machines, yet delivers a product comparable if not superior to machines five times the price.

"The opportunity for today's photo lab is to maximize and manage their profit per square foot of occupied real estate, while delivering high quality lifestyle photo products that will have consumers returning for more," said Garry Green, president of Liberty. "The Powis PhotoPress, and Studio Photobook binding systems plus the Foilfast Printer help us to meet the demands for high-end photo book creation, with cost effective equipment that delivers a small footprint for maximum efficiency."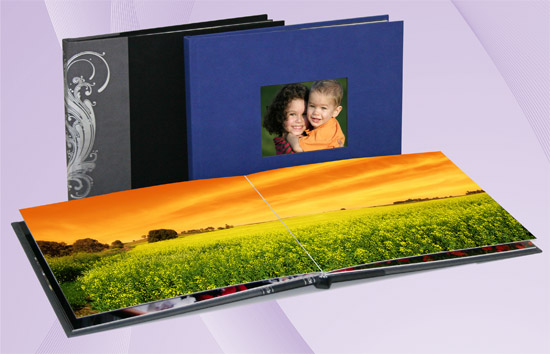 "According to our research, the projected volume of photo books being sold worldwide will reach 78.5 million by 2010," said Don Franz, president, Photofinishing News Inc. "The market opportunity for photo books is heating up, and Liberty is offering the right solutions at the right time to help retailers meet this increasing demand."
The Powis PhotoPress delivers a final product that rivals and even surpasses the quality of traditional mounted albums, for less money and in less time. The PhotoPress uses pressure instead of heat to laminate photographic prints to Powis' patent pending signature sheets. Using a kiosk, the consumer decides how they want the book arranged. Then, the photos are simply mounted to the signature sheets, assembled into the photo book and cycled through the PhotoPress for permanent adhesion of the images. The mounted images are then ready for assembly into a Powis Photobook hardcover--considered one of the finest in the industry. It is so easy to use; lab technicians can make beautiful photo books in minutes.
For more cost conscious photo labs, the Powis Studio Photobook system is the likely choice. This photo book binding system consists of four pieces of equipment; The Fastback 8x binder, Powis Stitcher, a stitch flattening tool, and the Fastback Hardcover Guide. The Fastback 8x binder is a thermal strip binder with a remarkably small footprint; it takes up no more space than an inkjet printer. The Powis Stitcher is a powerful desktop system for wire stitching the book contents. The final piece in the system is the Fastback Hardcover Guide, which makes assembling hardcover books a snap.
The Powis Foilfast Printer allows labs to offer foil artwork and titles to photo book covers. Prior to this unique printer, foil printing was cost prohibitive. Now labs can create foil printed covers in less than two minutes per sheet. The Foilfast Printer works like a standard ink jet printer and prints in seven foil colors.
"As the leading source for development and distribution of photo imaging products and equipment to large chain retail outlets and minilabs, Liberty was the logical partner to help place our photo book creation systems," said Kevin Parker, president and founder of Powis. "Plus Liberty is one of the few companies to also offer kiosks allowing consumers to easily create their own customized photo books. This ensures retail outlets don't have to invest extra time and money developing a front end consumer interface--Liberty is the one-stop-shop for the full solution."
The Powis Studio Photobook, PhotoPress and Foilfast Printer, photo book creation products are now available through Liberty.
About Liberty
Founded in 1984, Liberty (an ISO 9001:2000 certified company) is the market leader in the development and distribution of equipment, replacement parts, consumables, and custom lab solutions for the photographic imaging industry. The company services a broad range of labs including professional, commercial, wholesale, online fulfillment, specialty photo retail, regional and national drug, grocery, and mass retailers and professional photographers. Servicing more than 16,000 global end-user locations and photographers with an advanced logistics and sourcing platform, Liberty supplies more than 9,000 products including; minilab replacement parts and consumables, wide format printers, ink and media, custom printed CDs / DVDs / flash memory, kiosks, software, lifestyle photo products (photo gifting supplies), and more.
For more information go to http://www.libertyphotoproducts.com or call (949) 361-1100.
About Powis
Powis is the inventor of Fastback--revolutionary tabletop binding machines that produce strong, beautiful tape binding, and bookstore-quality perfect binding and hardcovers. The Fastback line ranges from small office machines to systems that can support a high-volume digital press. The company's innovative bind-on-demand technology is used by leading photo book manufacturers, multiple Fortune 500 companies and governments worldwide. For more information go to http://www.powis.com.