Origin Of News Release: Eden Prairie, MN
Original Release Date: September 20, 2007
Announcement: Upgraded Line of Universal System Controllers
MSRP: Not specified in press release
Availability: Not specified in press release

New Handheld Controllers and Accessories Feature
Next-Generation Technology Upgrades

Remote Technologies Inc., the leading control systems manufacturer in the Custom Electronics Industry, is pleased to announce the introduction of an upgraded line of universal system controllers. The new handhelds U2 Waterproof Controller, T2-Cs Universal Controller and T3-V Universal Controller, plus the new ZM-24 Zigbee® Transceiver Module are among the next generation of award winning RTI control devices.

"Our upgraded line of universal controllers further emphasizes RTI's commitment to providing the most extensive line of control solutions, which are designed specifically for Professional Integrators and their clients," said Pete Baker, vice president of sales and marketing for RTI. "For example, the U2 Waterproof Controller is a revolutionary new control solution for wet or harsh environments."

U2 Waterproof Controller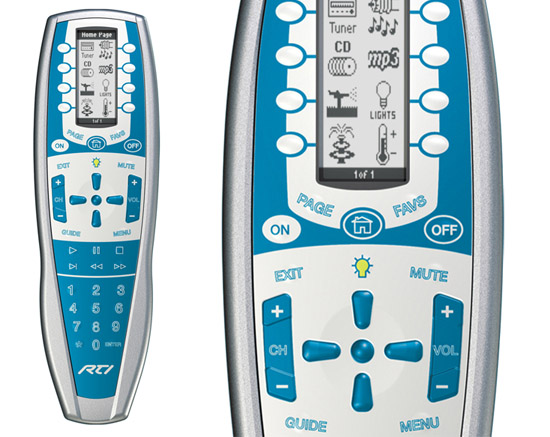 With the U2 Waterproof Controller, consumers can take control of the most sophisticated media room or environmental systems from the pool to playroom, backyard, or boat. By featuring an easy to read, high contrast, customizable, LCD which can display custom graphics or text, users can even view the display in bright sunlight. This provides a simple and flexible interface for operating any electronics system. In addition to the backlit display, there are 33 tactile membrane buttons to allow easy access to frequently used functions. When coupled with RTI accessory devices, the U2 is capable of power sensing for reliable operation and RS-232 communications for advance control. Sleek and durable, the U2 expands control for the home owner wherever their lifestyle requires.
T2-Cs Universal Controller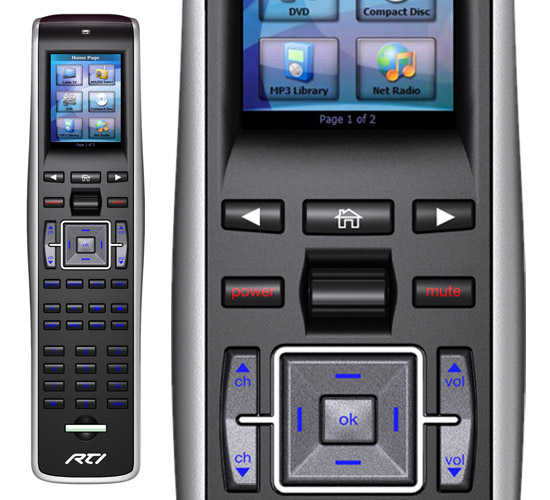 Remote Technologies T2-Cs is a lower cost version of the T2-C with simplified GUI programming; however it still maintains its renowned ease of use and comfortable ergonomics. The controller features a sophisticated, modern design with an advanced 2.4" color touchscreen at an affordable price. The unit can function as a stand alone controller or as part of a larger, advanced control system, giving consumers the ability to expand their control needs at any time. When used with other RTI automation devices, it is capable of transmission via RF, RS-32 communication, relay control and power sensing.
T3-V Universal Controller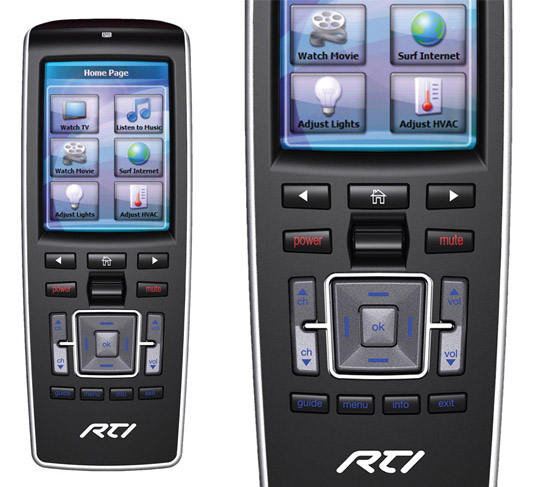 The next generation T3-V control system is designed to seamlessly integrate into any system both in function and design. The T3-V features a contemporary, cutting-edge design with a sizzling, 3.5" Color VGA touchscreen display, which enables the device to showcase graphics, photos, and web pages with detail that was not previously possible. Hard buttons were also enhanced to provide control of commonly used functions, including a three-way rocker switch for scrolling. Additionally the remote was equipped with a larger battery capacity to extend the battery life and maximize uninterrupted use over long periods. This controller also features wireless Ethernet and a built-in web browser. When used with other RTI accessories it is capable of RF transmission through walls and cabinets, power sensing, and RS-232 communications for advanced control.
ZM-24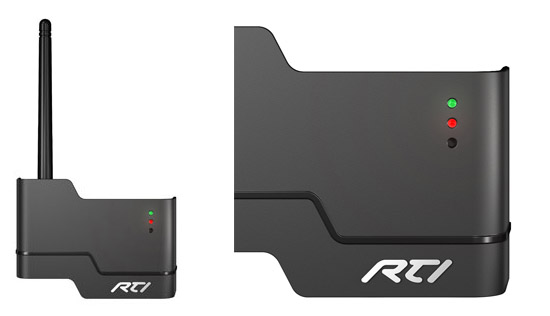 Utilizing Zigbee® wireless communication, the global standard that enables its products to be wirelessly networked all while still creating a solution that is reliable, cost-effective, and utilizes low power. The ZM-24 transceiver module provides bi-directional communication between two-way enabled RTI remote controls and control processors. The unit can be used as a wireless repeater device to create a reliable, self-healing mesh network, or simply be hard-wired directly to a control processor as the coordinator.
Major Features
U2 Waterproof Controller is a programmable waterproof controller, which features a customizable high contrast LCD display.
T2-Cs Universal Controller was upgraded with several new programming technologies including an easy to use, customizable 2.4" color touchscreen.
T3-V Universal Controller features a contemporary, cutting-edge design with a color 3.5" VGA touchscreen display, Wireless Ethernet and built-in Web Browser, which enables the device to showcase graphics, photos, and web pages with detail that was not previously possible.
ZM-24 Zigbee® Transceiver Module, based on the wireless global standard creates a networking solution that is reliable and cost effective.
About Remote Technologies Inc.
Remote Technologies Incorporated (RTI), headquartered in Eden Prairie, Minnesota, is the leading manufacturer of innovative, sophisticated, yet user friendly control systems. RTI's wide array of elegant hardware and software solutions are marketed exclusively through the custom installation channel.
RTI was founded in 1992 with a committed focus on the custom installation market. This unwavering commitment was expanded and formalized in March 2007 with RTI's C2C™ (Committed to Custom) initiative which includes expanded tech support hours, enhanced training through both its Advanced Control University (ACU) and in the field, and the C2C orientation will inform and shape every aspect of RTI's continued evolution. C2C highlights RTI's dedication to the custom installation market, making it the leader in creating wireless hardware and software control solutions that effectively address the challenges facing electronic systems installers and integrators.
RTI's belief in offering its products exclusively through custom dealers and trained professional integrators is a guiding passion, centered on the customization of any size home theater or other electronic system. The company's design philosophy emphasizes an intuitive and enjoyable experience in using its award-winning products, from its universal system controllers, to signal storage and processing devices, and PC programming software.
For additional information on RTI and all its innovative products please visit http://www.rticorp.com.