Origin Of News Release: Myslenice, Poland
Original Release Date: July 3, 2007
Announcement: Cream Software Announces PixExpose

Show your photos to the World with the versatile gallery wizard PixExpose

PixExpose is a photo gallery wizard, thanks to which you will create your virtual gallery in a few moments.

Digital cameras have revolutionized photography. We take more and more pictures but not only for ourselves. We want to show them to our acquaintances, friends, and family. You can develop them but it costs money. You can send them via e-mail but it becomes gruelling once you want to show them to a larger group of people.

There exists, however, a considerably more convenient and cheaper way - it is enough if you create an Internet gallery that, when published on the web, will be available to those close to you 24/7/365 from every corner of the world! This is why the PixExpose software is offered to the digital camera users.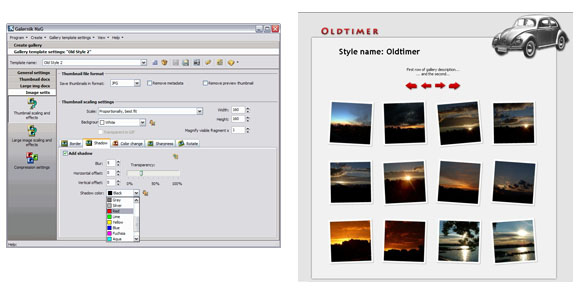 Today Cream Software is proud to announce the premiere of PixExpose software, a fully-featured photo gallery wizard. Preparing an attractive Internet photo gallery with PixExpose is an extraordinarily easy process - on subsequent program pages you only choose images that are supposed to be the parts of the gallery. You choose a graphic template for your gallery and wait until it is generated. Once it is ready, you can send it to a network server with a single click. PixExpose handles everything.
Automatically generate galleries and their subpages
Publish galleries on the Internet with a single click
Attractive and ready to use gallery templates
Support for most popular image formats
Customize and create your own templates
Automatically generated, gallery's navigational context menu
Program does not require any html knowledge
In the course of development of the program Cream Software has been striving to meet the needs of those people who want to create a gallery quickly and easily as well as those people who expect full control over the content and look of their albums. The entire process of creating a gallery involves several basic steps: entering its description, choosing the pictures you want to publish, and selecting its look (one out of the many available templates). Next it is enough if you click the button which generates the gallery and you have it ready in few moments. You only need to send it to a server and you are done!

PixExpose makes it possible for you to create diverse galleries - starting from a simple page with thumbnails that link larger images and ending at finished complex websites that use ready-made templates, additional image special effects, etc. You can find all relevant options in the "Gallery template settings" tab. We encourage you to read the program documentation where all matters related to creating galleries are explained in detail.

Availability

PixExpose runs under Windows 98/Me/2000/NT/XP/VISTA. All users are entitled to use the free Cream Software community website for technical support. Additional information on PixExpose, as well as its free 40-run trial version is available from http://www.pixexpose.com. The cost of the commercial license is $29.90 / 21.90 EUR. Cream Software also offers cheap family license, personal use license and site license.

About Cream Software

Founded in 1997, Cream Software is a Polish company operating on the market for 10 years. The company has received several Product of the Year titles, many distinctions and awards. After focusing on the Polish market for several years, they decided to enter the international market with their first software - PixExpose. The Cream Software CEO says that they will localize more of their award-winning software to English soon. The concept behind the company's products is to save user's priceless and limited time. For more information about the company, please visit http://www.creamsoft.com.