Origin Of News Release: Melville, NY
Original Release Date: March 5, 2007
Announcement: Nikon 10.2MP D40x
MSRP: $729.95 (body only); $799.95 with 3X 18-55mm f/3.5-5.6G ED II AF-S DX Zoom-Nikkor lens
Availability: April 2007

Nikon today introduced the new D40x digital SLR camera that is designed to allow users take spectacular photographs with very high-resolution at the touch of a button. The D40x maintains the same compact size, portability and ease-of-use as its already successful sister camera, the D40, and adds features like higher 10.2 megapixel resolution, faster continuous shooting capability and wider ISO sensitivity. Digital SLR cameras are the tool of choice among the majority of professional photographers but some people have found them to be complex or bulky. With the D40x, consumers don't have to sacrifice the quality of their pictures anymore. The D40x inherits many advanced technologies from Nikon's professional models, but was designed specifically to make taking outstanding pictures easy and fun for everyone.

"The D40 has become a runaway success for Nikon because it effectively addresses so many of the concerns shared by those who take pictures to preserve family memories and for all-around fun. The D40 and the new D40x eliminate common annoyances such as shutter lag and inaccurate viewfinders, while answering our customers' needs for superb image quality, fast handling, compactness and, most important of all, simplicity. Now with the D40x, anyone has the choice of higher resolution so they can do even more with their pictures," said Edward Fasano, general manager for Marketing, SLR System Products at Nikon Inc. "Whether people want to make poster-sized prints or make special enlargements from a smaller (cropped) area of a picture, the D40x can produce images that have superb clarity, outstanding detail and vibrant colors. Even regular 4x6 inch prints, and pictures reduced in size for e-mailing, are visibly better when captured with a more capable camera".

The Nikon D40x is able to capture special moments instantly, virtually eliminating the frustrations of shutter delay typically associated with point-and-shoot digital cameras. The D40x powers-up in a near-instant 0.18 second and can shoot up to 3 pictures per second, non-stop for up to 100 shots. With such great speed, you'll never need to wait for the camera to get ready for the next shot. The camera reacts instantly when the shutter button is pressed ensuring you never miss a special moment. The images are immediately recorded to the camera's SD memory card.

The D40x's 10.2-effective megapixel CCD imaging sensor is complimented by Nikon's exclusive 3D Color Matrix Metering II and an improved Nikon Image Processing Engine that together ensure breathtaking picture quality with analyzed exposure, refined details and natural, accurately rendered colors.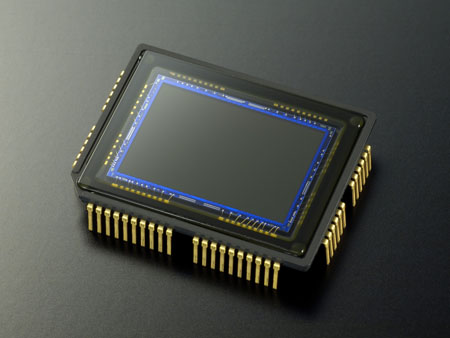 The increased image sensor capacity of the D40x isn't its only advantage. In addition to shooting three consecutive shots per second (versus 2.5 pictures per second with the D40), the D40x also features design efficiencies that allows up to 520** images per charge) and wider ISO sensitivity of 100-1600, plus HI-1 (200-1600 plus HI-1 for the D40).

The back of the D40x is dominated by a refreshingly large and bright 2.5-inch color LCD screen that displays everything from menu options, pictures in playback mode and Nikon's new visually-intuitive information display system that presents camera and shooting information in a user-friendly, graphically represented way. The camera also features a built-in help menu that can be accessed at the touch of a button and new Assist Images that help you select appropriate settings for many camera features by displaying a sample image typical of that setting.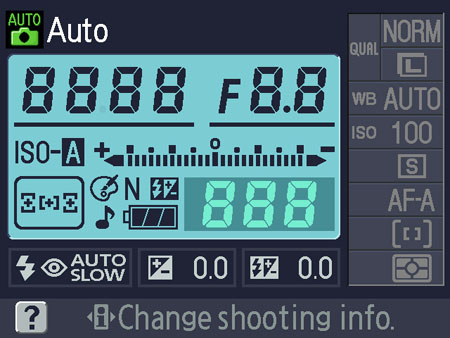 The D40x's automated, scene-optimized Digital Vari-Program modes allow users to capture nearly any type of scene without needing to understand the fine points of photography or fumble with camera settings. The D40x includes eight preset modes, including a new Flash Off mode that shuts off the camera's flash and boosts its ISO so users can easily take pictures in places where flash photography is not allowed, inappropriate or when they prefer the look of naturally lit pictures. As users gain experience with the camera, the D40x offers advanced controls such as Aperture-priority and Shutter-priority modes that offer greater creative control over the look and feel of their pictures.

The D40x's new Retouch menu offers exclusive in-camera image editing features that add to the D40x's "fun factor" by providing greater creativity without the need for a computer. Included in the Retouch menu is Nikon's D-Lighting, which brightens dark pictures and Red-eye correction that automatically detects and corrects red eye – a common condition that occurs in flash photography. Image Trim allows for creative cropping of an image and creates smaller files for easy e-mailing. Other creative features include Image Overlay, Small Picture, Monochrome (Black-and-white, Sepia, and Cyanotype) and Filter Effects (Skylight, Warm filter, Color balance).

The D40x comes packaged with the new 3X 18-55mm f/3.5-5.6G ED II AF-S DX Zoom-Nikkor lens that assures superb picture sharpness and optimum contrast, along with the versatility to capture everything from candid portraits to wide-angle landscapes. The D40x is also compatible with all of Nikon's AF-S and AF-I Nikkor lenses***, including the remarkably versatile 18-135mm f/3.5-5.6G ED-IF AF-S DX Zoom-Nikkor lens and the new 55-200mm f/4-5.6G IF-ED AF-S DX VR Zoom-Nikkor lens.

For flash photography of subjects at greater distances, the light and ultra-compact SB-400 Speedlight proves to be a perfect companion to the D40x, providing a simple solution for adding more power and bounce flash capability. Keeping with the D40x's remarkable ease of use the, SB-400 Speedlight is as simple as sliding it on, turning it on and shooting.

The D40x will be available throughout the United States beginning April 2007 for an estimated selling price of $729.95* for body only or $799.95*, packaged with the 3X zoom 18-55mm f/3.5-5.6G ED II AF-S DX Zoom-Nikkor lens. For more information, please visit http://www.nikondigital.com.

Nikon, At the Heart of the Image™. Nikon Inc. is the world leader in digital imaging, precision optics and photo imaging technology and is globally recognized for setting new standards in product design and performance for its award-winning consumer and professional photographic equipment. Nikon Inc. distributes the Nikon Total Imaging System of consumer and professional digital SLR cameras, Nikkor optics, Speedlights and System Accessories; Nikon COOLPIX® compact digital cameras; COOLSCAN® digital film scanners; 35mm film SLR cameras; Nikon software products and Nikon sports and recreational optics. At the heart of every Nikon camera is Nikon's In-camera Innovations, making it easy for anyone to take amazing digital pictures. Through the Nikon Spirit Initiative™, the company plays an active role in supporting aspiring and advanced photographers through a variety of philanthropic organizations, educational programs, events and workshops. For more information, dial (800) NIKON-US or visit www.nikonusa.com, which links all levels of photographers to the web's most comprehensive photo learning and sharing communities.

* Estimated selling prices listed are only an estimate. Actual prices are set by dealers and are subject to change at any time.

** CIPA standards, with Built-in Flash used for 50% of the shots

*** Autofocus is supported only with AF-S and AF-I CPU lenses, which are equipped with built-in motors