Origin Of News Release: Lake Success, NY
Original Release Date: February 21, 2007
Announcement: PIXMA iP90v Photo Printer
MSRP: $249.99
Availability: Not specified

What's smaller than a breadbox, lighter than most laptops, and fits easily in most carry-on bags? It's none other than the new portable PIXMA iP90v Photo Printer. The PIXMA iP90v Photo Printer delivers high print quality, speed, and innovative features that are a necessity for today's mobile business professional and home consumer. Building on the success of the PIXMA iP90 Photo Printer, the PIXMA iP90v Photo Printer will continue to offer a broad range of compatible features such as wireless printing and even a new software program called Easy-LayoutPrint.

With a sleek and stylish body that is small enough to be transported in many of today's laptop bags or remain stationary in the comfort of the home office, the PIXMA iP90v Photo Printer will be available for an estimated selling price of $249.99.

"As the workforce regularly increases its number of traveling and home-based occupations, Canon will continue to provide users with products that offer quality, speed and versatility wrapped into innovative designs," said Yuichi Ishizuka, senior vice president and general manager of the Consumer Imaging Group at Canon U.S.A., Inc. "In particular, our track record with mobile printers is second to none and will continue to grow with the introduction of the PIXMA iP90v Photo Printer."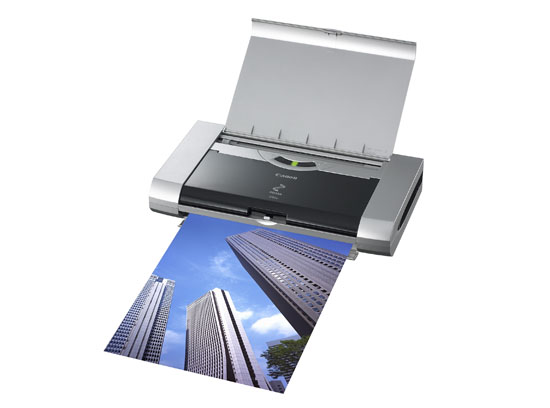 Additional features of the PIXMA iP90v Photo Printer include Canon's exclusive FINE high-performance print head. FINE technology "Full-photolithography Inkjet Nozzle Engineering" helps ensure sub-micron level precision during the manufacturing process. The PIXMA iP90v Photo Printer has a FINE print head with 1,088 total nozzles – the most of any printer in its class – which allows for high-speed printing over wide areas in a single pass. With a maximum color resolution of 4800 x 1200 dpi and droplets as small as 2 picoliters, the PIXMA iP90v Photo Printer produces exceptional photographic results with smooth gradations, accurate skin tones and rich, vibrant colors.

The PIXMA iP90v Photo Printer delivers versatility by providing quality output in color and black and white business documents, charts and graphs, as well as stunning photo quality in 4x6 - inches, 5x7 - inches, and 8.5x11 - inches borderless photo prints. Print jobs will be completed in a hurry with speeds up to 16 pages-per-minute (ppm) in black and up to 12 ppm in color. Borderless, photo-lab quality 4" x 6" photos from the computer, print in approximately 81 seconds.

From the boardroom to the back nine, business doesn't always happen where ink tanks are available, Canon's Use Composite Black Mode will allow the user to switch the printer to composite black for printing of text and other professional looking documents when the standard black ink tank has run out. Composite black is created by mixing cyan, magenta and yellow inks together, which can provide the critical ink needed if the black tank runs dry at an inopportune moment.

The printer's PictBridge port allows users of all levels the option to print high-quality photographs without a computer. This is an ideal solution for real estate professionals who are now able to let clients take home images of a prospective house, or help insurance investigators document claims faster and more efficiently. Consumers also have the option to print wirelessly from select Bluetooth enabled cellular phones and computers with the optional user installable Bluetooth Unit (BU-10)4, which will have an estimated selling price of $79.99. The PIXMA iP90v Photo Printer also includes a built-in IrDA port (IrDA version 1.1).

Users have the option to purchase a Portable Kit (LK-51B), which includes a Lithium Ion battery with an approximate 450 page life per two-hour charge, along with the battery housing that connects the battery to the printer, for a suggested list price of $99.99 (extra Lithium Ion battery inserts are available for a suggested list price of $89.99). An optional Cradle Kit (CK-51B) that includes the Lithium Ion battery, the battery holder and a charging cradle for the printer is also available, and has an estimated selling price of $139.99. Mobile professionals on the go will especially benefit from the optional Automobile Power Unit (PU-100U). Users who frequently work from their car can use the Automobile Power Unit to power their PIXMA iP90v Photo Printer directly through a car power socket to help ensure that they can print almost anywhere. The Automobile Power Unit will have an estimated selling price of $89.99.

The PIXMA iP90v Photo Printer includes Easy-PhotoPrint software (for Windows or Mac), which allows consumers to print photos quickly using simple menu choices to locate digital images, pick paper size and type, choose the layout and print. Also included in the box for Windows OS users, and available for free downloading for Mac OS users, is the Easy-LayoutPrint software, which offers enhanced capabilities including calendar, album, sticker and layout printing.

As one of Microsoft's Premier Launch Partners, Canon ensured the PIXMA iP90v Photo Printer is fully compatible with the new Windows Vista operating system6, while remaining compatible with other earlier versions of Windows (Windows XP, Windows 2000, Windows Millennium Edition and Windows 98) and Mac platforms (Mac OS X v 10.2.1 to 10.3.x.).

About Canon U.S.A., Inc. Canon U.S.A., Inc. delivers consumer, business-to-business, and industrial imaging solutions. The company is listed as one of Fortune's Most Admired Companies in America and is on the BusinessWeek list of "Top 100 Brands." Its parent company, Canon Inc. (NYSE:CAJ), is a top patent holder of technology, ranking third overall in the U.S. in 2006±, with global revenues of $34.9 billion. For more information, visit www.usa.canon.com.

Specifications subject to change without notice.

All referenced product names, and other marks, are trademarks of their respective owners

± IFI Patent Intelligence, January 11, 2007

Prices subject to change at any time. Actual prices are determined by individual dealers and may vary.

Resolution may vary based on printer driver setting. Ink droplets can be placed with a pitch of 1/4800 inch at minimum.

PPM print speeds are based on the highest speed printer drivers mode using black and white and color text patterns. Photo print speed are based on the standard mode driver setting using photo test pattern(s) and select Canon Photo Paper. Print speed is measured as first page begins to feed into printer, and will vary depending on system configuration, interface, software, document complexity, print mode, types of paper used and page coverage. See www.usa.canon.com/printspeed for more information.

Bluetooth v. 1.1 with optional Canon Bluetooth unit BU-10. Bluetooth operation depends on the devices and software version used. Operating distance is approximately 10 meters but may vary due to obstacles, radio signals, locations where interference occurs, magnetic fields from microwave ovens, device sensitivity and / or antenna performance.

Requires mobile phone with IrDA port and support for IrMC version 1.1 protocol, with phone positioned no more than 7.9 inches from printer. PhotoRecord and Easy-WebPrint are not compatible with Windows Vista