Origin Of News Release: Aachen, Germany
Product: dLAN Audio extender
Original Release Date: December 19, 2006
MSRP: Not Available
Availability: European Markets: April 2007; USA Markets: Not available at this time

The German network specialists devolo AG and the American corporation Arkados (OTC BB: AKDS), known as "the HomePlug Applications Company," will introduce a jointly developed HomePlug audio product at the 2007 International Consumer Electronics Show (CES), which will be held in Las Vegas, January 8 - 11, 2007.

Based on the reference design from Arkados and technical expertise from devolo, the "dLAN Audio extender" will distribute audio data via the household power supply. The size of a power plug, this device enables users to stream MP3 collections from PCs to their hi-fi systems or active loudspeakers.

Music in every room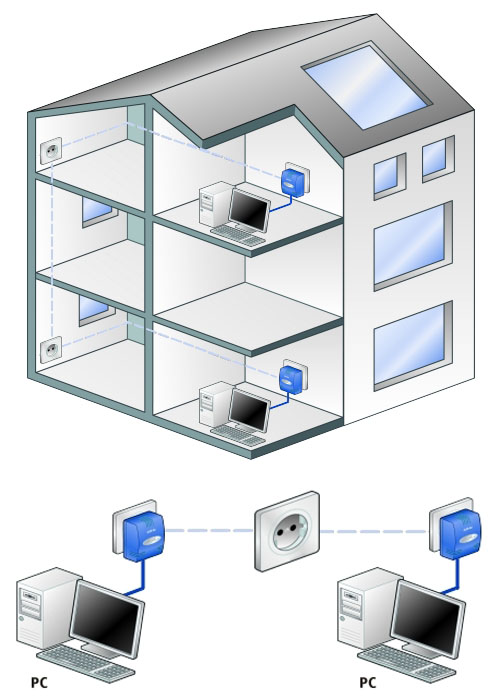 The dLAN Audio extender is a hardware/software solution that will be shown in the Arkados suite during CES. Including technology based on the HomePlug 1.0 standard, the dLAN Audio extender transfers MP3 files from a PC or notebook over the household power circuit to a living-room hi-fi system or to any other active loudspeakers located anywhere in the home. As a special feature, the installation of the dLAN Audio extender is fully automatic and requires no configuration.

"Thanks to music services and portable MP3 players, digital music is everywhere, and Arkados and devolo are expanding the capabilities that come with it," said Oleg Logvinov, CEO and president of Arkados. "The HomePlug standard is ideal for cost-sensitive home audio applications, and by using existing power lines to transfer digital audio data, an end-user can easily create whole-house synchronized music without running new wires."

The device is equipped with 2 RCA connectors and a 3.5-mm mini-jack socket. The dLAN(R) Audio extender will be compatible with Windows 2000, Windows XP32, Vista 32 and Vista 64.

"The distribution of audio is a compelling application of HomePlug technology," said Heiko Harbers, CEO of devolo AG. "We have been excited to work together with a HomePlug applications leader like Arkados to bring this product to market. We believe this is a product that will find a large and devoted audience."

CES 2007 will be held from January 8-11 in Las Vegas. More information about the show can be found at http://www.cesweb.org.

Retailing

The product will be sold separately or in combination with a devolo dLAN duo as a Starter Kit. devolo will be supplying the dLAN Audio extender to European markets as of April 2007. Pricing is not yet fixed.