Combining Sharp's Microorganism Treatment Technique with Micro-Nano-Bubble Technology2 Allows Removal of At Least 90% of Nitrogen from Wastewater
Sharp Corporation is building a treatment plant that will be the first in the world to treat nitrogen-containing wastewater from its semiconductor facilities in Fukuyama, Hiroshima Prefecture by combining the company's own microorganism treatment technique with micro-nano-bubble technology. Scheduled to begin operation in July 2006, the treatment plant will remove at least 90% of the nitrogen in wastewater without diluting.
Recent years have seen increasingly stricter regulations3 on nitrogen emissions as a measure against eutrophication4 in lakes and inner bays. There is a pressing need for such measures in semiconductor plants: advances in micro-processing technologies have given birth to semiconductors with increasing numbers of layers, and each wafer must undergo a CMP5 process to flatten bumps on the surface; this process involves a cleaning that increases the amount of nitrogen-containing ammonia.
Previous methods for treating nitrogen-containing wastewater included vaporizing wastewater by raising its temperature and using catalysts to break down the nitrogen, or concentrating the wastewater and disposing of it as industrial waste. Such methods, however, involve added costs and energy consumption. And conventional treatment methods using microorganisms involve diluting the nitrogen-containing wastewater about 10 times, which means large amounts of water and large spaces needed for treatment facilities.
In June 2005, Sharp became the first company in the world to overcome these hurdles when it developed a technology that treats nitrogen-containing wastewater by combining micro-nano-bubble technology and the company's own method of purifying spent developer using microorganisms6. This new composite technology requires no diluting of the wastewater, because it optimizes the quality and conditions of the microorganism culture in order to raise treatment capacity. It also generates no sludge, thus contributing to reduced amounts of waste.
After confirming the system reliability of this technology through repeated verification experiments, Sharp built a wastewater treatment plant inside the Fukuyama Plant. The treatment plant is scheduled to start operation in July 2006.
Sharp will continue to develop environmental technologies that protect the Earth, and will apply these technologies in order to become an environmentally advanced company.
Overview of Non-Diluting Nitrogen Treatment Plant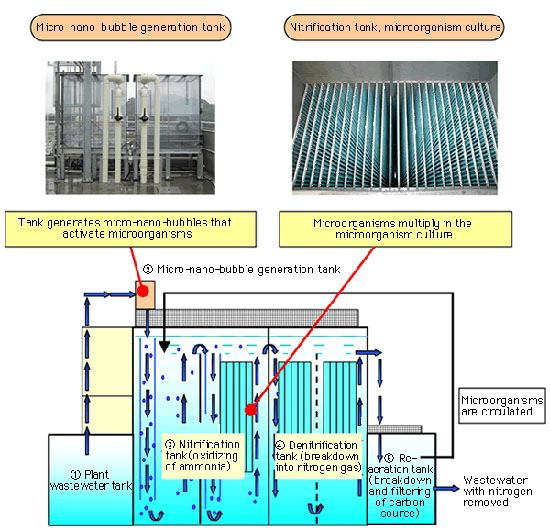 Nitrogen Removal System Using Micro-Nano-Bubble Technology
A Comparison of Ordinary Bubbles and Micro-Nano Bubbles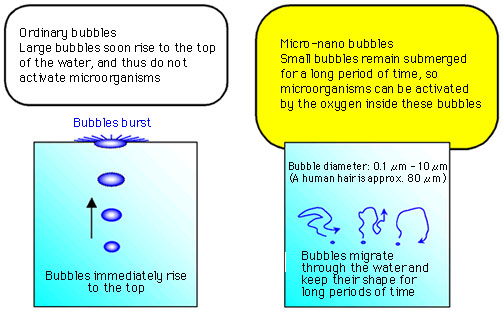 ---
Notes:

(1) Non-diluting treatment: Microorganism treatment of nitrogen in plant wastewater without diluting wastewater.

(2) Micro-nano-bubble technology: Developed from the early 1980s by Professor Hirofumi Ohnari and others at the Tokuyama College of Technology, the technology shrinks bubbles that are normally several millimeters in diameter to just a few micrometers or nanometers in diameter. Used mainly for purifying water in dam reservoirs, and in aquaculture.

(3) Japan Water Pollution Prevention Law: This law was revised in April 1994 to include restrictions on nitrogen in wastewater as a measure against eutrophication of bodies of water. In April 2004, the law was revised to include restrictions on the total amout of nitrogen released.

(4) Eutrophication: The accumulation of nitrogen and other nutrients in lakes and inner bays due to surface water runoff, causing algae blooms that cloud the water, block sunlight, and lead to stagnation of the water.

(5) CMP (Chemical Mechanical Polishing): To make multi-layered semiconductor devices, the bumps on the surface of wafers are removed with chemical abrasives or polished with pads to make the wafer surface smooth.

(6) Spent developer microorganism treatment system: In 1996 at the Fukuyama Plant, Sharp began using proprietary methods, including the use of microorganisms, to purify spent developer, which accounts for about 70% of all waste from the plant. In 1999, we received the Minister of International Trade and Industry Prize, Recycling Promotion Achievement Award.