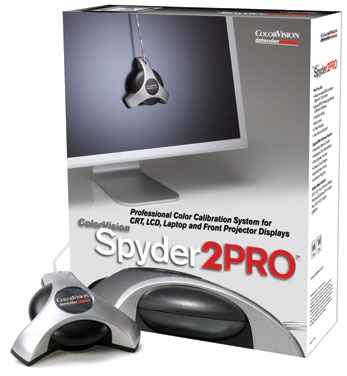 LAWRENCEVILLE, NJ (February 21, 2006) – Datacolor, an internationally known name in color technology, introduces ColorVision Spyder2PRO V2.2, "The professional's choice for monitor calibration." It packages industry-leading software and hardware for serious photographers and creative professionals to use when displaying images on monitors, in print or in the growing projector segment. This includes front projector calibration and Ambient PreciseLight™ features as well as the innovative PrintFIX PLUS™ software. A key product within the all-new ColorVision by Datacolor portfolio of products, ColorVision Spyder2PRO V2.2 is based on the iconic Spyder technology that has won accolades around the world.





"The all-new Spyder2PRO V2.2 is in keeping with our R &D philosophy. We evolve color technology as market demands emerge, leveraging our award-winning Spyder2 for increasingly sophisticated users. With Spyder2PRO the pros know their work will be dynamically displayed regardless of the media chosen," Datacolor Vice President Brian Levey says.

Targeted to the demanding designer, photographer and digital calibrates the color in digital projectors as well as for CRT, LCD and laptop displays. The package is based on the internationally award-winning Spyder2 colorimeter and feamonitor calibration software including digital projection and computer-based home theater capabilities. It offerssuch sophisticated tools as:
Exceptional monitor support. V2.2 Software, reduces read times on LCD and laptop monitors by half. True multiple monitor calibration support for both Mac and Windows systems
Ambient PreciseLight Function measures ambient light and balances studio lighting and monitor settings accordingly
Superior Projector software with built in ambient light correction that automatically creates independent profiles for medium and high room light, improved white-point correction routines, and improved methodology for loading calibration data at start-up. A 'Profile Chooser' makes it easy to select and change profiles for projector and monitor under Windows.
New Front Projector calibration option ensures images are shown to the best advantage for presentations.
Sophisticated Gray balance and tonal response algorithms provide demanding users with exceptional smooth gradient steps and neutral grays – even on LCD's. (This Image is: SpyderProjector_MED.tif)
Multiple Monitor calibrations and matching allow calibration and profiling of multiple monitors on a single system or across an entire studio
Exclusive automated black and white luminance adjustments for use in precision targeting, providing more consistent calibration results.
Unique before and after viewing feature allows monitor comparison with and without calibration
Easy-to-use calibration Wizard with comprehensive help, guides users through-out the calibration process
High-test features for the professional that include custom response curves, colorimeter and information windows, custom targeting and ICC 2.0 and 4.0 support
Now With The All-New PrintFIX PLUS™ Software For Custom Printer Profiling
ColorVision Spyder2PRO offers the industry's first stand-alone software-only printer profiling tool for fast, precise results – without a third party scanner – PrintFIX PLUS. Its elegant software design assists you, step by step, through each custom paper profile. Feature-rich tutorials give users all the help they need to achieve great prints – from the basics to not-so-basic guidance. Wizard assistance checks print quality, optimizes printer media settings, and assures that you use the right settings. The system's high-bit, tunable ICC printer profiles can be previewed at different rendering intents, while easy-to-use editing tools optimize prints to user requirements, even adjusting for viewing conditions; all within the wizard interface, for fast, easy results.
Industry-Honored Colorimeter
Since the release of ColorVision Spyder2 technology in at Photokina in Köln-Germany in 2004, the colorimeter, which represents the heart of the Spyder2PRO V2.2 package, has received accolades from prestigious digital technology editors and magazines worldwide. These include: 4.5 out of 5 Mice for Apple operating systems in SVM Mac (France), MacWorld (USA and UK);
The Best of Monitor Calibration Systems in Chasseur d' images (France) and InfoWeek Testsiger (Switzerland); Worldwide Editors Choice Awards in PC Tipp (Switzerland), PC Photo and American Photo (USA); and Reader's Choice (professional) Awards in Photo Processing and Imaging (USA). PC Go (Germany) cited the Spyder2 as the Best Performance winner in 2005 and FHM (UK) gave Best of Hardware.
"Pros whose crucial color-correcting choices begin with the monitor will find everything they need for exceptional coutcome in Spyder2PRO," Levey concludes.
Great news for a growing market. Top market research firms for projection and display technologies are forecasting that the $12 billion worldwide projector market will grow significantly with the arrival of new high performing, brighter, more colorful, smaller and lighter projection systems. These analysts predict that presentation front projection sales alone will rise from the 3.1 million units sold in 2004 to as many as 12.9 million units in 2009*.
*InfoComm's 4th Annual Projection Summit Report: produced by the International Communications Industries Association, Inc. (ICIA), an international trade association of the professional audiovisual and information communications industries.
Support And Services
As with all Spyder2 products ColorVision Spyder2PRO offers a two-year hardware warranty and unlimited, e-mail and telephone support (WITHOUT CHARGE). As updated software is released, registered owners with a valid serial number can download upgrades (WITHOUT CHARGE) from the ColorVision Web site at:
http://www.colorvision.com/sup.shtml.
System Requirements
Include OSX 10.3 or better, or Windows® 2000 or XP, 1024 x 768 or higher resolution display at thousands of colors or higher. Languages: English, French, German, Spanish, Italian, Japanese, Traditional and Simplified Chinese. V2.2 software can be used at multiple workstations with no additional licensing required. A tripod mount is also included without charge. PrintFIX PLUS languages: English; Software update to French, and German, Spanish, Italian, Japanese, Traditional and Simplified Chinese, Korean available soon.
Pricing And Availability
ColorVision Spyder2PRO, available in March, has a US manufacturers' suggested retail price (MSRP) of $279 and can be found for less at many resellers like– ADORAMA, B&H, CDW, CompUSA, FRY's, J&R, MICRO CENTER, and others. ColorVision products are also available from http://www.colorvision.com.
About Datacolor
ColorVision by Datacolor technology provides affordable, easy-to-use digital color control products to creative professionals, photographers, corporate customers and consumers around the world. Because color matters, leading businesses, creative professionals and consumers worldwide choose Datacolor's innovative technology solutions to consistently achieve the right color. A Swiss-held company, Datacolor's strong worldwide presence encompasses global manufacturing, operational facilities, and sales and support offices. For more information, visit http://www.colorvision.com.