LAKE SUCCESS, N.Y. (Feb. 21, 2006) Canon once again ups the ante on performance and persona with three scintillatingly stylish and photographically powerful new Digital ELPH cameras. The new six-megapixel PowerShot SD700 IS, PowerShot SD630 and PowerShot SD600 Digital ELPH cameras maintain the petite profile that has characterized the line since its inception while adding big new features designed to make these the boldest and easiest to use Digital ELPH cameras to date.

"With these new Digital ELPH cameras, we once again confirm the adage that great things come in small packages, and from these great things come great pictures. It is truly a gift that keeps on giving," stated Yukiaki Hashimoto, senior vice president and general manager of the consumer imaging group at Canon U.S.A., Inc. "We recognize that if we continue to make digital cameras easy to use, easy to take along and attractive enough to fit in wherever one goes, people will carry them as a matter of course and chronicle their daily lives for fun, whim, and whimsy and not simply for the momentous occasions that occur."

Featured enhancements on all three of these new Digital ELPH cameras include Canon's newly designed six-megapixel image sensor that together with Canon's proprietary DIGIC II image processor helps to dramatically reduce "noise" for better image quality and achieves ISO equivalent speed ratings ranging from 80 to 800. This increased sensitivity allows the use of faster shutter speeds, thereby reducing the effects of camera shake and subject blur during hand-held photography in low light.

Light weight and feature packed, these three fashionable Digital ELPH models are easily slipped into a pocket or nestled in a purse making them the quintessential go anywhere cameras. Despite their diminutive dimensions(1) these new Digital ELPH models all feature large, easy-to-read 173,000-pixel LCD screens ranging in size from 2.5-inches to three-inches.

PowerShot SD700 IS Digital ELPH camera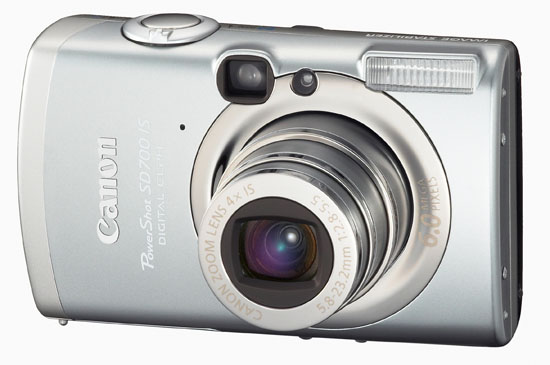 Adding to the unshakeable quality that is the benchmark of Canon cameras is the PowerShot SD700 IS Digital ELPH camera's new Optical Image Stabilization. Unlike electronic image stabilizer systems that typically cause degradation of image quality, Canon's Lens Shift Optical IS system is based on the advancements made in the development and refinement of Canon's EF and video lenses. Reduced in size to fit ELPH scale, this Image Stabilizer provides up to three stops of camera shake correction in shutter speed equivalent. What's more, when combined with these ELPH models' top ISO rating equivalent of 800, its new six-megapixel image sensor that further reduces image noise and the model's fast f/2.8-5.5 4X optical zoom lens (35-140mm equivalent), the odds of taking a shaken or blurred image are dramatically reduced. Both the Image Stabilizer and the 4X optical zoom are firsts for the Digital ELPH series.

The SD700 IS Digital ELPH camera sustains and surpasses the elegant lines and "perpetual curve design" first introduced on the PowerShot SD500 Digital ELPH model. The body shaping method reduces unevenness and fits the hand more comfortably. Like its predecessor, Canon sculpted the PowerShot SD700 IS Digital ELPH camera with a gradual bulge from the grip side of the camera towards the flash side, achieving a visually slim appearance from the front, while the still trim side panels add to the camera's ultra-thin appearance. Indeed the dimensions of this Digital ELPH camera make the large and vibrant 2.5-inch LCD screen seem larger still. The camera's tricolor finish - ice metal silver, moonlight silver and ebony black - add designer elegance to what is already an impressive photo experience.

The PowerShot SD700 IS Digital ELPH camera will be available in April for an estimated selling price of $499.99(2).

PowerShot SD630 Digital ELPH camera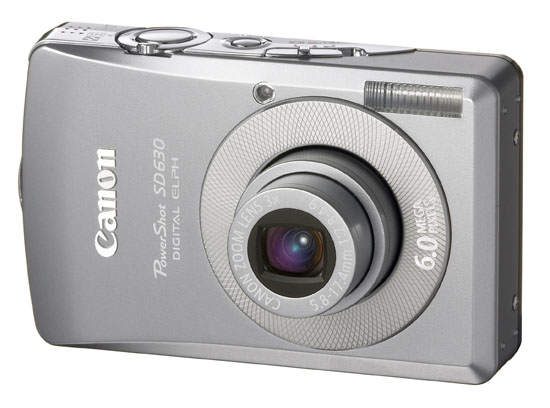 The PowerShot SD630 Digital ELPH camera maintains the classic trim, thin, linear design aesthetic that is the line's hallmark. Despite a body thickness of less than an inch, the PowerShot SD630 Digital ELPH camera accommodates a retractable 3x optical zoom with an equivalent 35mm focal length of 35-105mm.

The PowerShot SD630 Digital ELPH camera features an ultra large 3.0-inch wide viewing angle type 173,000-pixel LCD screen with adjustments for 15 levels of brightness. What's more, the camera also features an innovative new touch control dial - similar to those found on many popular MP3 players - that allows users to easily scroll through captured images or change the camera's menu settings. In order to accommodate the larger LCD screen, the PowerShot SD630 Digital ELPH camera does not include a real-image optical viewfinder, which Canon offers on most other Digital ELPH models.

The PowerShot SD630 Digital ELPH camera will be available in April for an estimated selling price of $399.99.

PowerShot SD600 Digital ELPH camera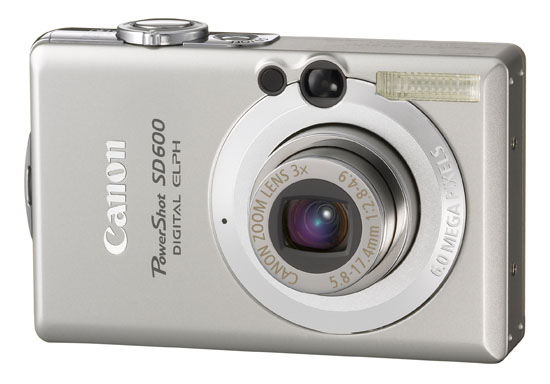 True to tradition, the PowerShot SD600 Digital ELPH camera packs some heavyweight digital photo technology into a lightweight and pocket-sized package. Like the PowerShot SD630 Digital ELPH model, this digital dynamo features six-megapixel resolution, ISO equivalent speed settings from 80 to 800 and a retractable 3x optical zoom with an equivalent 35mm focal length of 35-105mm. Its bright and large 2.5-inch, 173,000-pixel wide viewing angle type LCD screen offers 15 brightness adjustments and, like the SD700 IS model, still leaves room for a real-image optical viewfinder.

The PowerShot SD600 Digital ELPH will be available in March for an estimated selling price of $349.99.

DIGIC II Image Processing Technology- Hi-Speed USB 2.0

True to the PowerShot tradition, the new Digital ELPH cameras have many of the latest advances in Canon technology including the proprietary DIGIC II imaging processor. The processor enhances picture definition, vibrancy, and quality, while helping increase the speed of the cameras' startup, autofocus, shutter response, playback, and image processing speed while reducing power consumption by 35 percent compared to the original DIGIC chip. Consumers benefit from accelerated image transfer speed (when used with a USB 2.0 compatible computer, printer, or other peripheral), thanks to the inclusion of a Hi-Speed USB 2.0 port. The USB 2.0 port is backwards compatible (at no increased speed) with computers featuring standard USB 1.1 connections.

New Features and Special Effects

All of the new models offer a new widescreen 16:9 ratio resolution setting that facilitates creating panoramic-style prints. Additionally, all new PowerShot models support 23 languages (now including Thai and Arabic). The new cameras have an improved direct printing function that permits greater flexibility in print settings, including a face brightener setting for backlit photos.

Canon also enhanced the 'My Colors' mode found in the new PowerShot line. Where previously, users could only enable 'My Colors' while shooting, the current iteration permits captured images to be retouched as well, without the need for special software applications or tools. Available My Color playback modes include Vivid Blue, Vivid Green, and Vivid Red; lighter and darker skin tones, as well as options for creating black & white, sepia, neutral and positive film effects. A color accent setting turns all colors but the one selected by the user to monochrome and the color swap mode enables users to alter specific colors in an image by sampling another color from the same image or any other image on the camera's memory card. So, 'My Colors' provides PowerShot users with an incredible range of creative photo effects that can be accessed directly in the camera with no need for post-processing in a computer.

Underwater Adventures ELPH-Style

For those who consider the ocean depths part of the Digital Elph camera line's "go anywhere" promise, Canon offers individual optional waterproof housing systems. With a depth rating of 40m/130 feet for the PowerShot SD700 IS Digital ELPH, the PowerShot SD630 Digital ELPH and the PowerShot SD600 Digital ELPH cameras, these models are a natural choice for underwater photo enthusiasts, SCUBA divers and even snorkelers.

Direct Print

Like all PowerShot digital cameras, these new Digital ELPHs work seamlessly with Canon's petite SELPHY Compact Photo Printers - an essential PowerShot accessory. Consumers simply connect their PowerShot digital camera to a SELPHY printer - such as the SELPHY CP510 and CP710 models. Press the lighted Print/Share button, and within seconds(3), images emerge. Presto! It is that simple. Canon's SELPHY Compact Photo Printers are PictBridge compatible. They work with PictBridge enabled digital cameras and offer excellent image quality and ease-of-use, especially when paired with a Canon digital camera. At 28 cents-per-print(4), printing photos directly from a digital camera is both easy and affordable.

Canon will debut the new line up of PowerShot Digital ELPH cameras in its booth (#3509) during the Photo Marketing Association (PMA) exhibit in Orlando, Fla., from February 26th - March 1st, 2006.

About Canon U.S.A., Inc.

Canon U.S.A., Inc. delivers consumer, business-to-business, and industrial imaging solutions. The Company is listed as one of Fortune's Most Admired Companies in America and is rated #35 on the BusinessWeek list of "Top 100 Brands." Its parent company Canon Inc. (NYSE:CAJ) is a top patent holder of technology, ranking second overall in the U.S. in 2005, with global revenues of $31.8 billion. For more information, visit http://www.usa.canon.com.

All referenced product names, and other marks, are trademarks of their respective owners. Specifications are subject to change without notice.

(1)PowerShot SD600 Digital ELPH: 3.4 x 2.1 x 0.8 in.; PowerShot SD630 Digital ELPH: 3.6 x 2.2 x 0.8 in., PowerShot SD700 IS Digital ELPH: 3.6 x 2.2 x 1.0 in.

(2)All prices referenced are estimated selling prices only. Actual prices set by dealer and may vary.

(3)Print speed of up to 58 seconds is based on average output speed achieved during product testing with DIGIC II processor embedded Canon PowerShot digital cameras. Other products' print speed may vary. Printer functions are sensitive to temperature and humidity.

(4)Information is based on Canon KP-108IP paper and ink pack, manufacturer's suggested retail price as of 6/15/05, and as compared to competitors' similar products.