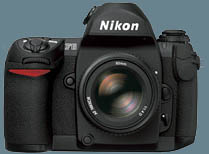 TOKYO - Nikon Corporation is pleased to announce the introduction of the F6, the latest of the legendary F series cameras. The F6 is the sixth in the F series lineup, inaugurated with the Nikon F in 1959. The series evolved gradually, with the original Nikon F being followed by the F2 (1971), F3 (1980), F4 (1988) and the critically acclaimed F5 in 1996. Each of these cameras inherits select elements from its predecessors, including the legendary Nikon F mount, while offering the latest innovations to meet the increasingly diversified needs of professional photographers. A great number of Nikon F series cameras and Nikkor lenses are being put to the test day after day in various locations around the world - years, even decades, after their initial launch. The new Nikon F6 promises to uphold Nikon's tradition of innovation and enduring value.

The F6 includes the latest Nikon advances, such as the 11-area AF system for exceptionally high-speed autofocus operation with outstanding accuracy, and the Creative Lighting System for incomparable flash photography. And Nikon's proprietary 3D Color Matrix Metering system has been refined for improved accuracy in scene reading.

As you'd expect, the F6 satisfies the uncompromising standards of reliability that professionals command. An aluminum-alloy die-cast chassis; magnesium-alloy front body and covers (top, bottom); aluminum-alloy back body and camera back; strategically placed rubber surfaces; an easy-to-grip texture, and a self-diagnostic shutter that has undergone testing to assure accurate release up to and beyond 150,000 cycles, even in the most extreme environmental conditions. The F6 embodies the strength, rigidity and durability to perform wherever and whenever photographers need it.

Furthermore, the F6 offers a variety of exciting, innovative control options such as a customizable function button, built-in data back functions and shooting data memory. You can also enjoy the convenience and versatility afforded by 41 Custom Settings which allow you to fine-tune the F6 to suit your individual shooting preferences and requirements.

The new flagship film SLR also boasts a number of dedicated accessories. These include the Multi Power Battery Pack MB-40, interchangeable focusing screens (seven types), Data Reader MV-1 and camera cases.
Advanced Autofocus System

Multi-CAM 2000 Autofocus (AF) Sensor Module: The advanced high-speed, high-precision 11-area AF system with 9 cross-type AF sensors ensures quick response and sharp focus regardless of shooting conditions.
Four AF Area Modes: Single Area AF, Dynamic AF with Focus Tracking and Lock-on™, Closest Subject Priority Dynamic AF, Group Dynamic AF

Advanced Exposure Metering System

3D Color Matrix Metering with improved algorithm
Flexible Center-Weighted Metering
Spot Metering corresponds to the focus area selected

Exposure Control

P, S, A, M, Flexible Program, Exposure Compensation, Auto Exposure/Flash Bracketing
Shutter speeds up to 1/8,000 sec.
Shutter speed and aperture control adjustable in 1/3 EV steps
Built-in Data Back functions
Customizable Function Button can be used to perform FV Lock, AE-L/AF-L, Flash Cancel or Metering operation.

Creative Lighting System

i-TTL Balanced Fill-Flash
Advanced Wireless Lighting capability
AUTO FP High-Speed Sync capability
FV (Flash Value) Lock
Slow Sync and Rear-Curtain Sync

Stylish, High-durability Design

Exterior design by Giorgetto GIUGIARO
Floating mechanisms ensure quiet operation
Aluminum-alloy die-cast chassis; magnesium-alloy front body and covers (top, bottom); aluminum-alloy back body and camera back combine to optimize reliability
Enhanced resistance to rain and dust
Self-diagnostic double-bladed shutter tested to 150,000 cycles supported by Nikon's exclusive Shutter Monitor