LAKE SUCCESS, N.Y. Aug. 19, 2004 - Canon broadens its EF-S-type lens offerings to include three new wide-angle zoom lenses. The EF-S 10-22mm f/3.5-4.5 USM, EF-S 17-85mm f/4-5.6 IS USM and EF-S 18-55mm f/3.5-5.6 USM zoom lenses will be available this fall for estimated street prices of $799*, $599* and $169*, respectively.

Particularly among advanced amateur and professional photographers, there has been a growing need for affordable zoom lenses that support true wide-angle and ultra-wide-angle photography. Canon initially responded to this market demand in August of 2003, when it announced the EF-S 18-55mm f/3.5-5.6 zoom lens. This lens was launched in conjunction with the EOS" Digital Rebel", which has subsequently become the most popular digital SLR to date in terms of units sold, according to NPD Market Research. Now, to provide EOS Digital Rebel camera and EOS 20D camera users with a truly comprehensive lens system, Canon has expanded its EF-S lens offerings with 3 new models.

By reducing the distance from the rear of the lens to the focal plane and reducing the size of the image circle to match the size of the APS-C imaging sensor used in digital SLRs such as the EOS 20D camera and Digital Rebel camera, Canon's EF-S lenses reduce the size, weight and cost of wide-angle lenses for these cameras while at the same time producing high image quality with superb resolution and contrast at all focal lengths.

"With the expansion of our EF-S lens offerings, we continue Canon's tradition of providing professional photographers and amateur enthusiasts with the most innovative, peak performance lenses available," said Yukiaki Hashimoto, senior vice president and general manager of the consumer imaging group at Canon U.S.A., Inc., a subsidiary of Canon Inc. (NYSE: CAJ). "These new wide angle zoom lenses provide phenomenal flexibility, remarkable results and are invaluable additions to the camera bags of travel, nature and other 'on the go' photographers."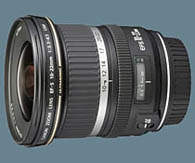 This exciting new zoom lens provides ultra wide-angle coverage to the EOS 20D camera and Digital Rebel camera shooter. Equivalent to a 16-35mm zoom for a 35mm film camera, it offers excellent performance and optics designed from the ground-up for digital SLR use. Excluding fisheye lenses, the EF-S 10-22mm f/3.5-4.5 USM lens has the shortest minimum focal length ever offered for interchangeable lens digital SLRs with APS-C image sensors.

Photographers will achieve consistently excellent image quality throughout the zoom range of this lens because of its 3 Aspherical elements and 1 Super-UD element in a 13-element optical formula. A ring-type ultrasonic focusing motor (USM) provides fast and silent AF along with full-time manual focus. Minimum focusing distance is 9.5 inches for breathtaking close-ups. The EF-S 10-22mm f/3.5-4.5 USM lens is relatively light and compact at 3.5 inches in length and a weight of 13.6 oz. The new lens accepts 77mm filters and can be fitted with an optional bayonet-mount lens hood.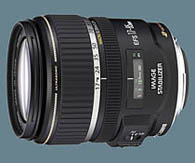 This new EF-S lens brings true wide-angle to telephoto coverage to EOS 20D camera and Digital Rebel camera photographers. It features Canon's Image Stabilization system, allowing safe hand-held photography at shutter speeds up to three steps slower than otherwise possible. And of course, it's optically optimized for digital SLRs. A ring-type USM delivers fast and silent auto focus, as well as full-time manual focus when in the AF mode.

The EF-S 17-85mm f/4-5.6 IS USM lens provides a 5x zoom ratio and an angle of view equivalent to a 27-136mm lens on a 35mm camera. The new lens also uses a glass-molded aspherical lens element with aspherical surfaces on both sides for superb image quality throughout the entire zoom range and it features a closest focusing distance of 12 inches at all focal lengths. The EF-S 17-85mm IS lens is 5% shorter and 12% lighter than the EF 28-135mm IS lens and accepts 67mm filters.