Much of the talk about the D2x has been about it's noise properties. The D2x automatically applies a Hi-ISO noise reduction (NR) in camera to files shot at ISO 400 and up.

The D2x has two types of NR.

1 - Hi ISO NR

This is applied in real-time to files from ISO 400 and above when selected. The user may choose off, normal, or high settings. ISO 1600 & 3200 (Hi 1 & Hi 2) have normal NR automatically applied (can be removed from RAW file in post processing if desired.)

2 - Long Exposure NR

This is a dark frame subtraction found in many cameras used to remove color noise on exposures of 1/25 and slower. Note - Dark frame exposure is now roughly half the time of the primary exposure instead of the same amount of time. (ie - a 30 sec. exposure, gets a 15 sec. dark frame NR.)

This post is about the first of the two - Hi ISO NR.

The interesting thing to note was how the noise reduction affected both RAW and JPG files. The noise reduction is applied directly to JPG files as one would expect. But the D2x uses the same NR function that is found in Nikon Capture 4.2. In fact, when you import a RAW file into NC4.2, the file's NR settings are activated and can be fine tuned, or completely turned off. This offers a very flexable option to not only completely control the amount of NR applied to one's images, but one can also make other Nikon DSLR NEF's able to use the same NR settings as the D2x employs, helping to give a uniform look to the images.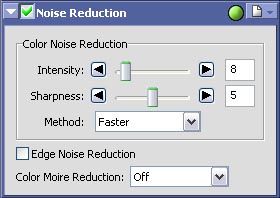 NC4.2 NR palette
When testing NEF's at ISO 400, 800, & 1600 with the in-camera Hi ISO NR set to Normal, NC4.2 gave the following settings:

The Color Noise Reduction (CNR) box applies the standard smoothing affect found in similar programs such as Noise Ninja, although IMO NC4.2 balances the affect much better and applies the filter selectively, not harming the images overall sharpness. This tool is new to NC4.2.

The Color Moire Reducer (CMR)is available in Off, Low, Medium, & High. CMR will remove moire (duh!) and any color noise without smoothing any of the images grain away. This tool was first introduced in NC4.0.

D2x ISO 800 sample (NR Normal)
RAW - NEF 12 bit-lossless (compressed) 4320 x 2868
1/60, f/8
28-70 AFS @50mm
WB: flash
Sharpening: off
USM: Intensity 66%, Halo 3%, Threshold 4 levels
Levels: 0, 1.00, 208 (only highlight adjusted from 255)
mixed lighting: off-camera flash & tungsten hot light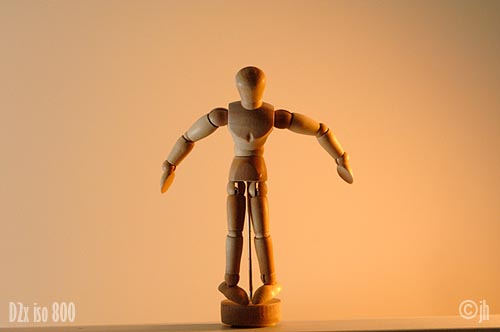 Resized representation of the entire frame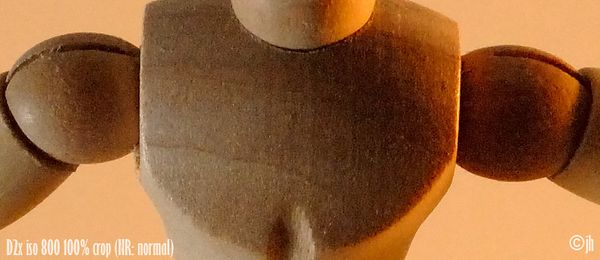 100% crop of manequin's body to show various highlight, midtone, & shadow details
Overall - I find the D2x easily useable up to ISO 1600 (Hi 1.) I personally shoot all my images in RAW + Basic Small JPG and turn Hi ISO NR off in camera. I use the JPG's to make web proofs and the NEF's to edit into printable images applying NR as needed in NC.
Joe H.
PPA, NAPP
www.BBSPhotography.com
www.FocusOnWeddings.com
www.Pbase.com/Joeh113
www.BBSPhoto.smugmug.com