October 5, 2016
Introduction
This review is of Hellraiser 3: Hell On Earth, which is the third and final movie to be reviewed from the Hellraiser Scarlet Box. Hellraiser 3: Hell On Earth appeared in theaters about 4 years after Hellraiser 2. As you probably already have discovered, it's not as powerful as the first two films. This is where the Hellraiser series either kept its loyal fans...while others entertained themselves with other things.
If you're a true fan of the Hellraiser series, you'll probably be more forgiving (like I am) because Hellraiser 3: Hell On Earth uses a good portion of time to further explain Pinhead and his history of being swept into the horrific and terrifying drama he comes across. As this information was supposed to be in Hellraiser 2, it is certainly a welcome treat.
The Relentless Pursuit Of Forbidden Knowledge
One thing I do know from talking to a few fans is that they are continually looking for a more in-depth look at the history of the Cenobites and Pinhead himself. Even at 9 films being produced thus far, there is still a directed urge to look into the mysteries of what the made the basis for the first film. The good news (after a lot of controversy and changes in directors), is that fans will see a brand new interpretation of the first film, with Doug Bradley as Pinhead once again, and Clive Barker at the helm of being Director.
The Plot
The lead Cenobite Pinhead (Doug Bradley) has had his soul torn apart, much like he has said would happen to others who came across the dimensional connection with him and his Cenobites. One part of his soul, Captain Elliot Spencer, is free, however Pinhead as been trapped in the Pillar Of Souls, and is on display at a private museum.
J.P. Monroe (Kevin Bernhardt) is the owner of The Boiling Room nightclub, and he is looking for some cutting edge art to place in it. He so happens to make an appointment with the curator of the Pyramid Gallery. Catching his eye is a Pillar Of Souls statue and his surprise as to the cost of it is..."Whatever you think it's worth."
Joey (Terry Farrell) is a local news reporter, who is currently hanging out in the ER for some action to report but finds absolutely nothing going on. No gunshots. No grotesque car accidents. Nothing.
And then a woman from the nightclub, Terri (Paula Marshall), shows up with a guy on a stretcher, who has mysterious chains attached to his body. Joey takes a peep into the ER room and sees the chains take on a life of their own, ripping the man to pieces.
Now she has a story.
Packaging
For packaging, please reference the Hellraiser Scarlet Box.
Video & Screencaps
In a somewhat anti-climactic way, Hellraiser 3: Hell On Earth looks somewhat better than the first two films. Arrow offers not only the theatrical 93-minute version, but the 97-minute uncut version, which adds a few scenes, and it's too bad they were not preserved with the rest of the movie. The splicing of the scenes were done properly, but unfortunately, the scenes are MPEG-2 DVD quality. However, if you're a true Hellraiser fan, you'll still appreciate the effort and can enjoy the added scenes, if you have not seen them before.
Another note I'd like to add is when you see Joey enter the The Boiler Room nightclub, there are a few spliced scenes which integrate rather well due to the dark atmosphere, so the fullscreen additions (and even the MPEG-2 quality) are not as noticeable.
Overall, I'd say Hellraiser 3 just barely makes itself appearing better than Hellraiser 2. If you notice the video bitrate comparisons of H2 (~35 Mbps) and H3 (~24 Mbps), there's a lot of difference there. And for the discerning Hellraiser fan, you'll probably watch Hellraiser 3, wondering if could have looked better. My opinion, it could have. The biggest issue Arrow Video had to decide on, was whether to branch the theatrical and add the missing inferior footage into an "unrated" branched version. Personally, I don't like branching of movie versions unless there is a clear segment of intermission where you can insert the new footage without being conspicuous. Obviously, you couldn't do that with Hellraiser 3, so I prefer Arrow's decision to make separate versions, allowing a clean transfer without any hiccups.
Additional Screencaps
Audio
Audio for Hellraiser 3: Hell On Earth seems to be a little lacking, although like the other soundtracks, it is the original stereo. I just can't seem to hear the dialog as well as I did in the first two films. More than likely, this is just the way certain scenes were recorded. However, I will say the audio on the Unrated cut, does sound notably less dynamic overall, especially with some sound effects like explosions. This makes sense, considering the audio bitrate has been reduced to 1536 Kbps. I'm not sure why, unless there just was no space left on the BD-50 disc.
Main Audio Track
English LPCM 2.0 @ 2304 Kbps (48kHz/24-bit)
Subtitles: English
Extras
As with the previous extras on the first two films, the extras for Hellraiser 3: Hell On Earth are certainly worth diving into.
DISC THREE - HELLRAISER 3

Brand new 2K restoration approved by director of photography Robin Vidgeon
Brand new audio commentary with writer Peter Atkins
Audio commentary with director Anthony Hickox and Doug Bradley
Alternate Unrated Version (1:36:38) HD & 1.33:1 Not HD
Time With Terri (with Paula Marshall) (14:55) HD
Raising Hell on Earth (14:00) (1.78:1 - Not HD)
Under the Skin: Doug Bradley on Hellraiser III: Hell on Earth (13:46) (1.78:1 - Not HD)
On-set interviews with Barker and Bradley (5:12) (1.78:1 / Not HD)
Never-before-seen Hellraiser III SFX dailies (23:50) (1.33:1 - Not HD)
Hell on Earth: The Story of Hellraiser III (31:58) HD
Theatrical Trailer
Image Gallery
Hellraiser III comic book adaptation [Disc gallery]
Specifications
Aspect Ratio: 1.85:1 (1.849:1)
Active Pixel Area: 1920 x 1038 pixels
Inactive Pixel Area: 1920 x 42 pixels
Disc Name: HELLRAISER 3
Codec: MPEG-4 AVC
Resolution: 1080p
Blu-ray BD-50
Disc Size: 48,651,315,967 bytes (45.31 GB)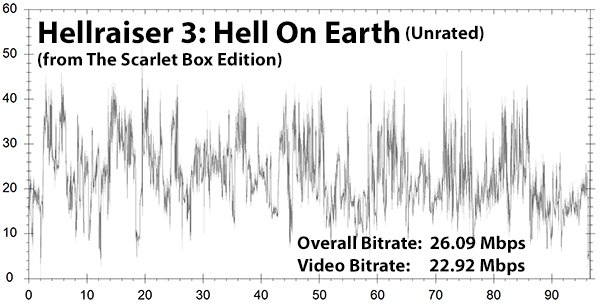 Hellraiser 3: Hell On Earth (Unrated) Bitrate Graph
Movie Size (Unrated Version): 18,910,002,048 bytes (17.61 GB)
Overall Bitrate (Unrated Version): 26.09 Mbps
Video Bitrate (Unrated Version): 22.92 Mbps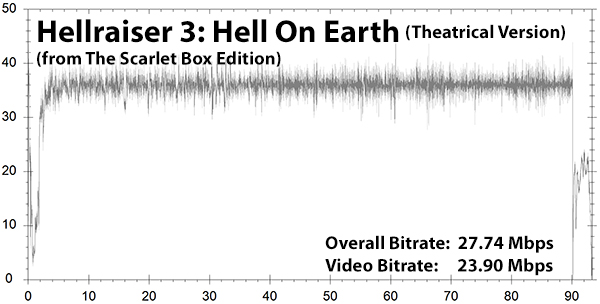 Hellraiser 3: Hell On Earth (Theatrical) Bitrate Graph
Movie Size ("R" Version): 19,371,997,440 bytes (18.04 GB)
Overall Bitrate ("R" Version): 27.74 Mbps
Video Bitrate ("R" Version): 23.90 Mbps
Conclusion
The third installment of the Scarlet Box, the image quality of Hellraiser 3: Hell On Earth looks better than I can remember it. H3 is was not particularly taken well to the series, however there are some memorable scenes and mentions which shed more light on Captain Elliot Spencer and his fateful inclusion into the Cenobite realm.
The third movie from this very special Arrow Video presentation, offering the rarely-seen unrated version and bringing a new 2K transfer to the theatrical version, Hellraiser 3: Hell On Earth, from the Hellraiser Scarlet Box Edition (Blu-Ray) from Arrow Video, receives a HIGHLY RECOMMENDED.
Take Note
For those who are looking for Arrow Video's Hellraiser Trilogy set, you can still own the three movies in a very nice package, but without the extra disc and 200-page book. Even this set is probably going to be out of print eventually, and it is a very fine collection I must say, so if you're looking for a definitive collection of the first three Hellraiser films, this would be the set to obtain. Unlike the Scarlet Box, with the "affordable" trilogy, each movie is in its own European clear thick Blu-ray case, and the artwork on each cover is really great. If this set does indeed sell out, the three films will be sold individually. But this is just a guess, due to the type of individual cases and covers that are in this set.