October 5, 2016
Introduction
This review is of Hellbound: Hellraiser 2, which is the second movie to be reviewed from the Hellraiser Scarlet Box. Hellraiser 2 appeared in theaters about 16 months after Hellraiser's theatrical appearance. What I always found conveniently entertaining for Hellraiser 2, was it's availability in theaters on December 23rd. Just two days before Christmas.
Hellbound: Hellraiser 2 was one of those films which has a lot of controversial history. I suppose controversial, in the sense there was so much revised and decisions made to exorcise material, which could have resulted in a much more solid sequel. Of course, these types of comments will be forever debated. But what we can be thankful for, is the continuing interest in films like these, which are given as much a special touch as possible. Without companies like Arrow Video, horror fans would certainly be in a painful place.
The Plot
In the last moments of Hellraiser, we saw Larry (Andrew Robinson) being literally ripped apart and Julia (Clare Higgins) being sent to play with the Cenobites for eternity. Kirsty (Ashley Laurence), managing to make a deal with Pinhead to leave her alone (at least for a while), escapes from the clutches of the Cenobites, but is now committed to a mental health institution. Frank (Sean Chapman) is still around, but he's being kept in a special place to relive his continuous quest for infinite pain and pleasure experiences.
Dr. Philip Channard (Kenneth Cranham) is in charge of the local mental hospital that Kirsty is currently residing. As fate would have it, the doctor has a peculiar and unsatisfying fascination with other dimensions and what they might contain. He has already collected three golden cubes, but cannot manage to open them and discover the secrets that other unfortunate souls have discovered.
Packaging
For packaging, please reference the Hellraiser Scarlet Box.
Video & Screencaps
If you've seen the first film from Arrow Video, Hellbound: Hellraiser 2 will look just as consistent, and just a tad better in some areas. These areas probably have to do with lighting, as the type of filming seems to be the same. The color red is much more natural and so much more rich than what I can remember.
Deep blacks are also presented, but without any noticeable crush. In fact, I took several screenshots below to demonstrate how gradient the blacks are. This probably has to do with Arrow Video maximizing the video bitrate to a very healthy average of around 35 Mbps. In many scenes, the bitrate is even higher, peaking at around 45 Mbps.
Another observation I noticed was that this film just has that "feel" and not only does it "feel dated", but it has a unique imagery that I cannot explain completely. Watching horror movies today, they tend to also date themselves, but more in a common way. With Hellbound: Hellraiser 2, there's a sense of iconic representation that I have yet to see in many horror films, and if I do...it's because they've had a hearty influence by Clive Barker.
Additional Screencaps
Audio
Audio for Hellbound: Hellraiser 2 is the original stereo soundtrack as the first film, and sounds pretty good. Respectively, there is concentration in the mid-levels for dialogue and a few highs, but nothing exceptional. There is somewhat of a lack of lower-end frequencies, but I'm assuming this is because the sounds were not recorded in the first place. Regardless, this is the original soundtrack, and I like it.
Main Audio Track
English LPCM 2.0 @ 2304 Kbps (48kHz/24-bit)
Subtitles: English
Extras
Extras for Hellbound: Hellraiser 2 do not disappoint. In case you're wondering, the second part of the edited Leviathan documentary is on this disc.
DISC TWO - HELLBOUND: HELLRAISER 2

Brand new 2K restoration approved by director of photography Robin Vidgeon
Audio Commentary with director Tony Randel and writer Peter Atkins
Audio Commentary with Randel, Atkins and actress Ashley Laurence
Leviathan: The Story of Hellbound: Hellraiser II (2:00:46) Not HD
Being Frank: Sean Chapman on Hellbound (11:36) HD
Hellbound: Hellraiser 2 - Lost in the Labyrinth (17:03) (1.78:1 - Not HD)
Under the Skin: Doug Bradley on Hellraiser (12:32) HD
Under the Skin: Doug Bradley on Hellbound: Hellraiser II (10:54) (1.78:1 - Not HD)
Surgeon Scene (4:50) (1.33:1 / Not HD)
On-set interview with Clive Barker (3:18) (1.33:1 / Not HD)
On-set interviews with cast and crew (4:46) (1.33:1 / Not HD)
Hellbound: Hellraiser 2 Screenplay [BD-ROM content] [PDF File]

Specifications
Aspect Ratio: 1.85:1 (1.849:1)
Active Pixel Area: 1920 x 1038 pixels
Inactive Pixel Area: 1920 x 42 pixels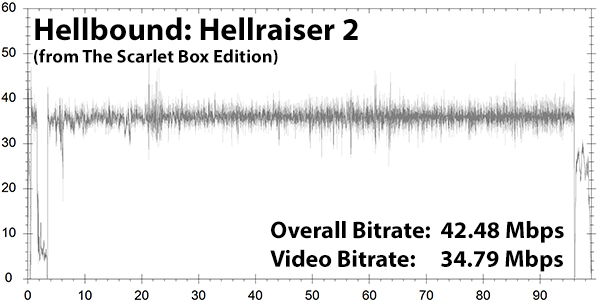 Hellbound: Hellraiser 2 Bitrate Graph
Disc Name: HELLRAISER 2
Codec: MPEG-4 AVC
Resolution: 1080p
Blu-ray BD-50
Disc Size: 46,477,200,774 bytes (43.29 GB)
Movie Size: 31,545,536,448 bytes (29.38 GB)
Overall Bitrate: 42.48 Mbps
Video Bitrate: 34.79 Mbps
Conclusion
Being the second installment of the Scarlet Box, I am very impressed with the image quality and preservation of Hellbound: Hellraiser 2. As with the first film, this looks just as good, and as I noted above...just a tad better, with regards to deep reds and non-crushing blacks.
If you're so inclined to sit down for another round of Clive Barker's vision of horror, be ready to be amazed at the new and better image quality that has yet to be surpassed. Accordingly, I give Hellbound: Hellraiser 2, from the Hellraiser Scarlet Box Edition (Blu-Ray) from Arrow Video, a HIGHLY RECOMMENDED PLUS.
Take Note
For those who are looking for Arrow Video's Hellraiser Trilogy set, you can still get the three movies in a very nice package, but without the extra disc and 200-page book. Even this set is probably going to be out of print eventually, and it is a very fine collection I must say, so if you're looking for a definitive collection of the first three Hellraiser films, this would be the set to obtain. Unlike the Scarlet Box, with the "affordable" trilogy, each movie is in its own European clear thick Blu-ray case, and the artwork on each cover is really great.