August, 2015
Introduction
The Nikon D750 is one of those DSLRs which is considered an Enthusiast camera, positioning itself between the entry-level cameras and the top-end DSLRs like the Nikon D4 and D4s. What's more unique about the D750, is the pricing, and how much you really get for your money. Of course, the D750 is by no means inexpensive (currently selling between $2000 and $2,300 depending on Nikon price cuts lately), but it offers a wide variety of shooting options normally found on DSLRs costing twice as much.
The D750 is also an FX DSLR, which is a benefit for the 24.3 Megapixel sensor, as the pixels are larger than what they would be on a sensor that was made for an APS-C sensor (or DX format as Nikon calls it). In the age of high megapixel sensors, Sensor Real Estate is priceless. Camera manufacturers are already having to rethink the way their sensors behave and create and/or revising software algorithms which interpret the imaging data as pixels are getting smaller...and smaller. I hope someday Nikon and Canon will eventually take a leap into Medium Format imagers, because the image quality would be absolutely stunning. Until then, most of us will shoot with Full-frame and smaller sensors.
The D750 being an FX format DSLR, you will not see the FOV equivalency factor (or "FOVEF") like you did when owning previous APS-C DSLRs. That 50mm lens you own is now a true 50mm, and you will not get that 75mm effective angle of view. Some will miss this, some will not. For me personally, I had a little hesitation because I've been shooting digital since 2001 (one of the fortunate folks to get an Olympus E-10 for only $1,999!) and became used to the smaller imager which gave me an increase in FOVEF. However, since resolutions have increased significantly since then, and sensor quality has been improved on many times over, full-frame imagers provide the best of both worlds for those who want more resolution and larger pixels. I used to shoot film back in the 90's on my Olympus IS-3 DLX, so I look forward to using a DSLR — but this time — as a full-frame experience.
The D750: Beware Of What You Wished For
One of the things photographers always wish for...is more control over their shooting environment. Well, the D750 has certainly given this opportunity to photographers who want to step away from the usual settings in digital cameras as well as having an arsenal of camera adjustments. There is always the possibility a camera owner might be overwhelmed, and with the D750, it will probably happen.
With the current price of the D750 body hovering around $2,000, if you can get one...do it. You'll get no hesitation purchase anxiety attacks from me when I recommend doing so. However, once you've bought the D750, and once your giddiness is replaced with curiosity as you open the golden box, you'll be best served to take a look at the controls before you go out taking pictures of something you really want to have the best image of, or you'll get frustrated. And I suppose this is why I'm making such an introduction for the D750. It has amazing capabilities, but for most D750 shooters, those possibilities will not be realized if there are some basic functionalities of the camera.
If you've shot with a previous 800-series or 600-series, you can politely gloss over these paragraphs, but since most D750 owners, I suspect, are the ones who managed to get the cash together and have waited for a $2K price, are proud to achieve such a purchase — there is a lot of ground work to cover.
A Few Things To Purchase Before Using Your D750
To begin, let's create a quick checklist of the more popular (and also necessary) accessories you should think about purchasing if you're getting a D750.
easyCover for the D750
easyCover lens rim (77mm; EA-ECLR77) for the AF-S 24-120mm f/4 lens
At least one extra EN-EL15
Nikon MB-D16 Battery Grip
At least two 32GB SD Cards
77mm Clear Filter for AF-S 24-120mm f/4 lens
Shown below is an image of the D750 with AF-S 24-120mm f/4 lens, and the easyCover. As you can see, there are some fingerprints and residue around the shutter button area, but this can easily be wiped away with a damp cloth dipped in a mild mixture of dishwater soap and water.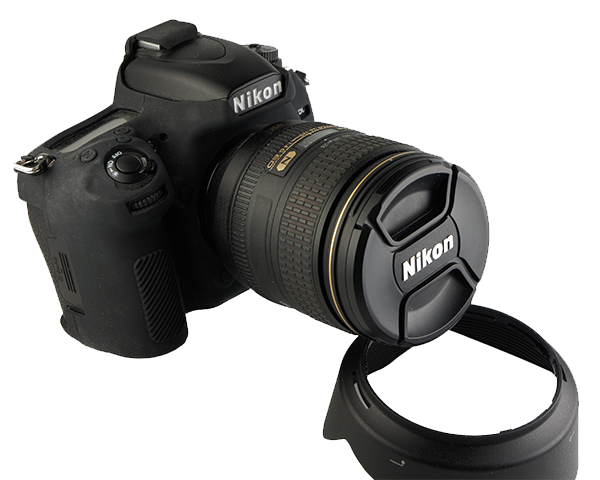 One of the most convenient and yet important accessories to get for your D750, is the easyCover for the Nikon D750. Not only do I highly recommend the easyCover for the D750, but I use it all the time and over the last few months, it has kept a lot of oily fingerprints, dust, and just your typical unwanted residue from getting on it. For only $30, it's a rather justified purchase which easily pays for itself over a short period of time, and if this is the first major DSLR you've purchased, you'll want to have something like this put on your D750 rather soon because you might be bumping it a few times, getting used to handling it. A nice little bonus when you buy the easyCover silicone wrap, is having two LCD screen protectors included in the package. Trust me. You will want to put one on immediately. The D750 has a really nice LCD screen, and you don't want it scratched.
Since I purchased the D750 as a kit, which included the Nikon 24-120mm f/4G ED VR AF-S NIKKOR Lens, I also use an easyCover lens rim. This is a very affordable way to get protection from the usual bumps and scrapes of using a new lens on a new camera. Since the AF-S 24-120mm paired with the D750 is no lightweight (the 24-120mm and the D750 weigh in at 3.6 lbs.), you'll want to be sure any accidental and unpredictable scrapes will be protected. Lens rims are highly inexpensive, and since most wear and tear on a lens has to do with the external casing rather than the glass itself, the lens rims protect the most opportunistic areas from being hit and cracked.
So, if you're reading this, and are just about to click the purchase link on this page for your Nikon D750 + AF-S 24-120mm f/4 Kit, be sure to buy the easycover accessories as well. This way, you'll have everything arriving at about the same time, and there will not be any long periods of waiting for the accessories to arrive.
Let's move on to camera battery requirements.
Nikon supplies you with one Nikon EN-EL15 Rechargeable Li-Ion Battery, and only one will be included whether you buy the body only or the 24-120mm kit. Am I suggesting something? Well, yes, I am. An additional EN-EL15 is a very good idea, because it does not take long to wear down the battery. When you get to around 20%, you want to have a backup ready to insert, if you're out shooting images. Personally, I get paranoid, and I have a second battery in my camera bag, ready to go. Also, if you plan on buying the MB-D16 Battery Grip, Nikon DOES NOT supply an EN-EL15 with their ~$370 grip, which requires one (or a "Family Pack" of AA batteries). If you're getting a D750, a battery grip almost certainly in your future, so buying another EN-EL15 battery will be essential to the complete functionality of the D750.
Next on the list is memory. The D750 comes with TWO SD SLOTS. Absolutely fantastic. If you don't have at least two 32GB SD memory cards ready to fill it, you'll need to set aside a few bucks for them right now. Due to the file sizes of NEF files alone (~27MB per NEF image), you can easily rack up memory space. Add another ~14MB per JPG file, and then top this off with the D750's 6.5 frames per second, feel free to do the math. Three shots alone will get you 100MB. Once you start doing the numbers, you'll probably opt for a few 64GB SD cards, and this would be ideal. 128GB SD cards are still a little expensive, and unless you're shooting professionally and have a nice budget to spend, 64GB SD cards will do you just fine.
What brand to buy? Well, I've been using SanDisk for over 10 years, and no matter what form factor their memory was, it always lasted way beyond the life of the camera I used. In fact, every camera I've sold to a buyer...included SanDisk memory. This last round of memory for the D750, I bought two SanDisk Extreme 32GB UHS-I/U3 SDHC Memory Cards. These have a maximum read spec of 60MB/s (model# SDSDXN-032G-G46).
The next accessory you'll want to have, is a clear lens filter for the AF-S 24-120mm f/4 lens, if you're going to buy the D750 Kit. There is an amazingly wide price range of lens filters on the market, and unless you already own a 77mm, I'd suggest a good start with a Hoya 77mm DMC PRO1 Clear Lens Filter. It's very affordable, and gets an extremely high amount of great reviews. The reason I recommend this particular Hoya filter, is because not only is it inexpensive protection for your lens, but I also own it, and it works.
The reason I'm hitting you with all of these pre-purchase recommendations, is because you're in a different class of photography now, and your options for absolutely fabulous photos are within reach. If you aren't prepared, you just won't benefit from using the D750, and most of your time will be an unfortunate preoccupation (and possibly to the point of brooding fixation) with trying to find out which accessories to buy after the fact. You certainly do not want to carry around your D750 with a hesitance of what you can do with it. You want to be able to capture anything that comes your way — and not have any doubts as to the capability of the camera or yourself.
In the next section, we'll begin to find out just what the D750 is capable of. We'll start with the outside of the camera, then move on to the focusing, as these two subjects (external buttons & focusing) are very much connected, and you might overlook some important settings which may be confusing.