Blu-ray Movie Review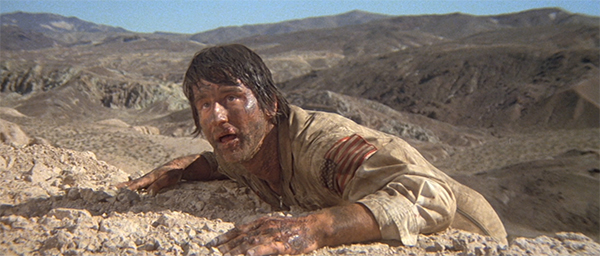 Capricorn One
from ITV Studios
March 28, 2015
Introduction
James Brolin has had a very active Hollywood career, and it wasn't too long after The Car being released, he was making another film, and this time around, it was with Director Peter Hyams. Hyams has an interesting take on each movie he directs, and isn't necessarily predictable. Capricorn One is filmed mostly with the intent of the viewer being the observer of events unfolding, rather than being an active participant. This particular positioning of the viewer reminds me of The Long Goodbye (directed by Robert Altman), even where some dialogue tends to appear to be rambling, and I guess it may or may not be a coincidence we have Elliott Gould starring in that as well.
Capricorn One isn't too well known, at least from my own experience, but I certainly remember watching it when I was in my teens in the early 80's and it's a pleasure to finally see it in high definition.
The Plot
Astronauts Charles Brubaker (James Brolin), Peter Willis (Sam Waterston), and John Walker (O.J. Simpson) are the first of a NASA team who will be setting foot on Mars. This event will certainly put the United States far ahead in the race for space dominance, and key officials within the US government are making sure this mission will succeed. Just how far is the US government willing to go?
Whatever it takes.
Only moments before the three astronauts aboard Capricorn One are about to be shuttled into space, they are abruptly taken out of their control capsule, and taken to an undisclosed location where the head of NASA's Mars program, Dr. James Kelloway (Hal Holbrook), explains while the mission to Mars was certainly feasible, there was an issue with a life support system and the supplier who cut costs a little more than what they should have. Scrapping the mission altogether because of the faulty devices would cost Americans more than just dollar figures.
Brubaker is relunctant to go along with Dr. Kelloway's suggestion, but soon finds out...he isn't being asked. He's politely being told. Kelloway informs him if he and his crew decide not to go along with the plan, the plane which is carrying their wives, has an explosive on board. Brubaker is advised that the situation is much bigger than he can conceive and Kelloway himself is just a small pawn in something greater and more dangerous, and that it's best to do what is being offered.
Reportor Robert Caulfield (Elliott Gould) has always been an inquisitive type, and he observes some rather curious things happening. The further he investigates...the more he encounters life-threatening events himself, which tells him he's on the right track to discovering just what is really going on with the Mars mission.
As the story culminates, Caulfield recruits a relunctant airplane pilot, Albain (Telly Savalas) to search out a particular location of where Caulfiend believes he may find the astronauts.
Packaging
Packaging for Capricorn One came in a slightly thinner Blu-ray case from VIVA. This is probably the perfect Blu-ray case for a single disc because it's reinforced around the entire inside of the case, protecting the disc.
Video & Screencaps
Video for Capricorn One looks pretty good, considering this is a BD-25 disc, and the movie is just a tad over 2 hours in length.
Screencaps
Additional Screencaps
Audio
Audio for Capricorn One sounds fairly good, but it does require a person to turn up the volume a little, and sounds do often sound muffled, but this is from the original recording. I admire the audio engineers to keep the volume flat and let the consumer process it however they want as far too many times I've heard "enhanced" soundtracks sounding worse than the original source.
Main Audio Track: LPCM Audio 2.0 (English) @ 1536 Kbps (48kHz/16-bit)
Subtitles: English
In case you're debating whether to buy the TMG / Shout! Factory release or this release, be aware there are no extra features other than the trailer and image gallery for the Region A Timless Media Group / Shout! Factory version.
Extras
Extras for Capricorn One weren't too bad, and the What If...? making-of is pretty good — especially where you see the filming crew put a scorpion on James Brolin's face.
Disc One
What If...? The Making Of "Capricorn One" (38:22) SD
One The Set With Capricorn One (10:54) SD
Image Gallery (83 Images)
Theatrical Trailer (3:09) HD
Specifications
Active Pixel Area: 1920 x 264 pixels
Inactive Pixel Area: Not Applicable
Aspect Ratio: 2.35:1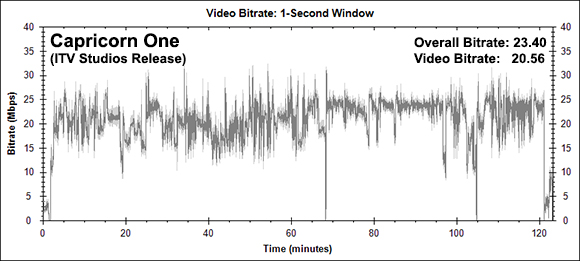 Capricorn One Bitrate Graph
CAPRICORN_ONE
Codec: MPEG-4 AVC
Resolution: 1080p
Blu-ray BD-25
Disc Size: 24,893,411,961 bytes (23.18 GB)
Movie Size: 21,622,559,808 bytes (20.14 GB)
Overall Bitrate: 23.40 Mbps
Video Bitrate: 20.56 Mbps

Conclusion
Capricorn One is another classic which stars several actors who are surprisingly put into one film for some very entertaining moments (Brolin, Gould, Halbrook, Savalas). It's an entertainment treat to see all of them together.
Having the best image quality I've seen yet and a storyline that may not be so inconceivable, Capricorn One (Blu-Ray) gets a RECOMMENDED PLUS.
Region Warning (B/2)
For US viewers, please note this is a Region B/2 locked release, so you'll need a region-free Blu-ray player or some other method to view this film. While you do have the option to get the US release, grab the UK version if you can.